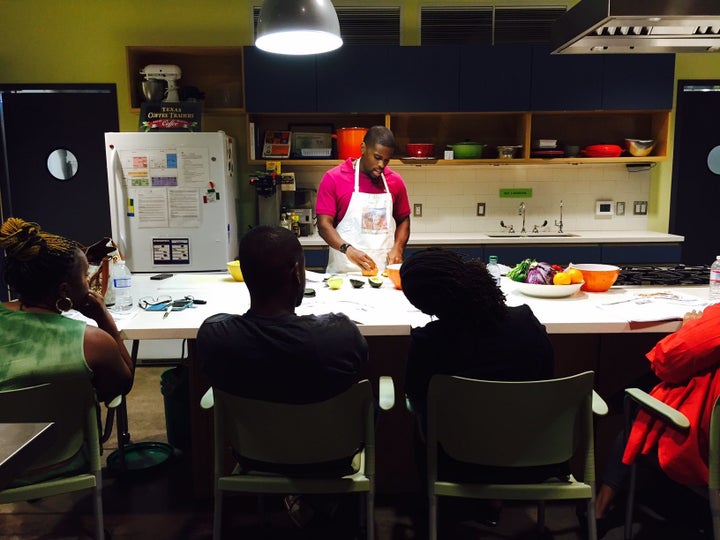 When it comes to working toward a healthier lifestyle, the answers to the problems of obesity, diabetes and diet-related chronic illnesses that threaten our future might actually lie in our past.
The volunteer program is an extension of the African Heritage Diet Pyramid, which Oldways created in 2011 with historians and dietitians. The idea is straightforward: to not only teach students how to prepare healthy and flavorful food, but also to help them understand how such food connects to their African heritage.
"It gives people the tools they need, the techniques they can apply to different plant-based foods on the pyramid," Sarah McMackin, the program's manager at Oldways, told The Huffington Post. "The impetus is to try and really help people put this way of eating into practice today."
The program is 100 percent plant-based -- "because we know that is the part of the plate most people could use the most help with," McMackin explained -- and classes are offered free of charge thanks to a grant from the Walmart Foundation. The initiative began as a pilot program in 2013, and has since grown to the point where it has been offered at 100 different sites nationwide.
An African Heritage and Health Program class begins to take shape when a volunteer instructor signs up through the Oldways website and commits to teaching six weekly meetings, recruiting students and helping them track their progress. The organization provides the curriculum and can help instructors secure appropriate kitchen space. In some cases, Oldways has provided funding to reimburse the cost of groceries, but in others the instructors fundraise -- or consider charging a small student fee -- to cover that expense.
Instructors, according to McMackin, have included people from a range of backgrounds including dietitians, chefs and other community members who simply want to get themselves -- as well as their community organization or faith group -- to make better food choices.
In the first week of class outlined in the curriculum, students taste Jollof rice, a traditional West African dish, learn how to use herbs and spices to make spicy chickpeas and other dishes, and engage in an education segment about hidden sodium in processed foods. By the sixth week, students learn how to make braised cabbage, blackened okra and a mango and papaya fruit salad, and receive tips on how to make healthier choices when eating out.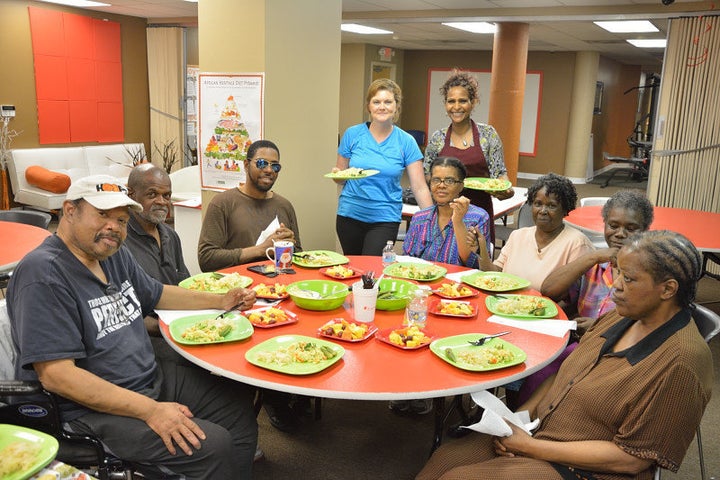 The results have been encouraging. According to entrance and exit surveys administered by teachers to 519 students in 55 six-week classes during the program's 2013-2014 year, 63 percent of graduates of the program lost weight over the course of the class, 34 percent of students saw a decrease in blood pressure status (dropping a "stage," such as going from hypertension stage 1 to prehypertension) and half of the participants lost inches from their waist.
In addition, according to the surveys, graduates report that they are cooking at home far more often and eating more leafy greens, whole grains, beans, fruits and vegetarian meals, in addition to exercising more often.
McMackin said she believes the lessons of the classes are resonating because they provide an alternative to the common, incorrect narrative that there is a certain inevitability to health disparities such as diabetes in the black community.
"I think when you're barraged by a lot of the health disparities, which are true, but when that's all that you're given, there's a disempowerment to that," McMackin told HuffPost. "You need something empowering and powerful and positive to counterbalance that, and I think this is doing what we hoped it would do so that folks can feel inspired to make these changes not just from a nutrition standpoint, but from the standpoint of reconnecting to healthy eating as cultural identity."
The program's success to date has allowed it to expand into a new citywide offering in Philadelphia. As the Philadelphia Inquirer reported last month, Oldways is partnering with five nonprofit groups to offer the free class on a regularly recurring basis, rather than ad hoc, at venues including kitchen spaces at two of the city's Free Library locations. If it works, they may bring the model to other cities.
Since the most common constructive comment that McMackin receives about the classes is simply that students want more of them, she is optimistic the program will continue to grow.
"Everyone going through this program is ready to see change within communities of color," McMackin said. "This is an empowering tool that comes from a positive, rich cultural history that is really shining a light on that history and having positive, tangible results."