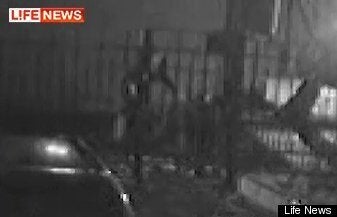 A graphic video has been released showing the beating of Russian journalist Oleg Kashin, says the New York Times. (Scroll down for video.) The journalist is currently in a medically-induced coma, suffering from a concussion, a broken jaw, leg fractures and broken fingers, including the missing pinky. Kashin covered political stories for the daily newspaper the Kommersant.
The video shows two mean viciously beating Kashin, who lost the end of one of his pinky fingers in the attack. His editor has said that the focus on his hands "showed his attackers wanted to make sure he never wrote again," said the AP. At the end of the video, Kashin attempts to crawl away before collapsing.
The video comes just as the AP reports a second attack on a journalist Monday. Anatoly Adamchuk was bludgeoned on the head as he left his weekly newspaper office. While police have not released a motive for either attack, the AP is reporting that both journalists were writing about efforts to protect forests around Moscow from being cut down for highways. Last week, an environmental activist working on the same cause was beaten with a baseball bat, reports the Moscow News. The activist, Konstantin Fetisov, is also in an induced coma, and a colleague told the Moscow News:
Konstantin underwent extensive surgery and the neurosurgeon said that he had suffered very serious brain damage. Everything now depends on how he recovers from the operation and he is in an induced coma now because when he wakes up and tries to move it would be very dangerous.
Road consrtuction is considered a very corrupt sector in Russia, notes the AP. The attack on Kashin has sparked mass outcries in Russia, including an appeal to President Medvedev to invetigate the case, says the Moscow News. While an investigation is underway, these cases are rarely solved, says the New York Times.
Popular in the Community