 Last Friday, the facade of the National Art Museum in Ukraine was taken over by a massive contemporary installation by Olga Milentiy. Consisting of gold tubing that stretches in and out of the museum's large columns, Milentiy's work appears like a giant snake guarding the entrance to the historic art haven.
The placement of contemporary art on the exterior of museums has been a long-standing practice across the globe. But in Ukraine, the laws regulating the protection of cultural heritage sites make it so that the adornment of art on the facade of a monument -- like the National Art Museum -- must be approved by the state. And state authorities were not too thrilled with this particular display. They promptly asked the museum to remove the installation, claiming that the material used was too flammable. The museum didn't give up though. Tatiana Mironova, the acting director of the museum, and several other curators worked to safeguard Milentiy's work, complying with demands from the authorities to provide efficient maintenance of the installation. In the end, Mironova and her team were able to indefinitely suspend the dismantling of the project, and the serpentine work prevailed.
Milentiy's installation is part of larger project entitled "The Myth of Ukrainian Baroque," which opened April 27th and will be on view until August 26th. The golden facade, however, will only be on display until June 1st.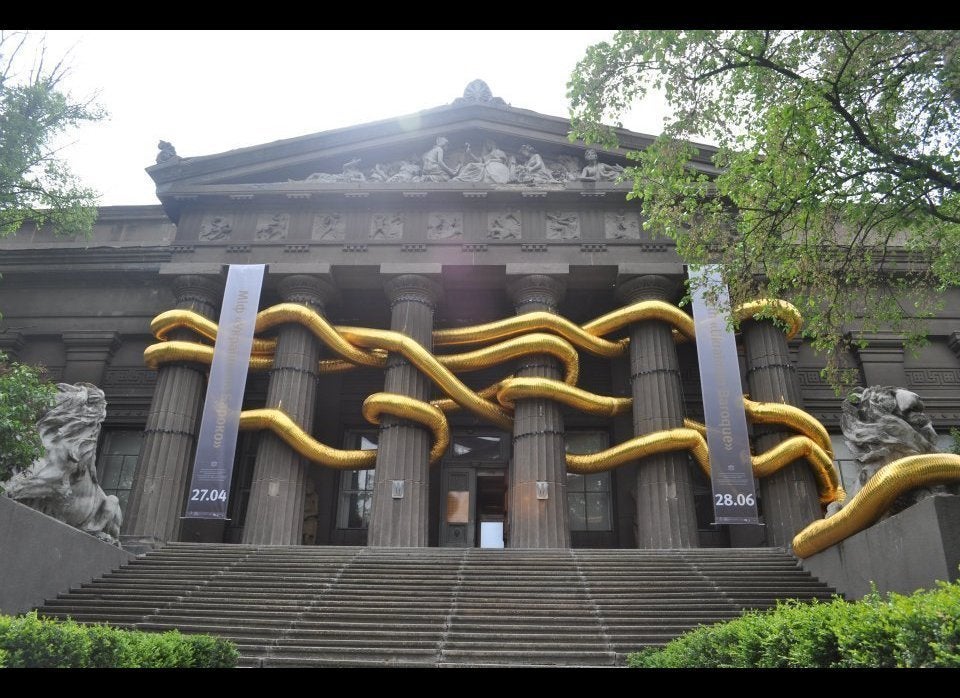 Olga Milentiy's Snake-Like Installation at the National Art Museum of Ukraine
Popular in the Community