Remember Billy Joel's bittersweet nostalgia song "Scenes From An Italian Restaurant?"
A bottle of red, a bottle of white
It all depends on your appetite
I'll meet you any time you want
In our Italian Restaurant.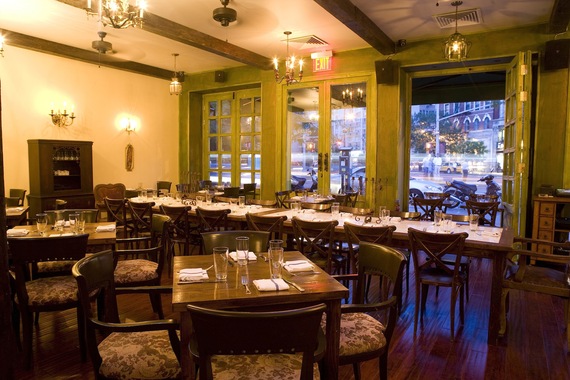 Everyone has an Italian restaurant you call your own, and, for its location, its warmth and conviviality and its wonderful food, Olio e Più: Trattoria e Enoteca is a place anyone from anywhere might claim after one or two visits. Of course, those fortunate to live in New York's West Greenwich Village have easy access to this delightful addition and, around the corner, to the neighborhood's very hip café and art gallery, WhyNot Coffee -- both establishments owned by Emil Stefkov.
What distinguishes Olio e Più, which means "oil and more," is that it's open 24 hours a day, and for anyone who gets the munchies after midnight, this is a godsend. And the pizza, which takes on added allure in the wee small hours of the morning, is first-rate -- one of the best in Manhattan, with a puffy rim, seared bubbles of dough, the proper weight to the crust, and very fresh toppings. You can watch the pizzaioli make them before your eyes, which makes the wait all the more agonizing.
Adding to the torture is the need to choose among so many appealing toppings, from the classic margherita and quattro formaggi to Nostrano ("ours") with ricotta, prosciutto and truffle oil. Chef Dominic Pepe uses many of his family's recipes, with a nod towards Neapolitan cookery, so his tomato-based dishes are highly recommended.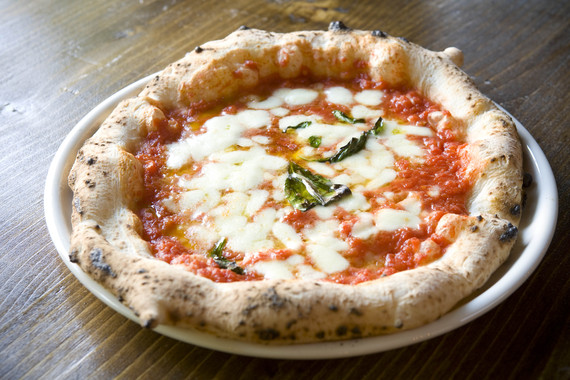 You might begin with bruschetta topped with a sun-dried tomato pesto, or a fritto misto of fast-fried squid, shrimp and artichokes (I didn't try this, but intend to ASAP). The pastas have the true taste of the casalinga style -- homey, hearty, nourishing -- especially the light, but substantial gnocchi with a basil pesto and salty ricotta salata, a simple marriage of two highly complementary ingredients. Also very good was fresh tagliatelle in a rich bolognese meat sauce. A special that day was risotto al limone, which makes for a wintry balm, but could act as well as a side dish for two. Its Italian rice was tender, the scent of the lemon like a warm breeze from the Amalfi coast.
For our main course, I had one of the most impeccably roasted branzinos I've encountered in New York. It is so easy to overcook any fish, but to maintain an interior succulence while giving the outside skin a crispiness that stays well shy of tasting fishy is a triumph -- one dressed up in good olive oil and lemon.
Tiramisù may be a cliché everywhere, but the kitchen shows why it is so universally delectable whilethe crème brûlée takes on the added dimensions of pumpkin and cinnamon-scented ricotta.
Olio e Più puts considerable effort into its bar and wine list, which, as is true of self-described enotecas, changes often. Right now, there are some fine selections at not unreasonable, good prices, including the Azienda Agricola Claudio Morelli "Terrazze" 2010 ($40), although the Le Macchiole "Bolgheri Rosso" 2010 at $88 is high.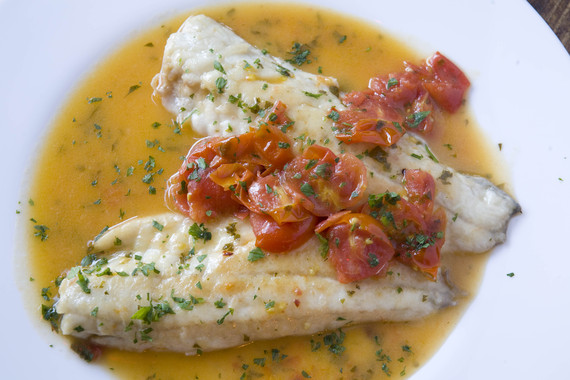 So, no need to ask when Olio e Più is open to serve you what you feel like eating. It always is. From the outside, its green façade is hung with vines, its rustic interior looks straight out of a trattoria in Sorrento, complete with upholstered chairs, old ceiling fans and glittering chandeliers. Indeed, Olio e Più seems to have always been here in the West Village, though it's only three-years-old. And whether it's one o'clock in the afternoon or one o'clock in the morning, it's good to know it'll be there for you. It all depends on your appetite.