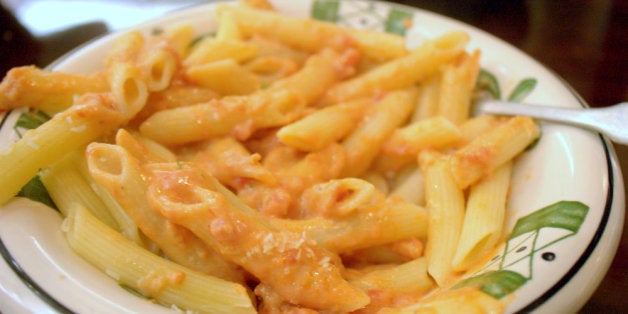 Thanks to a brewing battle between activist shareholders and Olive Garden's parent company, we just got a little insight into what the world would be like if Wall Street investors moonlighted as food critics.
In a scathing 294-slide report aimed at convincing shareholders to sign on to its turnaround plan for Darden Restaurants, Starboard Value, an investment firm, tore into the company for selling mediocre food and wasting vast sums of money.
Too many breadsticks. Too much salad dressing. Not enough booze. Straws that aren't "industry-length." Flavorless pasta.
Darden Chief Operating Officer Gene Lee responded to Starboard's proposal in a statement Friday, saying that the company is already implementing many of the strategies described in the presentation.
"The Olive Garden Brand Renaissance is well underway, and the improvements we are seeing in guest satisfaction and traffic trends reinforce our confidence in Olive Garden's potential," said Lee.
Darden, which owns Olive Garden, Long Horn Steakhouse, Capital Grille and other mediocre sit-down restaurants, has suffered in recent years as fast-casual chains like Chipotle and Panera have grown in popularity. The company sold Red Lobster to a private equity firm in July after years of struggling sales.
On Friday, Darden reported a loss of $19.3 million for the last three months, compared with the same period the year prior. At Olive Garden, sales at stores open at least a year dropped 1.3 percent, marking the fifth quarter in a row of declining same-store sales.
Darden is hoping to turn Olive Garden around with a "brand renaissance" that taps into every trendy restaurant fad including: quick online ordering, faster lunch eating, variety, value and tapas.
Starboard, which is trying to unseat Darden's whole board and replace it with 12 candidates of its own, has some different ideas. Here are our favorites:
Stop serving an excess of cold breadsticks:
As the Starboard presentation notes, "Olive Garden is famous for its unlimited breadsticks." But the firm argues the breadsticks are becoming too unlimited. Starboard estimates Darden uses 675 million to 700 million breadsticks a year by serving an average of three per customer.
"The average customer does not consume 3 breadsticks," (Emphasis Starboard's. Also, we respectfully disagree), "leading to massive unnecessary waste."
Instead, Starboard suggests servers bring everyone just one breadstick, plus one extra for the table, cutting down on waste and ensuring that the breadsticks don't get cold. For more detail on the optimal way to serve breadsticks, refer to the slide below: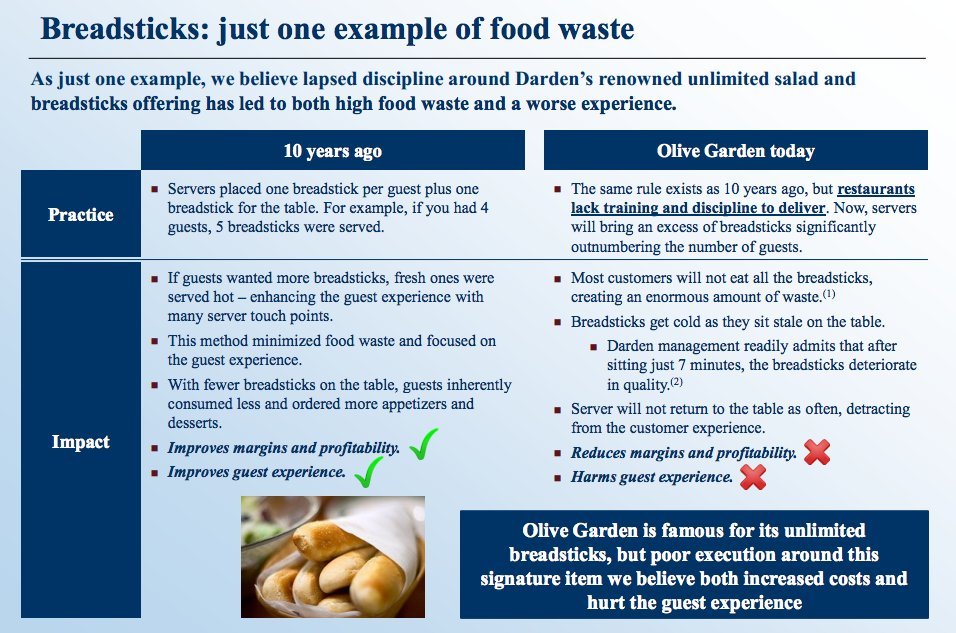 Stop giving diners a giant salad sopping with dressing:
Starboard argues that servers are filling salad bowls to the brim to avoid coming back to the table to refill them, and in some cases adding three to four times the amount of recommended dressing.
Not only is this wasteful, it is also gross. The activist investors suggest lightly dressing the salad and bringing an extra bottle of dressing to the table in case people want more.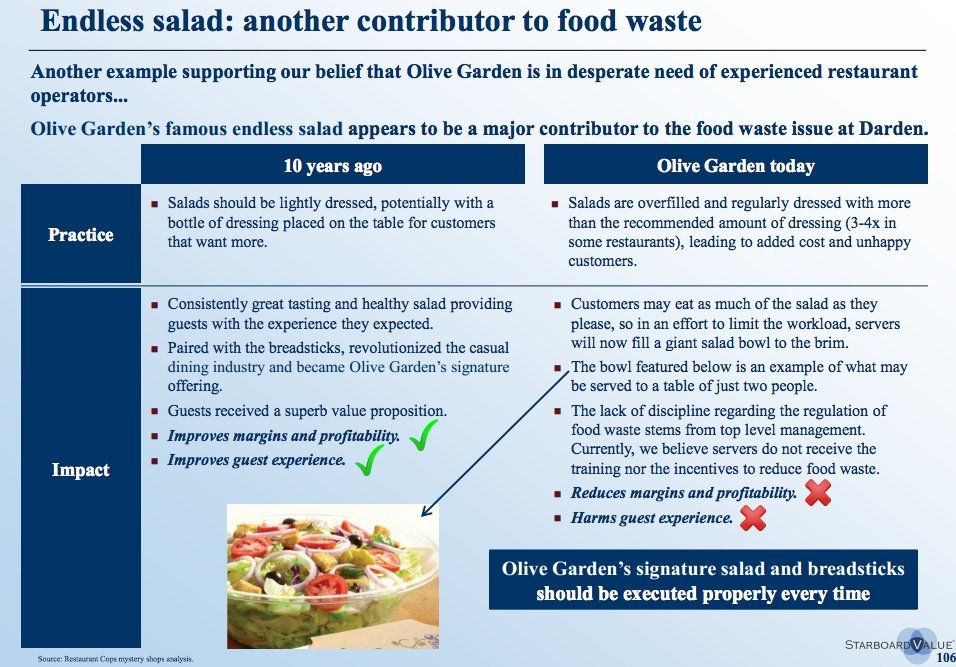 Remind people that they like to drink alcohol:
Just 8 percent of Olive Garden's sales come from alcohol, according to Wall Street filings and equity research compiled by Starboard. The firm argues that this is a travesty, given that wine goes well with Italian food. Servers don't know enough about the chain's wine offerings -- but more crucially, they aren't asking diners if they want a drink, Starbord says.
That means that diners aren't boozing at Olive Garden as much as at other restaurants, as the chart below shows.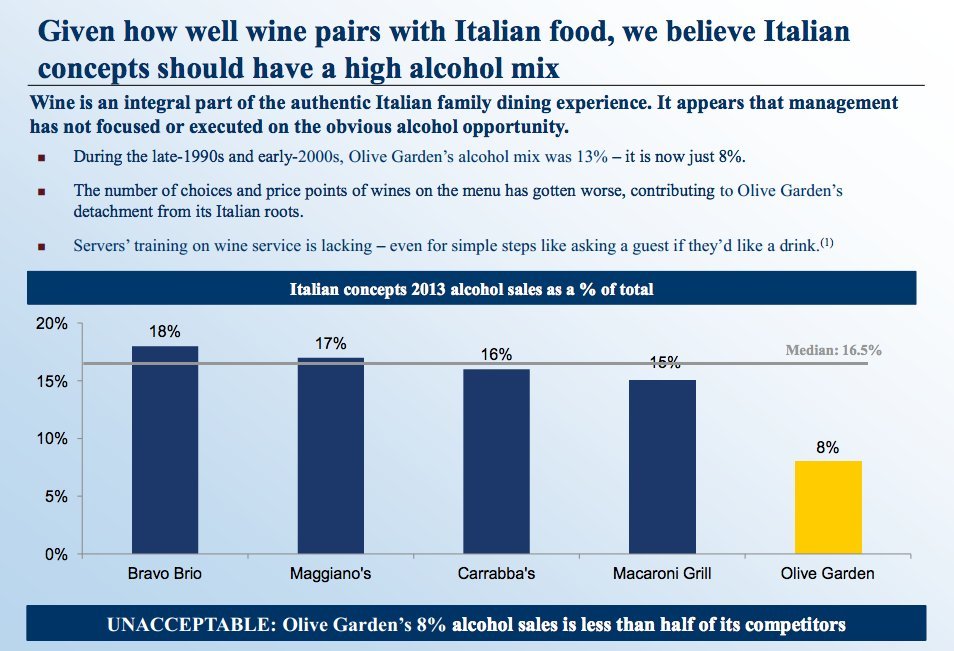 WE'RE BEGGING YOU, SALT THE PASTA WATER:
Olive Garden doesn't salt its pasta water, something that even your inept college boyfriend knew to do when cooking a "romantic" dinner of boxed pasta and sauce. According to Starboard, Olive Garden claims it's leaving out this crucial step to get a longer warranty on its pots.
Starboard's plea to Olive Garden: Sacrifice your pots for the sake of pasta that doesn't taste "bland," "dry" and "overcooked."(Author pro-tip: you can also add pepper to your pasta water for added flavor!)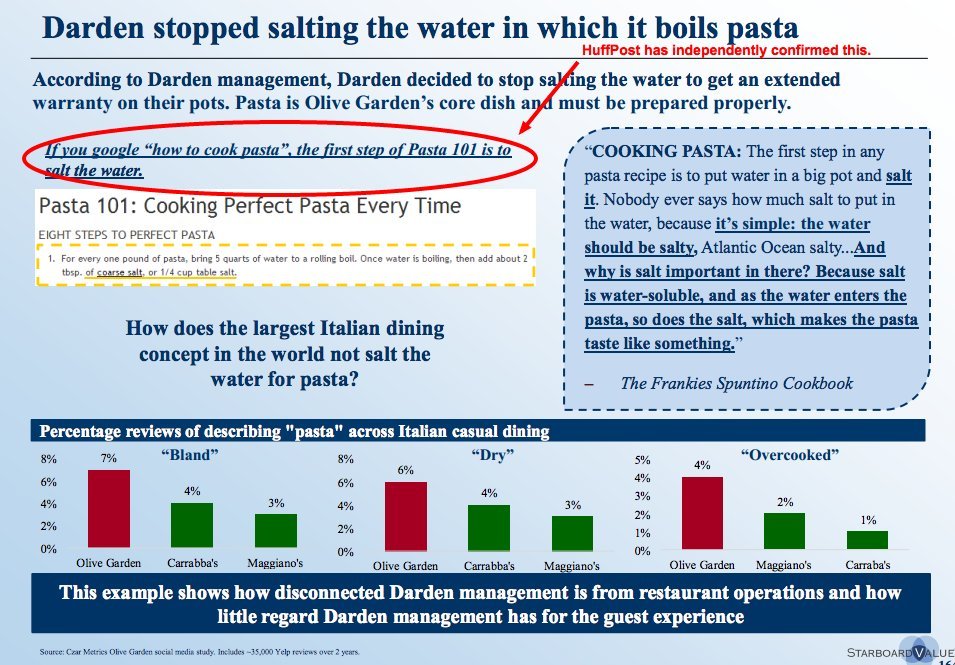 You can't convince people that hummus is Italian, just by calling it "Tuscan":
Olive Garden has replaced traditional Italian dishes, like Lobster Spaghetti, with inauthentic dishes like "Tuscan" white bean hummus and Fried Lasagna Fritta, which customers find "extremely unappealing," according to Starboard.
Their suggestion: Just stick to executing the basics well.
Popular in the Community