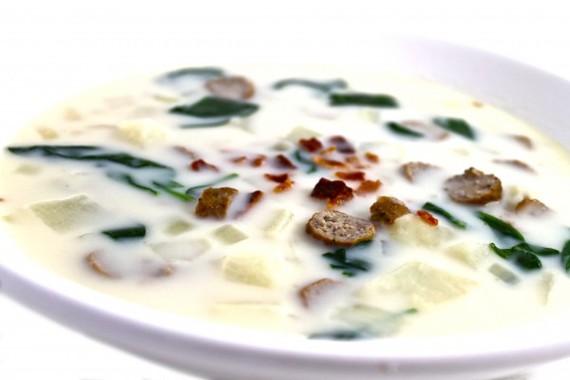 Olive Garden's soup is dreamy good and made with a little cream, sausages, potatoes, spinach and topped with bacon. My recipe has all the sensational flavors but I've cut down on the fat by using a 70% less fat turkey sausage, reduced-fat milk and just a little bacon. In addition, I'm using more sausage, potatoes and spinach in my soup. So hearty, each skinny main course bowl of soup has 228 calories, 6 grams of fat and 6 Weight Watchers SmartPoints.
4 slices bacon, I used Oscar Meyer center cut bacon, see shopping tips below
2 teaspoons garlic, minced
4 cups reduced-sodium chicken broth
4 cups russet potatoes, peeled and diced small (~2 potatoes)
1 package (9.6 oz) Johnsonville fully cooked turkey breakfast sausage (70% less fat) cut each into small slices to create bite size pieces, see shopping tips below
1½ cups reduced-fat milk (2%)
Freshly ground black pepper, to taste
1. Cook bacon in microwave on paper towel-lined plate. Cover with paper towels and cook 3-5 minutes, until crispy. Cool, crumble and set aside.
2. Cook chopped onions in the microwave for 3 minutes until soft.
3. Heat olive oil in a large pot or pan over medium heat. Add garlic and cooked onion. Cook together stirring frequently for 2 minutes. Stir in chicken broth and potatoes; bring to a boil. Turn down to simmer, cover and cook about 10 minutes until potatoes are soft.
4. In the meantime, in a small bowl, add milk. Stir in cornstarch using a whisk or fork until well combined. Using a rubber spatula or wooden spoon, so potatoes don't break, stir in sausage pieces, spinach and milk. Add black pepper to taste. Bring up to a boil, turn down to simmer, and cook for 5 minutes uncovered.
5. To serve: Ladle 1½ cups into each bowl. Garnish each bowl with about ½ tablespoon of crumbled bacon and serve.
Makes 6 servings. Each serving, 1½ cups
Shopping Tips
I used Johnsonville fully cooked (70% less fat) turkey breakfast sausage. They do not contain any fillers and are gluten-free. For optimum freshness, keep refrigerated and prepare within 3 days of purchase, otherwise freeze for up to 30 days. You can find this brand in most supermarkets. If you can't find this brand, use another brand that's also low in fat.
I've combed the supermarket shelves looking for one of the leanest regular bacon choices and Oscar Meyer Center Cut Bacon is my favorite, compared to most regular bacon. It's much lower in fat and calories, 3 slices contain 70 calories and 4.5 grams of fat. Once cooked on paper towels, most of the fat soaks into the paper, not in the bacon, so the fat is further cut down. In my Skinny Facts, I subtracted out the fat that's left on the paper towels!

Weight Watchers SmartPoints 6
Weight Watchers POINTS PLUS 6
Weight Watchers (old points) 4
SKINNY FACTS: for 1 bowl (1½ cups)
228 calories, 6g fat, 2g sat. fat, 37mg chol, 17g protein, 28g carbs, 4g fiber, 838mg sod, 5g sugar