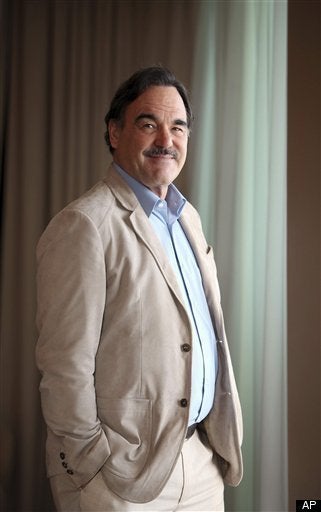 Oliver Stone says that Hitler caused more damage to the Russian people than to Jewish people, but that the American focus on the Holocaust stems from the "Jewish domination of the media."
Update, Stone apology below
"Hitler was a Frankenstein but there was also a Dr Frankenstein," Stone said (via The Telegraph). "German industrialists, the Americans and the British. He had a lot of support...
"Hitler did far more damage to the Russians than [to] the Jewish people, 25 or 30 [million killed]."
The reason few people know this, according to Stone?
"The Jewish domination of the media," he said. "There's a major lobby in the United States. They are hard workers. They stay on top of every comment, the most powerful lobby in Washington. Israel has f***** up United States foreign policy for years."
UPDATE: Stone has apologized for what he is describing as "a clumsy association" he made about the Holocaust.
In a statement, Stone took back his statement that Jews control the media and called the Holocaust an "atrocity":
"In trying to make a broader historical point about the range of atrocities the Germans committed against many people, I made a clumsy association about the Holocaust, for which I am sorry and I regret. Jews obviously do not control media or any other industry. The fact that the Holocaust is still a very important, vivid and current matter today is, in fact, a great credit to the very hard work of a broad coalition of people committed to the remembrance of this atrocity - and it was an atrocity."
UPDATE: The Anti-Defamation League has condemned Stone's statement, saying that the director has "once again shown his conspiratorial colors." Abraham H. Foxman, the organization's National Director, issued the following statement:
Oliver Stone has once again shown his conspiratorial colors with his comments about 'Jewish domination of the media' and control over U.S. foreign policy. His words conjure up some of the most stereotypical and conspiratorial notions of undue Jewish power and influence.

The myth of Jewish control is an old stereotype that persists to this day. Stone uses it in a particularly egregious fashion by suggesting that Hitler has gotten an unfair shake because of Jewish influence.


This is the most absurd kind of analysis and shows the extent to which Oliver Stone is willing to propound his anti-Semitic and conspiratorial views.
Related
Popular in the Community