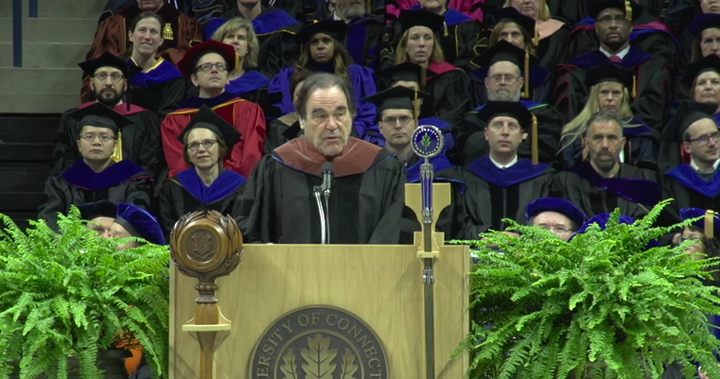 During a commencement address, director Oliver Stone told University of Connecticut graduates on Saturday about his failures. 
When he studied at Yale University in the 1960's, Stone said he failed classes, failed to make it onto athletic teams and felt like "just another mediocrity" and dropped out, feeling depressed. He left for a time, came back to Yale but flunked his classes again. Stone left a second time and joined the Army, and it took a while before he started his film career at New York University.
Stone said he wasn't sure what he was going to do with his life after he served in the United States Army and did combat duty in Vietnam. A friend of his from Yale told him about an opportunity to get most of his tuition paid for film school through the G.I. Bill. So Stone enrolled at NYU, and said he credited the U.S. government with giving him another chance. 
"No matter how dark it gets early on, don't get too down on yourself," Stone said, "you may have hidden talents, skills, passions, you just don't recognize them yet."
Watch Oliver Stone's entire speech in the video below:
REAL LIFE. REAL NEWS. REAL VOICES.
Help us tell more of the stories that matter from voices that too often remain unheard.