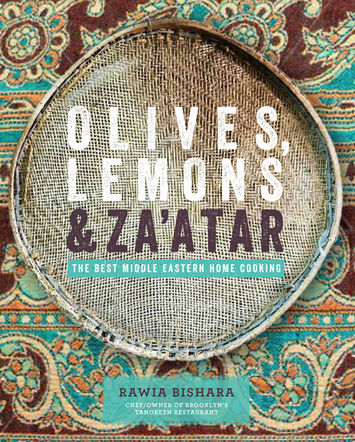 I've been writing about za'atar for decades. The haunting spice mixture, which looks like marijuana and smells like Jerusalem, has had a home in my pantry since my first trip to Israel in 1980. I use it as an earthy rub for chicken with blackened lemons; as a zippy dip mixed with good olive oil and grated parmesan; as a coating for grilled swordfish, or tossed with heirloom tomatoes and feta cheese. So I was thrilled to see its place on a banner headline for this year's standout cookbook: Olives, Lemons & Za'atar: The Best Middle Eastern Home Cooking by Rawia Bishara (Kyle Books).
Everything about Ms. Bishara's evocative new book made me want to run to the kitchen or get on a plane and wander in the Old City. Instead, my family and I hopped in our car and drove to Ms. Bishara's acclaimed restaurant, Tanoreen, located in Bay Ridge, Brooklyn. All praise bestowed upon it by my colleagues rang true about the excellent, sometimes transcendent, food Ms. Bishara serves. But no one warned me about her exotic warmth and hypnotic intelligence.
Ms. Bishara's first name, Rawia, means storyteller in Arabic. She uses her imaginative food as her words to share an intimate bond between her mother's recipes and her personal narrative, which illuminates the history of her homeland, Nazareth, in southern Galilee. I have been there: It is beautiful.
Born into a food-obsessed Palestinian family, Rawia grew up eating food that has recently become trendy currency: the flavors and spirit of the Arabic kitchen found along the Eastern Mediterranean and in Israel, or Palestine, depending on your point of view. Ms. Bishara, once head of an organization that helped new immigrants settle in New York, became a grand hostess and entertained often. Friends encouraged her to open a restaurant which she did in 1998. Named for the majestic Lebanese town, Tanoreen, Rawia said it is a name far easier to pronounce than her own. The tiny storefront restaurant with only 12 tables has grown into someplace quite spacious, but it retains Rawia's aura of personal attention. .
Clearly there are dishes not to be missed. Brussels sprouts with a tahini-yogurt sauce and crunch of panko; mouthwatering eggplant napoleon brightened with a "salata" of tomatoes and basil and layered with baba ghanouj; and lamb shank marinated in herbs and rosebuds, are signature examples of redefined authenticity. Thankfully instructions for making these delectables can be found in her new book.
Allspice, cardamom, lentils, sumac, freekah (smoked green what berries), maftool (a traditional tiny pasta), pomegranate molasses, cumin and ghee, lentils and, of course, za'atar, lemons and olives - are part and parcel of this vibrant cuisine. In Nazareth, baba ghanouj is called mutabal (and I have recently seen this word on restaurant menus in the city.) Rawia adds tomatoes, chilies and cumin to her rendition. And I can't wait to try her recipe for cauliflower salad. In Nazareth it is simply fried and tucked into Arabic bread, sprinkled with lemon juice and sea salt. At Tanoreen, Rawia dresses nuggets of caramelized cauliflower with thick tahini laced with pomegranate molasses, served as a mezze. We couldn't get enough. This was also true of makdous -- tiny pickled eggplants stuffed with walnuts and red pepper, which my brother and sister-in-law loved when they visited Syria. Also of note was the baked kibbeh and sayadiyya, or fisherman's meal, which Rawia said her family ate every Friday night. I would run back for musakhan, a homemade flatbread topped with sumac-spiced shredded chicken with slow-cooked onions and toasted almonds.
For dessert, I would order her supernal knafeh, the best we've had, where layers of shredded phyllo are filled with warm homemade cheese and anointed with orange blossom water and crushed pistachios.
It's all in Rawia's book, complete with beautiful photographs and arresting design. It is a heartfelt documentation of the mystical wind gently blowing these flavors from the Levant. But if you don't feel like cooking, make a reservation at Tanoreen. Rawia will be there, waiting.
Rozanne Gold is a four-time James Beard award-winning chef and author of Eat Fresh Food: Awesome Recipes for Teen Chefs, Healthy 1-2-3, and Radically Simple: Brilliant Flavors with Breathtaking Ease.
Related