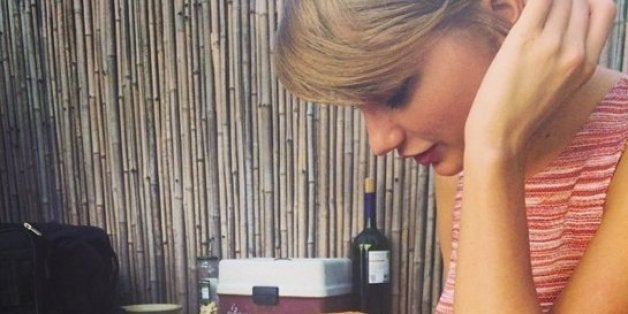 Welcome to the "Swift" family, Olivia Benson! Okay, so as many of you may already know, Taylor Swift posted this cute, adorable picture of her and her brand new kitten on Instagram late last night and labeled it as, "Meet Olivia Benson." Check it out! Isn't the little munchkin' so cute? I guess we all know what Taylor was up to now spending all that time walking around New York City yesterday!
Taylor named the new addition to the family after one of her favorite characters on Law and Order: Special Victims Unit, Olivia Benson, who is played by actress, Mariska Hargitay. The show actually takes place in New York City itself -- which could be another factor in how Taylor named lil' Olivia (assuming that she adopted her nearby her new apartment). I'm sure we are going to hear WAY more about Olivia in the future. More photos of her on Instagram, though, are inevitable -- just like when Taylor first got Meredith Grey Swift, her other cat! Speaking of Meredith -- she now has a little sister, but will they get along? I mean, Meredith is like one of those diva cats who LOVES attention (in a good way), so would she get jealous or excited about this? This intense cat adopting situation right now is reminiscent to an actual family bringing in the second newborn of the household, isn't it?
I know I'm excited about Taylor's new kitten! I literally did not see this coming, though, but hey, Taylor is all about that cat lady life. She even admitted on her Twitter that it's a daily struggle for her "to not buy more cats." The thought of wanting a new one comes so naturally now, that adopting a new cat starts to become one of those erratic life situations. We don't blame you, Taylor. Who can deny an adorable, miniscule, furball, right?
While we're focusing on new kittens, let's talk about other new things, like Taylor's short hair! It's not THAT new of news, but she did get her haircut around the end of her European leg of the Red Tour (February). New hair. New kitten, and now what's left? NEW ALBUM! Yes, folks. It has reached that point in your life, again. Taylor has to be dropping some kind of news this season about her upcoming fifth album!
So there you have it. You should be really excited this summer for one: a possible photo album dedicated to solely photos of Olivia Benson Swift -- of course, photographed and constructed by Taylor herself, and two: news about a new album that we all know will inevitably slay the charts, oh and three: Taylor has been liking and commenting so many photos that her fans post on Instagram lately -- something so out of the ordinary for a celebrity as famous as her to take time out of her day to do, but she cares so much about her fans in a way that I've never witnessed before, that to receive such an acknowledgement of existence is something REALLY exciting to look forward to!