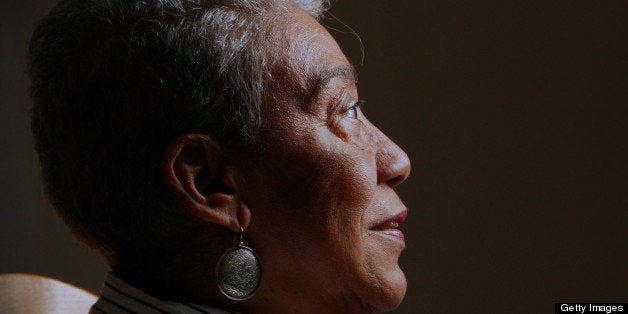 Olivia Ferguson McQueen received her high school diploma on Saturday, 54 years after finishing high school in a tiny room at the Charlottesville School Board office, then located at the Venable school.
In 1958, at age 16, McQueen was the principal plaintiff in a successful lawsuit to integrate Charlottesville City Schools. Despite her victory, McQueen spent her senior year sequestered from her peers and was never awarded a true diploma.
An early 1959 Virginia Supreme Court ruling overturning Massive Resistance would have allowed McQueen to attend the previously all-white Lane High School.
The School Board, however, had other ideas. McQueen was barred from Lane, and spent her senior year being tutored in the School Board office.
Albemarle County Public Schools Superintendent Pamela Moran, and Charlottesville City Schools Superintendent Rosa Atkins awarded McQueen her diploma in a ceremony at what is now Burley Middle School. When McQueen was a student, Burley served as the black high school for both county and city students. It is now an Albemarle County school.
"What a day this is," McQueen, who grew up on Ridge Street, said. "It really was a surprise when I received a call saying that something was being planned, but I didn't know to what extent something was being planned."
In the auditorium where she watched her peers graduate in June 1959, the school system and the Burley High Varsity Club celebrated McQueen's contribution to generations of African-American school children who came after her.
"I would like to think that I have made a difference, and continue to make a difference," she said after being handed a framed diploma by Atkins and Moran. "But the truth is, we have all made a difference."
McQueen's lack of a high school diploma did not slow her down. After high school, she attended Hampton University, where she received a bachelor of science degree in early childhood education in 1963. She then earned a master's of education from Trinity College in Washington, D.C.
From there, McQueen spent her career as an educator outside of Virginia, county school officials said. She now lives in Washington, D.C.
Waltine Eubanks, a 1959 graduate of Burley High School, presented McQueen with two flowers tied with ribbons in Burley's green and gold school colors and Lane High's orange and black.
"I just have to say 'Hallelujah' and 'Thank you, Jesus,'" Eubanks said as she presented McQueen with the flowers. "Olivia, you were born for a time such as this."
For Atkins, the event held special meaning.
"I stand here so proud of you, so proud of your strength, so proud of your determination," she said. " ... Because 10 years later, this superintendent was allowed to go to school with other white boys and girls."
Charles Yancey, president of the Burley High class of 1959, compared McQueen's struggle to that of Ernie Davis, a football running back and the first black Heisman Trophy winner. Davis was drafted first overall into the NFL, but died of leukemia before ever playing a game.
"Just as Ernie Davis faced insurmountable obstacles, so did Olivia McQueen," Yancey said. "And just like Ernie Davis, she was unstoppable." ___
(c)2013 The Daily Progress (Charlottesville, Va.)
Distributed by MCT Information Services
Calling all HuffPost superfans!
Sign up for membership to become a founding member and help shape HuffPost's next chapter
BEFORE YOU GO
PHOTO GALLERY
Powerful Photos Of Black History