When Olivia Wilde isn't busy starring on HBO's "Vinyl" or making the world's most adorable dentist visits, she's using her celebrity status to shed light on the global issue of clothing waste.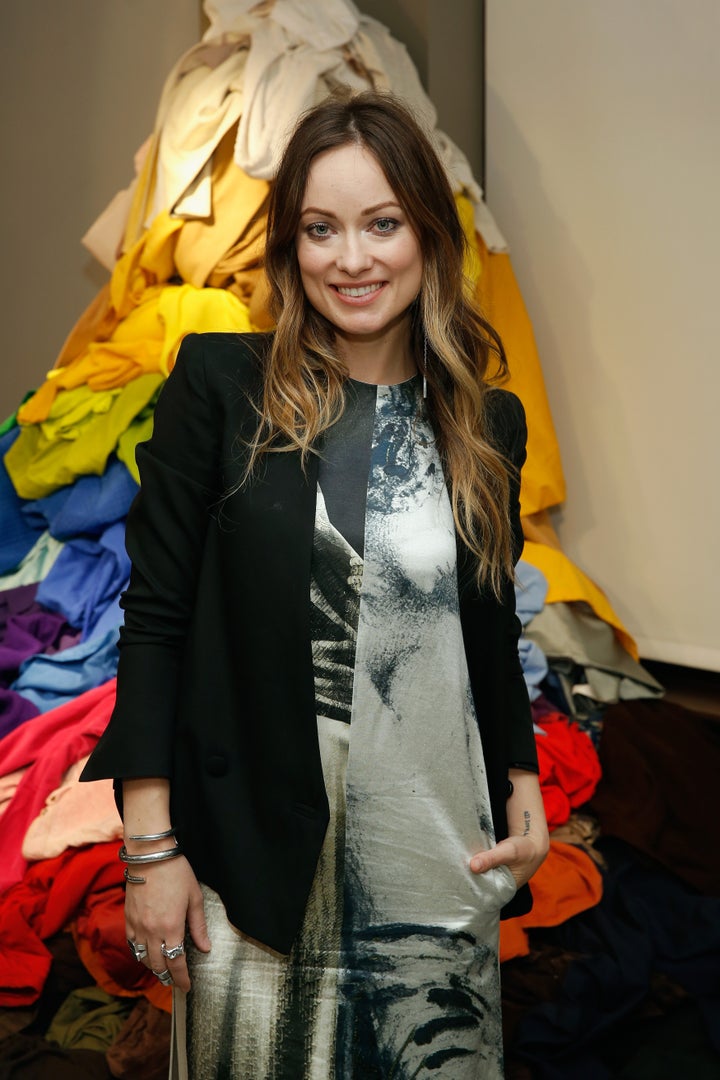 The actress, who serves as the co-founder of H&M's Conscious Commerce, has worked with the brand over the past two years on its sustainable fashion efforts. Its newest line, the Conscious Exclusive Collection, launched Monday in tandem with World Recycle Week and features garments made with sustainable materials like plastic bags and eucalyptus bark.
The venture seems like a perfect fit for Wilde, whose commitment to sustainable living expands to her own wardrobe, grocery shopping habits and even her favorite way to destress. HuffPost Lifestyle sat down with Wilde at the launch event to learn more.
On her changing opinion of H&M:
Before I started working with them, I kind of associated H&M as part of the fast fashion problem. As I got to know them I realized they are investing a lot of time and money into changing the way the clothes are produced and changing the message to the consumer about how they purchase items. I was proven completely wrong. I said "I thought you guys were evil ... you're not evil?"
And her changing opinion of nap time:
I'm starting to restructure my opinion on naps, because now that I have a child who naps, I often nap when he's napping. I now realize that naps are amazing, I used to hate them. When you have a kid, you just face plant.
I'm a big believer in baths. People always laugh at me because I encourage everyone to take a bath all the time -- I think it solves everyone's problems. And if you want to throw in a glass of wine, I'm not going to stop you.
On being a conscious consumer:
It helps me feel like I'm a small part of the solution if I can help bring awareness to consumers to incorporate more sustainable shopping into their lives. It's bit by bit. People think, "Ugh, it's too massive, I can't possibly change the way I shop." But when you liken it to the organic food movement, it's kind of easier to understand that it's all possible. When we were growing up our parents were not shopping at Whole Foods -- it didn't exist. We didn't know about the pesticides and chemicals and antibiotics that were in our food. I am encouraged by the fact that now it has in many ways become second nature.
On her "Vinyl" style complementing her real-life style:
The '70s happen to be an era that I've always really admired, and it works for my body type. There are certain people who look perfect in '50s clothing ... I look terrible in '50s clothing. It's weird, some of us are built to be in a certain era. I love that the '70s seem to be all about celebrating sexiness while not sacrificing comfort. There's a fluidity to it, like they were made to dance in.
I don't shop obsessively and I don't feel the need to stay on trend at all times. I tend to shop from my own wardrobe as much as possible. I also buy a lot of vintage -- I love the Brooklyn Flea.
You don't need to be head-to-toe. In fact, it looks gross.
The H&M Conscious Exclusive collection hits select stores and hm.com starting Apr. 7.
This interview has been condensed and edited for clarity.