Being pregnant comes with a whole set of exhausting challenges, but moms-to-be in urban areas get to deal with an often additional source of frustration ― riding the subway.
On Wednesday, actress Olivia Wilde tweeted a complaint that sums up the experience of taking public transit while pregnant.
"NBD, able-bodied [subway emoji] riders who won't give your seat to a GIANT preggo. I'll just stand riiiiight next to your head and pray I go into labor," she wrote. The tweet received over 2,700 likes and many sympathetic replies from moms who have been there.
Wilde, who lives in Brooklyn with her partner Jason Sudeikis and their 2-year-old son Otis, announced in April that she was pregnant with the couple's second child.
While she likely wasn't actually hoping to go into labor on the subway, Wilde's tweet speaks to a problem pregnant women in urban areas know all too well. Time and time again, city moms have lamented the lack of courtesy and consideration from fellow passengers.
This rudeness persists on Twitter. After receiving several disparaging replies to her tweet, Wilde responded to one particular retort from a Twitter user named Kyle. In a tweet that has since been deleted, Kyle wrote, "1. I didn't tell u to get pregnant 2. Get an Uber (you can afford it) 3. I paid the same amt as you for the subway ride."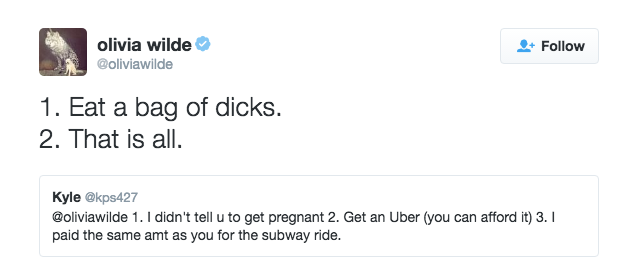 Don't mess with this pregnant mama!