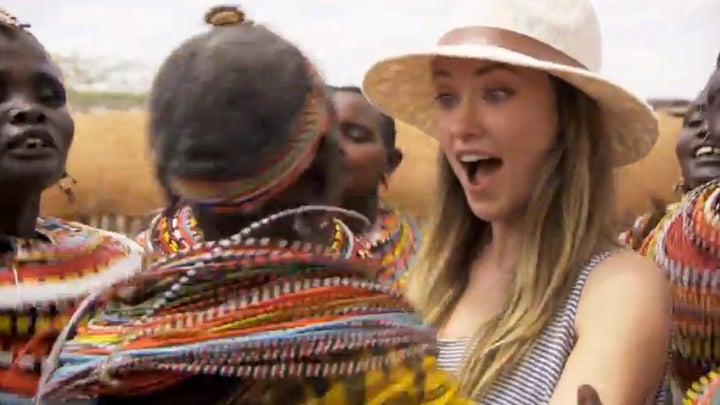 The video makes you want to dance with them.
Dozens of women surround actress Olivia Wilde in the Kenyan village of Umoja, greeting her with what viewers on Twitter and Facebook have been calling "The Vagina Song." They sway and smile and revel in their womanhood; their colorful beaded jewelry and vibrant clothing provide a stark contrast to the harsh realities of their landscape, and their lives:
Here, in a few short steps, is primer on joining in:
2. Listen as she explains that the 58 women, all of whom have broken away from the Samburu tribe, have created a new society in the middle of nowhere -- raising their own food, doing beadwork to sell to tourists -- because here they can rule their own lives, free from beatings, rape and genital cutting. Here they shelter women like the new mother in residence, whose family would have killed her newborn baby because he was born before she was "circumsized." Here they raise their daughters -- and their sons -- to believe that women are equal and powerful.
3. Smile as Wilde arrives and is greeted by exuberant women, bedecked in their own beadwork. They surround her and begin to sing -- a joyful chant -- then teach her their moves. It is, Wilde tells us, "The Vagina Song," a way of rejoicing in their liberation and pride.
5. Hear her say: "Most of these women have been circumcised, have been raped, been beaten, have been abused. They have not been raised to embrace their sexuality and their feminine power, so the fact that they can gather and celebrate that is amazing."
6. Stand up and celebrate along with them.
Calling all HuffPost superfans!
Sign up for membership to become a founding member and help shape HuffPost's next chapter