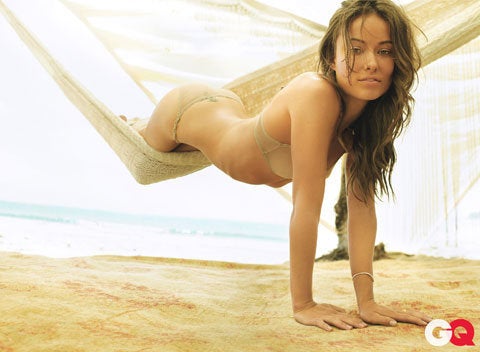 Olivia Wilde may still be best known for making out with Mischa Barton on "The O.C." and playing a bisexual doctor on "House," but she's on the cover of the October GQ and reveals an enviable pedigree full of D.C., Hollywood and media A-listers. Obama has phoned her and she's married to a prince. Read through some of the details below, read the whole GQ article here, see more pics here, and vote in the poll at the bottom.

Excerpts from GQ:
On Hitchens:
Christopher Hitchens used to babysit me when I was young."
"With Olivia you could tell it was going to be the movies or stage or TV or nothing," says Hitchens, the noted writer and political racon-teur who briefly lived with the Cockburns and describes it as the type of place where the worn memoirs of the French military leader Ferdinand Foch were used to prop up a window. "Olivia sort of lived the part--very pretty, and, well, the Victorian term for it is headstrong. She wasn't going to be overlooked or ignored."
Growing up in D.C.:

Her parents, Andrew and Leslie Cockburn, are both longtime investigative journalists based in Washington, D.C. Andrew is the author of unfrivolous books like The Threat: Inside the Soviet Military Regime and Rumsfeld: His Rise, Fall and Catastrophic Legacy. Leslie, meanwhile, has produced or directed segments for 60 Minutes, ABC News, and Frontline. This fall the couple will release a documentary about the housing crisis called American Casino.
When they weren't traveling on assignment to places like Afghanistan, Colombia, and Iraq, Wilde's parents were legendary for dinner parties at their rambling Georgetown town house. Andrew and Leslie Cockburn remain fixtures on the D.C. social circuit; over the years, journalists like Seymour Hersh and the late Peter Jennings have been friends.
"Olivia was exposed to a lot of very clever people when she was little," Leslie Cockburn says. She recalls Olivia eavesdropping one night on a conversation between Richard Holbrooke and Mick Jagger--until the Rolling Stone turned around and shooed Olivia to bed. "How many girls were told to go to bed by Mick Jagger?" she asks.
Olivia is married to an Italian prince:
Wilde's husband is Tao Ruspoli, a wavy-haired 33-year-old filmmaker and flamenco guitarist whom Wilde met not long after moving to L.A. After a whirlwind courtship, the couple eloped, getting married on a funkily painted school bus with only a pair of witnesses. "They're like Barack and Michelle," says -Wilde's friend, actress Megalyn Echikunwoke. "It's like, give me a break--could you be any cuter? They're probably going to have perfectly amazing babies, and they'll be even more annoying."
Nearly every story about Wilde to date makes mention of Ruspoli's aristocratic lineage--he's the son of an Italian prince, the late Roman bon vivant Dado Ruspoli, which technically makes Wilde an Italian princess. "Dado was friends with the Stones, with the Dalai Lama, orgies with Brando, all these people," Wilde says. "We have pictures of him bathing in pitchers of Bordeaux."
Olivia got a call from Barack Obama after helping campaign early in his run:
One afternoon on the set of House, Wilde's cell phone began ringing. The future president was on the line, calling to thank Wilde for her campaign service. The conversation was brief and cordial. Then Wilde hung up and began to jump and scream like a -Jonas Brothers fan: "I was just squealing and squawking, trying to replay the whole thing."
But Wilde hadn't actually hung up her phone. Through a friend, she learned that Obama was still on the line and heard every shrill decibel of Wilde's fangirl outburst, laughing the entire time at the lunatic on the other end. "It was awful--horrifying!" Wilde says. "But apparently he was flattered."

Julie Christie is helping her deal with impending superstardom:
Nothing about her manner suggests a derailment is coming, but Wilde confesses she's turned to a new spiritual adviser: family friend Julie Christie, the British actress who defined a generation of female glamour. As Wilde navigates a similar juncture, Christie has given wise counsel.
Popular in the Community