Most San Franciscans revere Olympia Dukakis for her role as the spirited Anna Madrigal in Tales of the City, the award-winning PBS mini-series based on Armistead Maupin's acclaimed book, which chronicled the lives of a quirky posse living in the city. So, whenever Dukakis returns to the Bay Area, which she does in A.C.T.'s ambitious production of Sophocles' Elektra, she's typically welcomed with arms wide open.
The Greek tragedy, directed by A.C.T.'s resilient Carey Perloff after a successful run in L.A., plays through Nov. 18, and finds the Oscar-winning actress (Moonstruck) unleashing a fiery feast of raw emotions playing The Chorus. Let' be clear: Not a chorus member, but the chorus. The show chronicles the seemingly inescapable depths into which its lead character, Elektra, plunges as she grapples with love and revenge and back again. Dukakis is on hand doing what the chorus does best -- commenting on the action taking place. It doesn't hurt to have composer David Lang on board here, who nabbed a Pulitzer for The Little Match Girl Passion four years ago.
But for Dukakis, who has won praise in numerous roles -- from Steel Magnolias to Skakespeare's The Tempest on stage is, at 81, still wonderfully sharp and dedicated to the acting experience. She says she appreciates Elektra's riveting intensity and the vast range of emotions it allows her to express.
Actually, during a recent phone interview, Dukakis can't help but notice the ripple effects the production may be causing.
"Right now, I am sitting in car and looking at this guy, who is looking at a poster of 'Elektra' -- of me with the wildest look on my face," she muses. "And I keep thinking, what the hell does he think of that crazy-ass woman on that poster, her face twisted in rage, her hand gnarled in fury? I mean, what is he thinking?"
She laughs. "He's staring at that poster. Okay, now he took a breath and walked away. Maybe he'll come to the show."
And the conversation goes on ...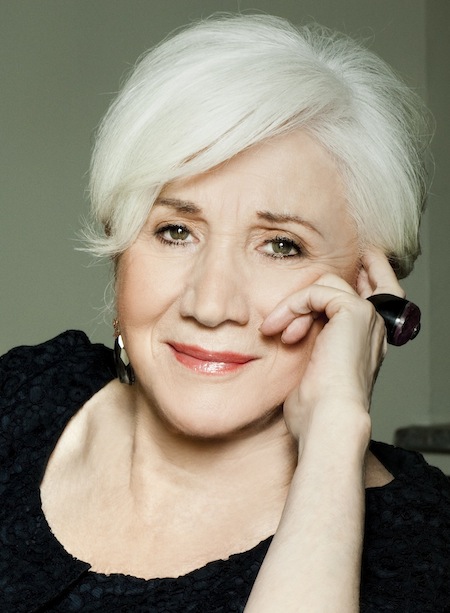 Q: What do you love most about this role?
A: What I love most about it is the political aspect of it; the grappling with justice and how justice is so difficult in a democracy. And how it's manipulated. And, what constitutes justice for one person is blood vengeance for another. That dilemma; that dialogue is very current, and worth engaging in.
I read that you particularly enjoyed the writing in this.
The translation/adaptation is by Timberlake Wertenbaker, and she has made the chorus, instead of eight to 10 people, one voice; the voice of the populace as they deal with switches in power and the power struggles around them. This particular character, which actually has no name, is just called The Chorus, and she speaks a great deal to the audience. I really like that direct address.
So, how is that for you... morphing into that role and all of that? That sounds intense.
It is intense. The whole play is intense. It's an intense experience. If you're really looking for something that is going to engage you and address the situations that we all dabble with and are confounded by, outraged by, defeated by, excited by, then this is the play to come and see. No question about it. It's very timely.
You do seem to choose really exquisite roles, which is probably a conscious choice. They are roles that seem...
You like that -- to be challenged?
Yes. I mean, if it doesn't scare you, what's the point in doing it? [Laughs]. It's got to really shake you, right?
I find that with some writing. I may resist a certain topic, but then if I lean into it, then there is something really magical that can take place.
That's it. You know what I am talking about.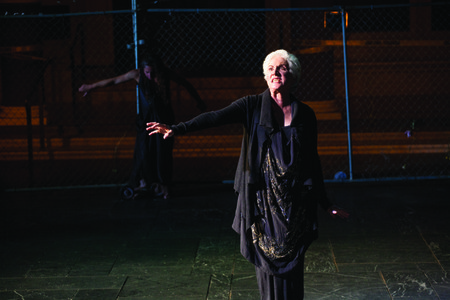 Olympia Dukakis as The Chorus in "Elektra." Photo: A.C.T.
You mention outrage. What are some things you are outraged by in the world?
Oh my God. A lot of things. Like many Americans today, looking at what's happening with the Syrian people. It's something to be outraged by and right up there in the Top 10.
And we're certainly in a very contentious political season, with the election.
Oh ... that one. [Laughs] Yes. Fortunately, people are not dying over that. Not yet, at least. There is hope.
You have appeared in a number of A.C.T. productions. What do you appreciate about San Francisco audiences?
That the theater really reflects their lives; something that is happening day-to-day in the world. They are really eager. And that is great, because there are a lot of audiences that have been trained to just not deal with it -- escape is just escape; escapist material. I mean, not that theater doesn't do all of it, but I think theater in San Francisco, because of the history they have, especially at A.C.T. -- from the adults to their children who later come, or the children's children -- the theater does a terrific job of outreach in the community, bringing workshops and classes. It's very involved and I like that.

Do you find yourself leaning more toward doing more theater these days rather than movies?
Not at all. I love movies. But they are very different. It's like comparing apples and oranges. It's just a different experience of doing it. It has its real advantages.
Do you have thoughts on the entertainment world today. It's certainly a lot different than it was 20 years ago.
Well, yes. There's a lot of action movies, and television has the reality shows and most of the dramas that used to exist, don't happen any more. I find myself doing smaller movies. I've already done two this year, and I am going back to do another one. But they have their advantages and disadvantages. And they don't pay well at all, but usually, the material is much more compelling.
Do you love to act? If so, what do you love most about it?
In the end, it's the involvement with the audience -- inspiration and the rehearsal period and the involvement with the audience. I like the rehearsal period quite a bit but I also like the confrontation with the audience.
What stands out with this director ... Carey Peroff?
I've known her for more than 20 years. I've done "Hecuba" here, I think 20 years ago, and I had done that play three times. I like working with her because I like how the process evolves -- from the rehearsal period to the tech and the dress rehearsal, which, in turn, makes it possible for you to evolve.
Do you find yourself surprised by what comes out of you?
Sometimes, yes. I am. That's always fun and a little scary. It's not always acceptable. [Laughs]. But, you know, you put it out there and you see how relevant it is; whether it belongs or doesn't belong.
What's some of the best advice you've been given about life?
My father always told me; "patience, patience." He talked about that. My mother said, "Too much freedom is not a good thing." [Laughs]. My mother was ... well, she shot from the hip. And my husband's [Louis Zorich] advice to me is always, "Let it go. Let it go. Let it go!"
What's one of the most interesting things you have been learning about yourself lately?
That is an interesting question but a conversation that can go on for another hour. Aging. This aging thing--what it's all about. They tell you that when you get older, you get wiser. That's ... not true. [Laughs] I am a living example of that. You are constantly learning and thinking that something was relevant, and realizing that it wasn't or isn't. I wish it were true, that when we get older, we get wiser. And some people do. I am not saying they don't. But I don't think it's my lot in life. [Laughs]
Popular in the Community