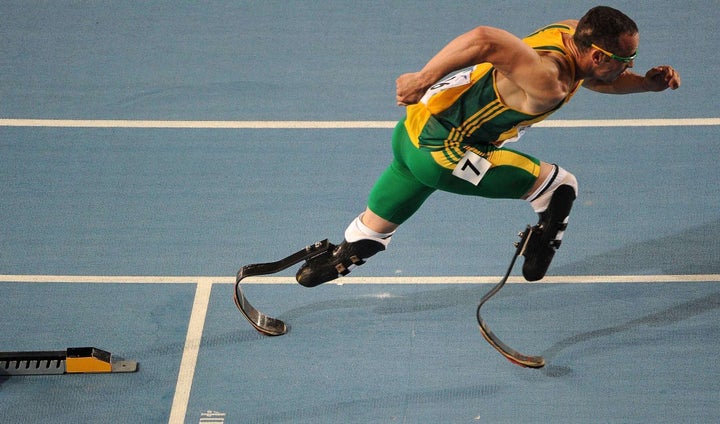 When Olympic gold medalist Dominique Moceanu published her memoir earlier this summer, fans were stunned by the revelation that she had a younger sister who was born with no legs and given away at birth. The pathos of the story is heightened by the contrast between Moceanu -- who, despite her tremendous accomplishment, suffered from injuries, the mercurial affections of coach, and greedy, exploitative parents -- and her sister, Jennifer, who was adored by her adopted family and became a talented athlete in her own right. Jennifer has been on my mind as I've watched the unfolding drama around Oscar Pistorius, the South African runner who is the first double amputee ever to compete in an able-bodied Olympic games. One takeaway from the experiences of these two talented athletes is that having legs is certainly no predictor of happiness or athletic ability. But more importantly, they got me thinking about the Olympics as an opportunity to remember that all bodies are frail and incomplete, and that disability is an unavoidable, albeit not necessarily tragic, aspect of human life.
We tend to think of the Olympics as a commemoration of physical perfection. The first games in ancient Greece derived their name from the immortal prowess of the gods who lived on Mount Olympus. This perspective was endorsed by the first feature film of the games, Leni Riefenstahl's 1938 Olympia. In keeping with Riefenstahl's Nazi aesthetic, the film glorifies the monumentality, symmetry, and grace of the human form.
It's striking how often those few moments of spectacular accomplishment are shadowed by disability and physical imperfection. Nearly every one of the sappy biographies that bog down the NBC coverage of the games tells a story of overcoming injury. Games past featured Walter Davis, who contracted polio at age nine, became an athlete as a form of rehab and went on to win a gold medal in high jump at the 1952 Olympics. Harold Connolly used the hammer throw to strengthen a withered arm, then became a gold medalist in 1956. Ray Ewry, who used a wheelchair because of childhood paralysis, won 10 Olympic medals. Wilma Rudolph, considered the fastest woman runner in the 1960s, contracted infantile paralysis and wore a leg brace until age nine. The aerial skier and gold medalist Nikki Stone suffered a severe spinal injury that left her unable to stand or sit. Dana Vollmer, who just set a world record for the 100-meter butterfly, was diagnosed at age 15 with a potentially deadly cardiac syndrome.
I'm not crazy about the clichéd treatment of disability-as-hardship-to-be-overcome, as if those who fail to transcend their less-than-able bodies simply haven't tried hard enough. What I find more compelling are the stories of competitors like Pistorius whose athletic excellence must be seen as part and parcel, rather than an overcoming, of his disability. There's a growing list of athletes who have competed in both the Paralympics and the able-bodied Olympic games. These include Neroli Fairhall (archery, New Zealand), Paola Fantato (archery, Italy), Marla Runyan (track and field, U.S.), Natalia Partyka (table tennis, Poland), Natalie du Toit (swimming, South Africa), and Pal Szekeres (fencing, Hungary).
Of course, Dominique Moceanu isn't alone in having a disabled relative, and athletes who disclose this aspect of family life remind us that an able body doesn't insulate us from the ubiquitous presence of disability. Snowboarder Kevin Pearce has a brother with Down syndrome, who is also his best friend. The Canadian skier Alexandre Bilodeau has a brother with cerebral palsy. When Italian soccer star Piermario Morosini died suddenly at age 25, he left behind a severely disabled sister.
Many have praised the London Olympics for making disability visible, rather than trying to pretend it doesn't exist. In addition to evidently disabled competitors like Pistorius and Partyka, the opening ceremony featured deaf percussionist Evelyn Glennie, a deaf-hearing children's choir performing the British National Anthem, and a dance that integrated wheelchair users among the able-bodied dancers.
All of this should be evidence for just how badly Riefenstahl got it wrong. Much as we may admire the spectacle of perfectly muscled, perfectly strong and vibrant Olympian bodies, what makes us care are the stories of illness and disability that attest to the athletes' humanity. And what makes me really want to applaud is when those stories are told not in terms of tragedy overcome, but of disability as an ordinary and inevitable fact of life.
Support HuffPost
The Stakes Have Never Been Higher
Related
Popular in the Community