Bring on the games and bring on your appetite! Dotted along the Village Stroll in Whistler, B.C. you'll find no shortage of small, funky locally-owned cafes offering delicious food to go.
1. Zog's
The best place to fill your tummy without emptying your wallet is without a doubt Zog's Dogs, a takeout stand at the base of Whistler that's always busy serving Canadian delicacies like poutine and Beavertails, along with quick eat staples like hot dogs, burger and fries. What makes Zog's such a popular destination for locals and tourists alike? Without compromising on quality, Zog's offers the best bang for your buck in a town notorious for cringe-worthy food prices and it's the only place to get true, authentic poutine made with real cheese curds and freshly-fried Beavertails, another Canadian favorite. Its location at the base of Whistler and late night hours (open 24/7 during the Olympics) definitely don't hurt business; at the busiest of times there can be dozens waiting in line. Try a heaping serving of poutine while you're in town, or a grab a veggie dog and top it with a dollop of ketchup and freshly fried onions from the stand's giant wok. With prices this good, you can afford to chow down on everything offered at Zog's and I can guarantee that your first visit to this great Canadian spot definitely won't be your last. Located at 4340 Sundial Crescent.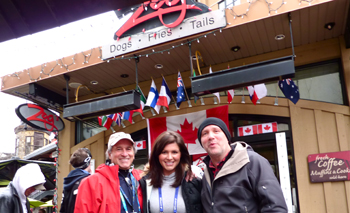 With owners Arthur Blank and Wayne Katz at Whistler hotspot Zog's
2. Mogul's
The small, sunny patio outside this popular local cafè is a favorite of snowboarders eager to get up the mountain or wiped after coming down, and features a sizeable array of hot drinks, freshly-made smoothies, wraps, small salads and some sweet treats. Large blackboards with cute and colorful scribbles let customers know what's on offer and if you're lucky you can grab a stool and surf the web while you eat. My favorite at Mogul's is the breakfast wrap, choc-a-bloc full of scrambled eggs, chopped potato, cheese and spicy salsa - grilled upon ordering. This popular, youthful spot opens early and closes late. Located at 202-4208 Village Gate Boulevard.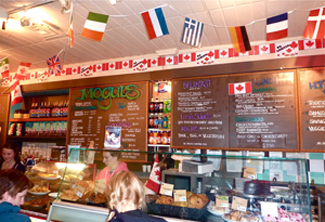 3. Ingrid's Village Cafè
For over 20 hearty years Ingrid's Village Cafè has been serving Whistlerites and tourists a cornucopia of freshly made soups, salads, burgers, veggie delights, made-to-order sandwiches and more. Right in the heart of Whistler Village, the plain facade of this tiny unassuming cafè belies the richness of flavor and generous portions being served over the crowded wooden counter. Ingrid's won my vegetarian heart with their Superior Burger, made with a huge lentil patty, garnished with fresh veggies, smothered with mayo and salsa, and sandwiched between a fresh multigrain bun. They open at 7 am, which is just enough time to grab a quick breakfast before doing Fresh Tracks on the mountain, and they stay open until late afternoon. Located at 102-4305 Skier's Approach.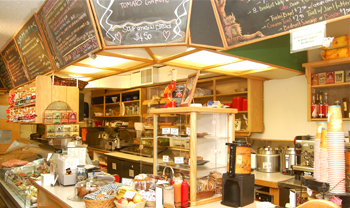 Photo courtesy of Ingrid's
4. Gone Bakery & Soup Co.
Gone has become a real locals hangout in Whistler, tucked away from the hustle and bustle of the village this cafè offers freshly made food and a warm, inviting atmosphere. From hearty soups served with multigrain bread to a variety of generously stuffed sandwiches, everything at Gone is made from scratch with the freshest local ingredients possible. Prices are reasonable, the food is tasty and the place is cozy; Gone isn't going anywhere. Located at 4205 Village Gate Boulevard, just past Armchair bookstore.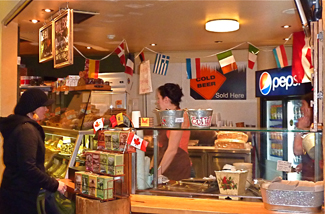 5. The Beet Root Cafè
The Beet Root Cafè is a quaint, corner cafè on the other side of Whistler Village that offers fresh, wholesome food, a full breakfast menu and lots of organic dishes. With a little more seating than most of the cafès in town it's a great place to eat a delicious breakfast while you sip your coffee and peruse the paper. It's worth the extra few minutes to get to Beet, especially if you need repose from the excitement of the Village square. Located at 129-4340 Lorimer Road.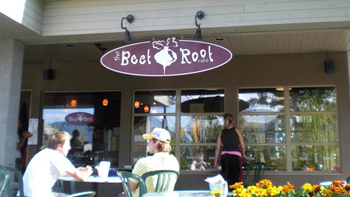 Photo courtesy of Canpages.ca