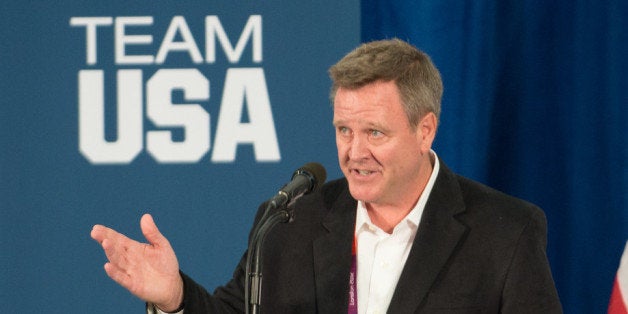 Last week the United States Olympic Committee (USOC) took the gold medals in both rhetorical gymnasts and cognitive dissonance. In the space of just 24 hours, the USOC said that Russia's anti-gay law enacted in June is "inconsistent with the fundamental principles" of the Olympics but also that it is their "strong desire that our athletes comply" with them at the 2014 Olympic Winter Games in Sochi. And this was after Associated Press sports columnist Jim Litke called the whole establishment out, saying:
Forced to choose sides between the principles in their Olympic and corporate charters and a big payday, all of them have responded to the growing furor over a new anti-gay propaganda law in Russia the same way they always do: Timidly.
The International Olympic Committee (IOC) seems likewise entirely out of touch with reality. On July 31 they said, "[T]he IOC has received assurances from the highest level of government in Russia that the legislation will not affect those attending or taking part in the games." It's unclear who the IOC was talking to, but within days those assurances had been disputed by a handful of people currently serving in "the highest level of Russia government" and, ultimately, definitively by the Interior Ministry, which controls the Russian police force. So, yes, the oppressive law does apply to everyone attending the 2014 Winter Olympics. The IOC has since announced that they want more "clarification" and then apparently retreated to hide under their desks in their spin room.
From day one, the committees and the corporate sponsors have sought to spin their way out of this story as though it were just an unflattering gossip item on Page Six. Will they next invite U2's Bono to appear at the opening ceremonies and hope that all will be forgotten?
The New York Times' editorial board said that there is "no defense for" these laws and noted the laws' inherent incompatibility with the Olympics:
They also contradict the charter of the International Olympic Committee, which calls sport a "human right" and states that "every individual must have the possibility of practicing sport, without discrimination of any kind."
Defending the propaganda law at a news conference in June, President Vladimir Putin parroted the standard Russian government line: "This is not about imposing any kind of sanctions against homosexuality. This is about protecting children." One can only agree with this premise if one believes that being gay is contagious and that children will become gay (or somehow damaged) by hearing that gay people exist. In educated countries this is largely seen as the nonsensical, anti-science argle-bargle that it is.
The IOC and USOC know that this law is wrong, and they are disgracing the Olympics with their inept handling of this crisis. In Europe and the Americas governments just do not arrest people for wearing displeasing T-shirts. But not once have the committees or the corporate sponsors appeared to truly acknowledge the gravity of what is actually happening in Russia. They do not seem to recognize it for what it is: the boiling over of a human rights crisis that has been simmering in Russia for a long time.
Outside Russia, few are defending this law on its own (lack of) merits. This is because this law is per se a chilling assault on fundamental principles of freedom of speech, freedom of expression and freedom of assembly. This is not an opinion but a finding of fact by the European Court of Human Rights. Russia has already been found to be violating their obligations to the European Convention on Human Rights with regard to their conduct toward LGBT citizens. In 2011, upon the passage of St. Petersburg's regional version of this law, Paul Johnson, Senior Lecturer of Sociology at the University of Surrey, wrote:
What is astonishing about the recent ratcheting up of these regional anti-gay provisions in Russia is that they are in direct defiance of the European Court of Human Rights (ECHR), which has explicitly admonished Russian public authorities for prohibiting public association and assembly on the grounds of sexual orientation. In Alekseyev v. Russia, the ECHR upheld a complaint from Alekseyev, a gay rights activist, that the repeated refusals by Moscow authorities for permission to hold a gay pride event violated his rights under Articles 11 (freedom of assembly and association), 13 (effective remedy), and 14 (prohibition of discrimination) of the European Convention on Human Rights.
In theory, Russia is accountable to this court, but when they ignore its authority, the world, like the Olympic Committees are doing now, has shrugged (as it shrugged when Russia nixed the request that Sochi, like Vancouver, host a Pride House for LGBT athletes and supporters.) Is it any wonder that Russia, faced with no real global pushback since this judgement in 2010, has since escalated its war on gays rather than back off? When will enough be enough for the world to take notice?
Finally held accountable by the press, at least, in the last month, the Russian government is showing no signs of contrition or conciliation, instead affecting a posture of bald-faced defiance. Russian Sports Minister Vitaly Mutko said that everyone should just "calm down" because the uproar is just an "invented problem," and he also likened gay relationships to drug addiction. And in an interview with World Football Insider, Russia's World Cup chief Alexey Sorokin compared silencing gays to silencing Nazis. (It's an ironic comparison considering that it is not the gays rounding up people and arresting them en masse but the Russian government. According to Amnesty International, the Russian government has arrested 5,000 LGBT rights supporters just since 2012.)
I believe that after Uganda, after what we saw in the aftermath of the Iraq war, actor Harvey Fierstein really struck a chord with a lot of Western gays when he said on MSBNC, "It's time for us [LGBT people] to put our foot down and say we will not be the scapegoat for the world anymore." Gay Russians are not the reason for Russia's low birth rates any more than gay people in the West are to blame for divorce and children being raised in single-parent households. Uganda has myriad social, economic and political problems, none of which will be solved by putting its gay citizens to death. It's nonsense and demagoguery that places gay people's lives in danger in every culture on Earth.
The time for polite diplomacy on this issue is running short. The Olympic committees' "solution" seems to be that everyone should pipe down and respect the laws -- except that already, people are refusing to do either. In the last week the Finnish Minister of Culture and Sports, Paavo Arhinmäki, waved a rainbow flag during the World Track & Field Championships in Moscow. American runner Nick Symmonds spoke in defiance of the law, and Russian gold medalists Kseniya Ryzhova and Tatyana Firov shared a same-sex kiss in an apparent act of civil disobedience. Displays like this are highly likely to take place at the 2014 Winter Olympics. It's natural that human rights supporters might leverage the world stage to send a message. After all, the wages of silence have always been death for the LGBT community, so they have little to lose by mounting an act of defiance. It's also equally likely that the recalcitrant and belligerent Russian government may choose to make an example of such human rights supporters, with tragic consequences.
What is entirely unclear is whether the Olympic committees can, in all honesty, guarantee anyone's safety in Russia.
Related
Popular in the Community