Overcoming personal setbacks and career-threatening neck injuries earned Kurt Angle his professional wrestling nickname: "The Cyborg." However, kicking an addiction to painkillers proved to be the biggest challenge of the Olympic Gold medalist's life.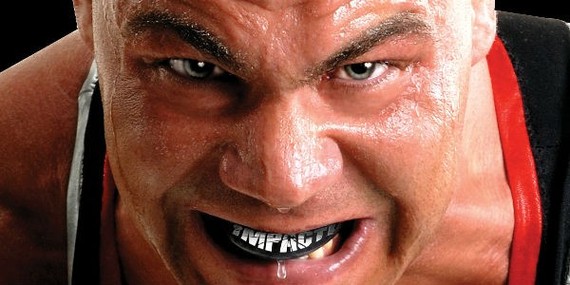 "It was really tough -- the toughest thing I've had to do," shared the Total Nonstop Action superstar, a 13-time World Heavyweight Champion, during a telephone interview, "But I realized the most important I can do is stay clean to experience the things I was missing in my life, which is my family."
Arguably the most decorated athlete in sports entertainment history, Angle is far more than the only Olympic Gold Medalist to ever jump from amateur to professional wrestling. Over two unparalleled decades inside the squared circle (or, in TNA's case, the six-sided ring!), he became the only grappler to win World titles in TNA, World Wrestling Entertainment, World Championship Wrestling and Japan's IWGP.
In 1999, Angle kicked off the greatest rookie year pro wrestling has ever known. Within months of his television debut, he'd unified the WWE European and Intercontinental titles, won the King of the Ring and captured his first World championship.
Unfortunately for the two-time former National Collegiate Athletic Association Division I heavyweight wrestling champ, success came with a heavy price. Having won wrestling gold in the 1996 Olympics with a legitimate broken neck, the rigorous, year-round pro schedule took its toll. He was racking up injuries almost as fast as championship belts.
Expected to perform at main event caliber even when hurt, Angle became dependent on prescription painkillers. "I had those things I took so I could function at work," he shared, "And that's all I wanted to do was work, work, work. Nothing was fun any more."
By his 2006 move to TNA, Angle was one of the top-grossing talents in sports entertainment. Success came quickly, as he continued collecting championships -- even simultaneously holding all of the company's titles at one point. But a series of well-documented legal issues soon followed, including being charged with driving under the influence on multiple occasions.
Finally, at TNA's urging, Angle sought treatment. With the organization's full support, he entered rehab, calling it "the best decision [he] ever made."
"I had to look at what is more important -- addiction or my family," recalls Angle. "I chose my family and have never looked back."
When TNA's IMPACT Wrestling debuted live on PopTV Tues., Jan. 5, a healthy, happy Angle was on-board. The former TV Guide Channel provides a new beginning, on a new cable home for the 13-year-old professional wrestling company -- and starts a new era for Angle as well.
After nearly 20 years as an in-ring personality, Angle has announced his imminent retirement from active competition. He acknowledges it comes at a crucial time in TNA's development, and poses a minor speed bump for the company.
"I think it's scary for everyone," he stated.
"It's not a bad thing having Kurt Angle as a spokesperson for your company. It does pull some weight," he continued. "Being without Kurt Angle as you're moving to a new network, it's challenging, but I think they'll rise to it."
TNA isn't without Angle just yet though. The superstar's "farewell tour," if you will, is set to play out over future episodes of IMPACT! Wrestling. Over the next month or more, he will face hand-picked opponents, those he feels are the company's future stars. The journey begins Jan. 12, when Angle faces Drew Galloway in the program's main event.
In many ways, though, this passing of the torch started last summer when Angle dropped his historic sixth TNA World title to Ethan Carter, III. The hottest commodity in the company, Carter regained the title during a tournament final on last week's first PopTV broadcast. The veteran has nothing but positive things to say about the young superstar.
Ethan Carter, III, wins the TNA World title from Kurt Angle

"It was a bittersweet night for TNA when Kurt Angle lost the title to EC3," he confessed of the duo's 2015 matches, "But it was sweet because we're seeing the next, iconic style of wrestler in EC3. He's as good as it gets right now. I'm excited to see what he does in the future and how big he becomes."
Should Angle ultimately pull down the strap of his singlet for the final time inside a six-sided ring, it seems somewhat appropriate. Though nobody can deny his career reached fever pitch in WWE, he says it peaked once he reached TNA.
"When I left WWE, I was just starting to get really good -- and not just from a fan's standpoint -- but as a wrestler, an agent, a producer," said Angle, "I was able to bring matches together, the psychology of it. I was really good at it.
"That's when the lightbulb went off in my head in 2006," he went on. "The unfortunate thing is, a lot of fans didn't see my career in TNA. They don't know how good my career was. I did have a better career in TNA, and that's because of maturity."
But Angle isn't looking back. If anything, he's excited for what's to come. When asked what the future holds, he says with a chuckle, "That's the million dollar question."
From acting -- including a cameo in campy SyFy original Sharknado 2: The Second One -- to Q&A tours and even possible commentary for Bellator, he "won't be happy" unless he stays busy. And, invariably, that will include more time with family, he says.
"It's going to be fun to see where I go from here," he concluded. "I'm just grateful I'm able to do it clean and sober."
TNA IMPACT! Wrestling broadcasts Tuesday nights on PopTV. Check local listings for times and availability.
Need help with substance abuse or mental health issues? In the U.S., call 800-662-HELP (4357) for the SAMHSA National Helpline.
Related
Popular in the Community