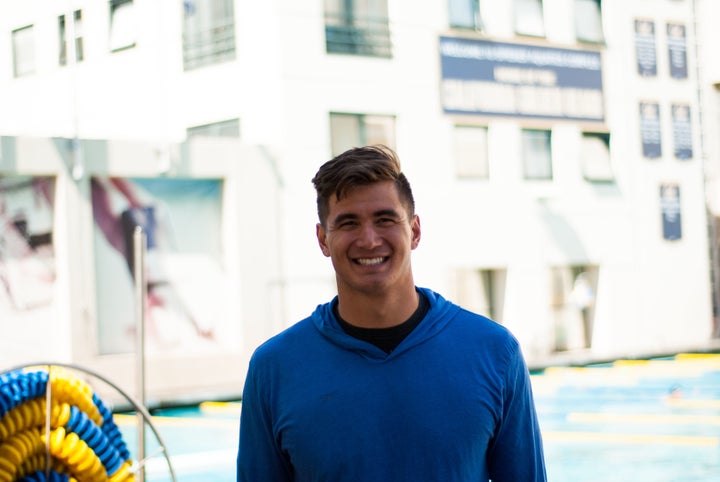 It's a beautiful day in the East Bay of the San Francisco Bay Area, and I'm hoping that my ultra-busy interviewee hasn't embarrassingly beaten me to our 11:00 a.m. appointment. I hastily close my Google Maps after finding mercifully close parking on the University of California, Berkeley campus and then hurry to the pre-determined meeting spot. The large trees surrounding the prestigious university—lovingly abbreviated by its students and the rest of the country simply as Cal—casts large shadows over the small, quaintly named Café Blue Door, the setting for today's interview. I arrive with a few minutes to spare, and take a sigh of relief when I see that I am first to arrive. The café is the archetypal college town coffee shop: the décor reflects the blue and gold motif of the institution directly across the street, and every last table is taken by students with furrowed brows and earbuds, pouring over textbooks, typing on laptops, and sipping cappuccinos. Upon seeing that the coffee-stained tables are all taken, I return outside and set up on one of the metal tables sitting on the damp sidewalk. After only a few minutes of reviewing my notes, I hear a sidewalk-rattling purr speeding up behind me. A tall, broad-shouldered man zooms past me on his electric-powered longboard and skids to a stop directly in the front of the café. Frantically, he begins looking inside as if he were horribly late for an important engagement. I call out his name just as he takes a brisk step toward the door. Wide-eyed and slightly out of breath, he relaxes a little and greets me with a warm smile, a handshake, and an apology for being so late.
I look down at my phone. It's only 10:58.
Nathan Adrian has arrived.
The most obvious and notable characteristic of any world-class athlete is typically their stature, and Adrian is no exception. His Adonis-like figure stands 6' 6" and is planted firmly in size 14 Nike trainers. His broad chest stretches his blue performance hoody to capacity, and a casual pair of basketball shorts show off calf muscles that look like they could, well, propel him to an Olympic gold medal. By physical build alone, it's clear that Nathan Adrian was born to swim. He grew up in the relatively small Pacific Northwest town of Bremerton, Washington, a place he says changes population greatly depending on the number of carriers at the local Puget Sound Naval Shipyard. His Chinese mother and American father—a retired nuclear engineer at the shipyard—supported their son's swimming starting at the early age of five, all the way until he became a swim star for the Bremerton High School Knights. He would end up accepting an athletic scholarship to UC Berkeley, and from there progress rapidly to make his first Olympic team at age 19 for the 2008 Summer Olympics in Beijing. His furious sprint speed helped Team USA's 4x100-meter freestyle qualifying team set a world record in the preliminary heat, which gave Michael Phelps and company a spot in the final the next day. Nathan watched from the sidelines as the final squad beat the qualifying team's previous effort by four seconds and won the gold along with setting a new world record. Adrian would receive a gold medal for his part in the victory, a first taste of what was to come for the young swimmer.
The London 2012 Olympics played out much like a movie script for Adrian. After finishing first at the U.S. Olympic Trials in his bread-and-butter event, the 100-meter freestyle, he was certainly the man for the job on Team USA, yet still a bit of a dark horse on the world stage. James Magnussen of Australia was the overwhelming favorite to win the there-and-back dash, with all pre-race predictions centered on the amount of time between the Aussie and the would-be second place finisher. In a storybook final, Nathan outsprinted the field in the final 50-meters to outreach Magnussen by one one-hundredth of a second, and became the first American to win the event since 1988, the year he was born. Adrian returned from across the pond with three medals in tow and hungry for more.
His most recent success in the 2016 Rio Summer Olympics has only further solidified his prowess in the pool. He won his first gold medal in Rio De Janeiro after being entrusted with the final leg of the 4x100-meter freestyle relay, an honor typically reserved for the fastest sprinter. And rise to the occasion he did. His final leg was the fastest of the field, an effort that secured each of the four American swimmers with their first medal of the games, and gave Michael Phelps his 19th career gold medal. When asked about his relationship with Phelps, his respect for the swimming G.O.A.T. is readily apparent. "I love Michael," he states immediately. "I think he's done an amazing thing for the sport, and I've been able to experience history from a place that very few people get to. Having him on the relay has been an honor, and obviously it was such an honor to be entrusted with that spot to anchor it and help bring it home."
In talking to Adrian, he seems like less of a purebred athlete and more like a guy whose childhood love for swimming grew into something bigger than he or his family ever imagined. (After all, his reason for being "late" to our interview is because he was at the Apple Store getting his phone battery fixed so it won't keep draining rapidly during his PokémonGo escapades, an activity he says is more fun to play while riding his Boosted Board.) When asked what his status was in high school, he smiles sheepishly. "I was uncomfortable with who I was. I was a 6' 5", 180-pound kid, real skinny. I had big dreams but I was definitely more shy and less comfortable in social situations."
It's easy to tell that he's painting an accurate portrayal of his younger self, one that maybe he's still trying to grow out of a little. Throughout the course of our conversation, two separate students will recognize him as they pass by on the sidewalk and stop to say hello. He smiles genuinely and instantly offers up a handshake, but it's hard to tell who is more uncomfortable, Adrian or his fans. When one male student asks for a photo, Adrian stands up and smiles as wide as his shoulders, towering over the student. He remains pleasantly quiet as the kid nervously chats about the new swimming pool about to open up on campus.
When I ask Adrian if he was well known in high school for being a star, albeit shy, athlete, he erupts into a hearty laugh. "You know what, I did not get voted 'Most Likely To Make It To The Olympics!'" He remembers vividly not receiving this particularly ironic senior class superlative given in his yearbook. "I was like, Crap, come on guys!" he recalls with a chuckle. His reaction to the memory perfectly displays his easy-going demeanor, coming from a humorous place of "aw shucks" rather than containing even the slightest trace of bitterness or ego. He displays the same mentality when recalls his high school recruitment as a top swimming prospect—a label I have to coax out of him—and his decision to swim for Cal. "I was looking at the top five swimming schools, all absolutely, positively better choices than Cal was in terms of a team, but Cal had the experience with sprinters that I was looking for, and the school's academics are certainly, what I would say, are a level above the rest." He frequently uses qualifying statements like this, such as "I believe" or "in my opinion" so as not to speak definitively and potentially offend anyone.
"I was right on that border of being a blue chip," he continues, repeating my term rather than describing himself as such. "There were definitely a couple guys who were ahead of me in that 2006 class. University of Texas usually gets their pick. I didn't even get more than one phone call from Texas, which I actually missed," he laughs in a further show of humility. When I point out the obvious irony of a school with 11 national titles in men's swimming and diving passing up on a future Olympic gold medalist, he answers in his typical relaxed form. "That's okay. I have absolutely no hard feelings. I don't want to be that guy. Cal was just willing to do a little more."
It appears the good guy persona of Nathan Adrian can't be shaken so I decide to turn up the heat a little and ask about the one topic that has had USA Swimming and the United States Olympic Committee shaking their heads ever since the Rio Olympics closing ceremonies: Ryan Lochte and the now infamous "robbery" scandal. True to form, the first thing Adrian says is, "I'm just happy they're all safe. I think a lot of people several months later forget that that they could have ended up in real danger, regardless of what was said." His answer feels like that of a concerned older brother, disappointed in how things went down but supportive of his teammates moving forward.
He says he was invited that fateful night to join the group consisting of Lochte and fellow swimmers Gunnar Bentz, Jack Conger and Jimmy Feigen, but "it was already 2 a.m. and I was way too tired so I told them I'm just not into going out right now." The events that followed—and the media mayhem that ensued—will undoubtedly go down as one of the less proud moments in Team USA's storied history. The debacle eventually led to a 10-month suspension for ringleader Lochte and a lingering bad aftertaste of our nation in Rio. Now that the public scrutiny has largely died down, Adrian says he's ready to move forward from the incident. "There's only so much that dwelling on the past can do," he says. He even gives well wishes to Lochte for his participation on ABC's Dancing With the Stars, while also expressing his gladness that the other three swimmers will be allowed to continue to compete for Team USA in next year's World Championships. "I personally felt like [Bentz, Conger, and Feigen] didn't do anything wrong and didn't deserve to be left out of any international competition."
When I turn things up a little further by asking if it's common for athletes to party in the Olympic Village or paint the town red with mischief when their events are finished, his answer reflects the same older brother tone, not at all condescending, just… wise. "You can find trouble anywhere you go. There are going to be athletes who will say 'I've trained and I've focused for so long' and they just want to let loose, and they forget what something like alcohol can do to them."
In a final attempt to unearth any feelings that don't reflect a Golden-Boy-meets-Golden-Bear image, I pull out the big guns by asking what his personal relationship is like with Ryan Lochte.
Unsurprisingly, Adrian remains congenial.
"We're cordial," he says casually. "We're certainly not the best of friends." He pauses for a moment and then adds a friendly reminder. "I don't say that because I don't like him, we just don't have a ton to relate about."
There's no doubt that you likely couldn't find more polar opposite personalities than the two swimmers who have both been instrumental to Team USA's success in recent years. While Lochte is known for his frat boy antics and slack-jawed mumblings in interviews that frequently border on cannabis-induced incoherence, Adrian is eloquent, thoughtful, and composed. He tells me that listening to music feels "too loud" for his daily commute on the BART train from his apartment in San Francisco to Cal's swimming facilities, so he listens to NPR and audiobooks instead. He is a big fan of The Great Courses, a learn-for-pleasure series that is essentially entertaining textbooks for those looking for intellectual enrichment. Right now, he is listening to one about economics and says it's been exciting to relearn and refresh. The other two audiobooks he mentions in his queue are one about behavioral psychology and another about meditation. He admits that he recently read a best-selling work of fiction but didn't enjoy it. His left brain is exposed even further when he says that if he weren't a professional swimmer he'd likely be in tech sales. It's as hilarious as it is telling to imagine Adrian and Lochte in the same office scenario: one is the number-crunching wiz intent on hitting quotas and the other a handsome party boy in a suit who is inviting everyone out for drinks once the clock hits 5:00pm. Nathan seemingly picks up on the palpable metaphor and sums it up best by comparing his relationship to Lochte "like a guy at work who has different interests than you, so you don't have a lot to relate about."
For the rest of our conversation, I come to the conclusion that Adrian is truly as nice as he seems. Perhaps most notable about his demeanor is an endearing sense of self. He says he hasn't spent more than three nights in his own bed since the Summer Olympics in Rio ended but considers himself lucky to be inundated with interview requests and event appearances. He finds life gets busier with each passing games, and compares each to "taking the same vacation but through a different lens each time." He clarifies by using an analogy of visiting somewhere when you're a child and then again as an adult. "A lot of the elements are largely the same but they change subtly each time and so have you as a person." His acute self-awareness shows even further when he again expresses appreciation for his situation by stating, "I am so lucky to be able to call swimming my job." His display of gratitude is verified by an impressive show of knowledge of the history of his sport, which he dives into enthusiastically. He pays respect to former Olympic swimmers such as fellow Cal alum Matt Biondi and five-time gold medalist Tom Jager, athletes who came before him and paved the way for today's important sponsorship deals, and even fought for health insurance for Team USA members.
In a final meta-like show of consciousness, Adrian talks about how he recognizes the fact that his blistering speed in the pool has a "hard deadline" and that he can sometimes even find himself questioning his career path when seeing friends with steady salaries and defined career ladders. But it is when he pauses for a moment and puts his critical thinking nature aside for a moment that the depth of his wisdom truly shows. "You've just got to turn that part of your brain off that says you need to follow a certain path and say, Hey, you got to do what you're doing, and have a level of comfort with that. Swimming has opened doors for me, and where those doors lead we don't know. Maybe it's worse," he concedes with a laugh that's as genuine as it is self-deprecating. "But I am lucky enough to have the opportunity to explore it."
Robbie Tripp is the author of "Create Rebellion," an abstract manifesto for disruptive creativity. He lives in San Francisco with his beautiful wife Sarah.
Before You Go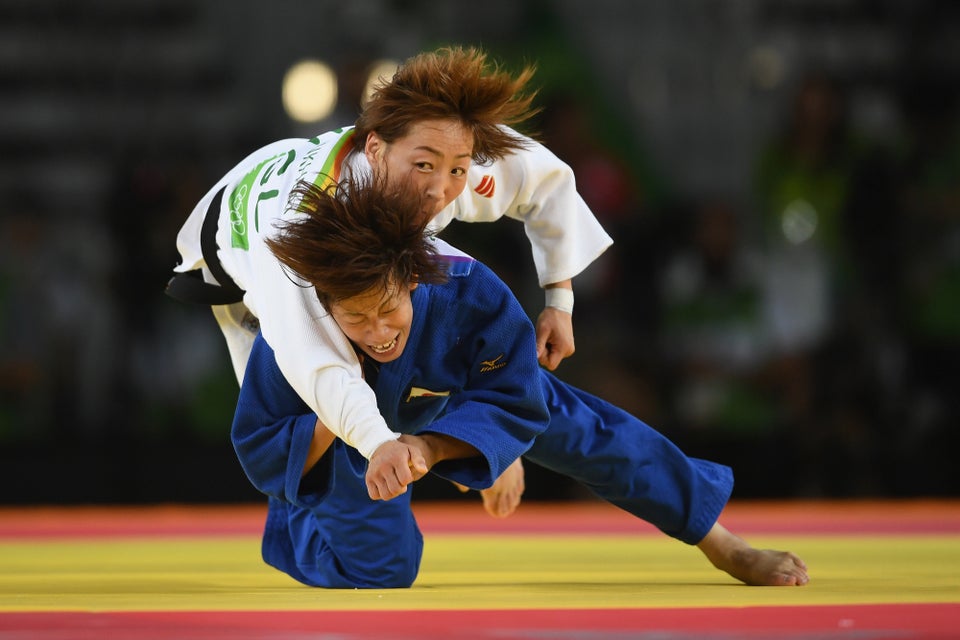 Best Photos From The Rio Olympics
Popular in the Community