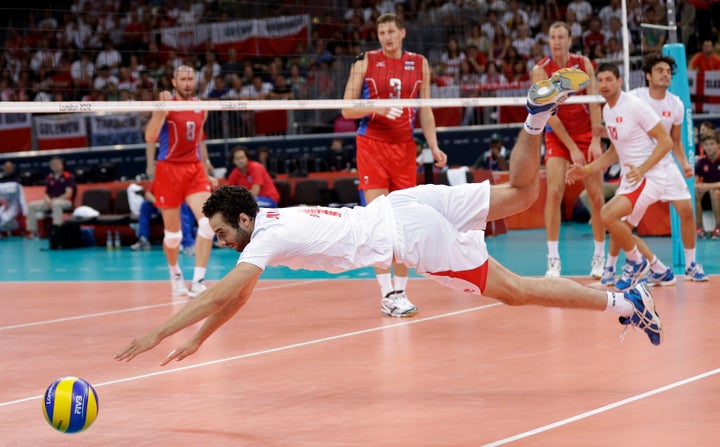 In a recent blog post on The Huffington Post, Kelli Goff dared to ask the unthinkable: "Why Are Some Olympic Sports Whiter Than Others?" Noting the obvious and seeking to understand the absence of people of color from many Olympic sports, Goff attempts to answer why Gabby Douglas, Lia Neal, Jordan Burroughs, Ibtihaj Muhammad, Justin Lester, John Orosco, and Cullen Jones are unusual in the white world of sports. While noting class, environment, differential opportunities (I explore this aspect here), and countless other factors, Goff stays clear of racism:
Before the eye rolling begins, this is not a column about rampant racism in sports. But it is an attempt to understand why some sports end up predominated by one racial group versus others, and the long-term social and cultural implications of such segregation on the field, court, or gymnastics mat.
Despite her attempt to push the conversation away from racism in sports (and beyond), there has been ample resistance from readers. The truth is hard to hear. The reason why America's Olympic team is overwhelmingly white, the reason why there are so few athletes of color within many Olympics sports, is the persistent impact of racism, segregation, and institutional violence.
Embodying class inequalities, a history of discrimination, and the realities of residential segregation, many Olympic sports are dominated by whites because the spaces, the neighborhoods, the schools and the very institutions that produce those recreational and elite athletes are racially segregated. Whether swimming, diving, or gymnastics, the pipeline to the Olympics is one where youth of color find difficult entry, if not outright exclusion.
We see the consequences of inequality and segregation as it relates to our high school sports, our recreation, leisure, and play. Research has shown that people of color and particularly lower-income communities have fewer opportunities for physical activity. For example, several studies published within the American Journal of Preventive Medicine (AJPM) found "that unsafe neighborhoods, poor design and a lack of open spaces and well constructed parks make it difficult for children and families in low-income and minority communities to be physically active." Likewise, citing the study from Trust for America's Health (TFAH) and the Robert Wood Johnson Foundation (RWJF) entitled "F as in Fat: How Obesity Threatens America's Future 2010" Angela Glover Blackwell focuses on the structural impediments to a healthy lifestyle that includes exercise. "As the report illustrates, where we live, learn, work and play has absolutely everything to do with how we live. Low-income families of color are too often disconnected from the very amenities conducive to leading healthier lives, such as clean air, safe parks, grocery stores with fresh fruits and vegetables, and affordable, reliable transportation options that offer access to those parks and supermarkets." Communities of color, and America's poor, are disconnected from the very facilities and resources necessary to become a great champion. Access to pools, coaches, gyms, and healthy foods, remains a dream deferred for communities of color, meaning the dreams of an Olympic birth are all too distant as well.
Robin D.G. Kelley described this predicament in "Playing for Keeps," as part of structural adjustment programs and deindustrialization processes that plague poor communities of color beginning in the 1970s. "Play areas -- like much of the inner city -- have become increasingly fortified by steel fences, wrought-iron gates, padlocks, and razor sharp ribbon wire" (1998, p. 196). Noting that in cities like Cleveland and New York City, which each saw closure of between 40 and 50 million dollars worth of recreation facilities in the late 1970s, Kelley argues that play and spaces of recreation have increasingly only been accessible within middle-class (white) suburban communities.
We have witnessed a growing number of semipublic private spaces like 'people's parks' that require a key ... and highly sophisticated indoor play area that charge admission. The growth of these privatized spaces has reinforced a class segregated play world and created yet another opportunity for investors to profit from the general fear of crime and violence. This, in the shadows of Central Park, Frederick Law Olmsed's great urban vision of class integration and public sociability, high-tech indoor playgrounds such as Wondercamp, Discovery Zone and Playspace, charge admission to eager middle -- and upper-class children whose parents want a safe play environment ... While these play areas are occasionally patronized by poor and working-class black children, the fact that most of these indoor playgrounds are built in well-to-do neighborhoods and charge an admission fee ranging between $5 and $9 dollars prohibits poor families from making frequent visits (1998, p. 202).

A study in Great Britain found not only that neighborhoods that are a majority white are 11 times more likely to have "green space" but also "that people's level of physical activity and health was directly related to affluence and the quality of green space."
Evident in these spaces, pay-to-swim spots, gymnastic facilities, and countless other spaces that contribute to the development of elite athletes are inaccessible to poor communities of color. The consequences of restricting play to the well-to-do communities, of limiting access to recreation, and otherwise maintaining a system of de facto segregation when it comes to physical activity, contributes to an Olympic Movement defined by Jim Crow.
Food and differential access is also part of the answer. Studies ubiquitously illustrate the segregation has effectively cut off poor communities of color from affordable healthy food. Scholars in Australia found individuals living in poor communities have 2.5 times more contact with fast food restaurants than those living in upper-class communities. Equally important, the report highlighted that these stores sell a very limited amount of fresh fruit, vegetables and meat, providing ample processed food. According to John Robbins, people of color are more likely to find foods that are high in fat, salt, refined carbohydrates and sugar compared to whole grains, fresh vegetables and fruits, and organic foods which are difficult if not impossible to procure within many poor urban communities.
A North Carolina study concluded that only 8 percent of black residents lived in close proximity to a supermarket compared to 31 percent of whites. Another study in North Carolina found that the mere presence of at least one supermarket within black neighborhoods had a positive influence on the reducing fat intake (25 increase versus 10 percent for white neighborhoods). And it isn't just about the type of foods, but the cost as well. The Healthy Foods Healthy Communities report noted that on average those smaller convenience stores/gas stations/corner markets that are commonplace within America's urban centers charge between 10-49 percent higher than chain supermarkets. While commercials during the Olympics promote McDonalds and soda as the diet necessary to become a champion (dare I say "the breakfast of champions"), in reality the lack of quality, affordable, and healthy foods in many communities hurts the chances of becoming an elite athlete.

When you combine these realities with inequality in food, the costs of becoming an elite athlete, the demands of moving across the country in search of best coaches (and the financial demands to do such), the differential in sports available in urban versus suburban schools, and countless other issues, we can begin to see an answer to Goff's question.
This builds upon previous discussion found here
REAL LIFE. REAL NEWS. REAL VOICES.
Help us tell more of the stories that matter from voices that too often remain unheard.