He's a four-time Olympic gold medalist, five-time World Champion, and well known LGBTQ and HIV/AIDS activist. He's written a New York Times bestselling memoir. He's clasped hands with Oprah, triumphantly, on multiple occasions.

Greg Louganis, in other words, isn't exactly an unknown quantity. So your first reaction upon hearing that HBO picked up Back on Board: Greg Louganis, a new documentary about the diver's life and career, might be to wonder: Really? What's left to tell?

Enough, it turns out, to earn the filmmaking team -- director Cheryl Furjanic and producer Will Sweeney -- spots at the Sports Emmy Awards tomorrow night. And if the film takes home the top prize for Outstanding Sports Documentary at the awards ceremony, moreover, it will become the first winner in its category to so prominently feature an LGBTQ athlete.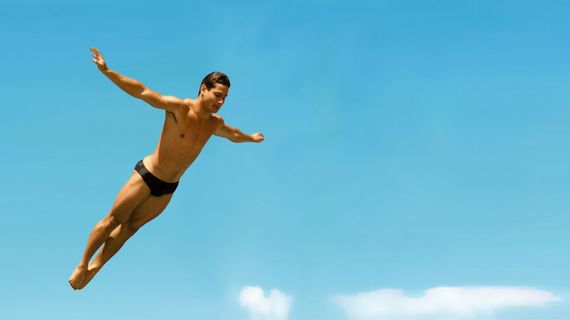 Image from HBO's Back on Board: Greg Louganis
The opening scene of Back on Board shows Louganis, now in his mid-50s, preparing to sell his belongings, including items of memorabilia from his diving days, simply to scrape up some extra cash. Later, he's seen on his cell imploring a bank representative -- on speakerphone, for the sake of the camera -- for options to prevent foreclosure on his Malibu home.

These glimpses into Louganis's financial struggles, which the film artfully weaves through the retelling of his more familiar backstory as Olympic legend and HIV/AIDS activist, leave audiences scratching their heads: How is Greg Louganis -- widely considered the best diver in history -- on the brink of bankruptcy?

"Our original idea for the film was to document Greg's return to diving as a USA Diving mentor after twenty years away," said Furjanic. "Why has he been away for so long? What has he been up to?"

The focus of the film broadened, Furjanic said, after she and Sweeney first spoke with the Olympian in 2011, when Louganis revealed he was facing foreclosure. "If you'd given me one hundred guesses as to what [Louganis] had been up to over the last twenty years, it never would have occurred to me that he would be struggling financially," Furjanic said. "It's a surprise to everyone who watches this film."

In some ways, it's a wonder that Louganis allowed his financial troubles to feature so prominently in a film ostensibly about his triumphant return to the world of diving. Taken within the broader context of his life and career, however, it can be seen as another example of Louganis's willingness to lend his familiar face and name to a larger societal problem.

"Throughout his entire life, Greg has been incredibly open and honest about what he's going through," Furjanic said, noting that Louganis came out as a gay, HIV positive athlete in a much less forgiving climate than today's. "He's doing the same thing again in Back on Board about his financial struggles."

"I knew I wasn't the only one dealing with [foreclosure]," Louganis explained, who has since successfully sold his home and moved in with husband, Johnny Chaillot. "People everywhere were losing their homes. It's important that people know that, even if you're an Olympian, you're not immune."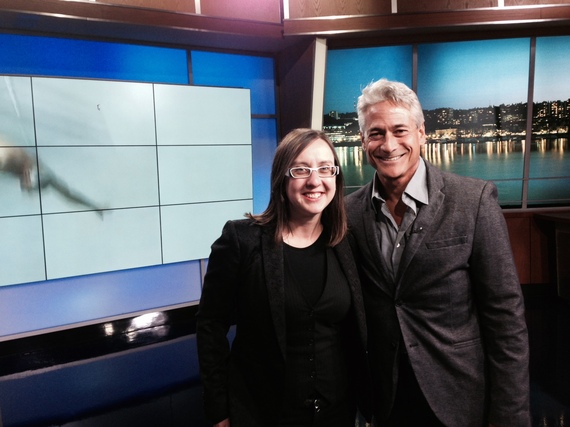 Cheryl Furjanic and Greg Louganis, photo by Anne Patterson

"I do think, had he been straight a straight athlete," Louganis's former coach, Ron O'Brien, says at one point in the film, "he would have made millions."

Of course, it's impossible to prove that homophobia and fear of HIV/AIDS were directly to blame for Louganis's financial predicament portrayed in Back on Board. But it's difficult to sit through the documentary without coming to that conclusion.

During one particularly memorable scene in the film, Louganis recalls, while sitting with two former teammates, the homophobia he routinely faced from fellow athletes (some of who formed the charmingly named, "Beat the Fag" club, whose sole membership requirement was to taunt Louganis for his rumored sexuality). And while he watched peers parlay their Olympic fame into fortune, Louganis was repeatedly passed over for opportunities that normally would have abounded for an athlete of his stature.

Louganis himself is diplomatic when asked if things might have turned out differently for him had he been a straight athlete. "I don't put a lot of thought into it," he said, pointing out that homophobia, and fear of HIV/AIDS, were simply "a sign of the times" during the height of his career. "There was a lot of stigma surrounding HIV and being gay. A lot of assumptions."
This stigma may continue to prevent opportunities for the athlete, even today. "I'm asked all the time, 'Why don't you ever commentate?'" Louganis said, by way of example. "There's still a lot of fear."

Fortunately, Louganis says he has seen an "incredible shift" in the attitude of younger athletes towards sexual minorities. Prompted by a New York Times reporter, Louganis recently asked some of the young divers he works with their perspective on being mentored by an openly gay, HIV positive man. "They said, Greg, we don't care about that stuff. You're the best at what you did! That's why we're here."

Still, even in today's more welcoming climate, there is a notable absence of out LGBTQ athletes, particularly in the upper echelons of the athletic world. Achieving progress on this front, Louganis says, depends at least in part on action by corporate America.

"Sports agents --" Louganis began, taking a moment to choose his words. "They still don't know quite what to do with a gay athlete," he said eventually, with a laugh. "They have to step up, be proactive, and sponsor more gay athletes."

Louganis also suggested that the lack of out LGBTQ athletes may have something to do with an outlook shift among millennials concerning identity politics. "Young people resist labels now, and it's been fascinating to see that transformation," Louganis said. "They're more inclusive, and that's great. Isn't that what we've been striving for?"
***

"Oh gosh, well people recognize me more than they used to!" Louganis said, when asked how his life had changed since the debut of Back on Board on HBO last August.

The Olympian says he's been surprised, and moved, by the outpouring of support he's received from fans who have watched the documentary. "I get messages from people all over sharing their stories of how the film impacted their lives," Louganis said. "It really has been tremendous."

As one example, Louganis mentioned a woman who had kept her HIV positive status a secret for years, but decided to open up to friends and family after watching the film. "She wrote and said, 'You gave me the courage to come out. And if people can't handle it, tough!'"

Julie Sondgerath, another fan inspired by the film, saw an opportunity to right a small, but meaningful, wrong.

"Never got a Wheaties box," Louganis says at one point in the documentary. He adds that he was told by General Mills at the time that he didn't fit the company's "wholesome demographics."

Whether or not your face graces the cover of a box of cereal might seem inconsequential--being widely considered the greatest diver in Olympic history might seem consolation prize enough.

But, as Furjanic explains, "[the Wheaties box] is a commercial representation of what success is, according to the way we canonize the athletes. If this is success, Greg certainly should have been among these athletes."

Incensed on learning Louganis was denied this rite of passage for Olympic greats, Sondgerath drafted a change.org petition to General Mills, asking the company to finally display his image on the iconic orange box. After the petition quickly gathered 43,842 signatories, the company announced it would launch its first ever Wheaties "Legends" series, featuring Louganis and two other athletes passed over for endorsement deals during the peak of their fame: Janet Evans and Edwin Moses.

"It's been incredible and so unexpected," Louganis said, of finally seeing his younger self folded into a half pike on a Wheaties box nearly 30 years since his last Olympic games.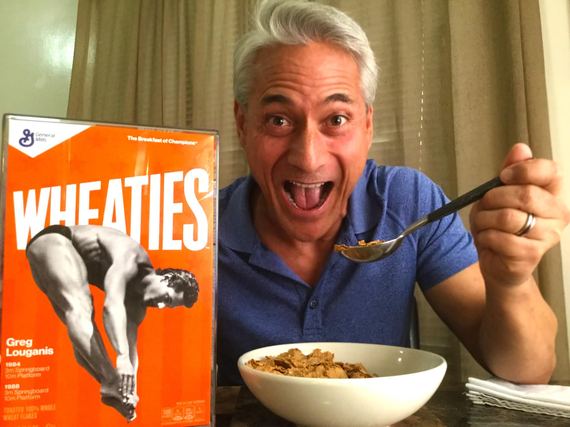 Greg Louganis and his Wheaties Box, photo by Johnny Chaillot

Back on Board has re-inspired lifelong fans of Louganis. It's also created new ones among those too young to have heard of him. It's earned him an overdue endorsement deal with the Breakfast of Champions. And now, it's landed him a ticket to the Sports Emmy Awards at Jazz at Lincoln Center tomorrow night.

Louganis waxed nostalgic when asked his thoughts on how far the film -- and he -- have come since Furjanic and Sweeney first approached him. "We've really been like 'the little film that could,'" he said, noting the film was made independently before being picked up by HBO. "It really is true that everything happens for a reason. It's been a blessing."

For her part, Furjanic, a first time Emmy nominee, says she's thrilled with the recognition from the National Academy of Television & Arts Sciences, regardless of the outcome tomorrow night. "I know it's the biggest stereotype in the world to say," she said, "but it really is just an honor to be nominated. It's an incredible validation for me and the whole team."

Back on Board's nomination is notable for at least one other reason, outside the cliché: if it snags the prize for Outstanding Sport Documentary tomorrow night, it would become the first winner in Sports Emmy history in this category with an LGBTQ athlete at its center.

"Your typical sports story won't necessarily have elements of homophobia, AIDS-phobia and activism," Furjanic said, who herself identifies as queer. "So it's pretty powerful to have a film about an out gay person, who is HIV positive, nominated for the Sports Emmy. I'm so glad that HBO chose to promote this as a sports film, first."

All clichés aside, how is Furjanic feeling about the film's chances?

"Well I'll say this," she said, after a pause. "Who better to inspire an Emmy-winning film than Greg Louganis?
Popular in the Community