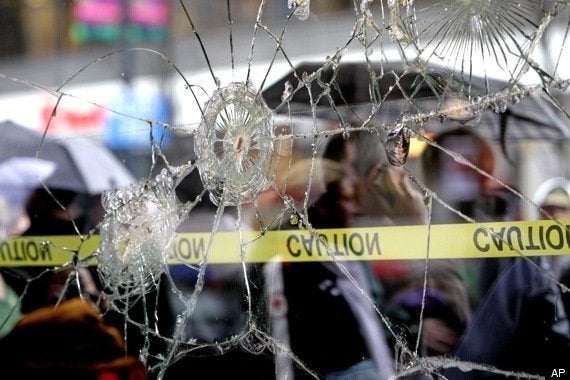 (AP) VANCOUVER, British Columbia -- More than 200 masked Olympic protesters splattered red paint and smashed windows of a popular downtown department store Saturday on the first day of competition at the Vancouver Games.
(SCROLL DOWN FOR VIDEO, PHOTO)
Police say the group marched through the upscale shopping district, vandalizing cars and stores. Witnesses say protesters threw metal newspaper boxes into the display windows of Hudson's Bay Company, where Olympic souvenirs are sold.
Police in riot gear quickly moved in and quashed the protest. Police spokeswoman Jana McGuinness confirmed there were arrests, but she did not yet know how many. Authorities planned an afternoon news conference.
Witnesses say nobody appeared injured. Afterward, guards stood in front of the broken windows, which were cordoned off with yellow police tape while Olympic tourists snapped photos. Afterward, workers removed the newspaper boxes.
The protest was organized by the Olympic Resistance Network to "disturb 'business as usual.'" The ORN is an umbrella group for many causes surrounding the games, ranging from environmental concerns to economic issues.
The most prominent involved native Indians who want to reclaim their property ("No Olympics on Stolen Ancient Land") and those angry over the amount of money spent on Olympics as opposed to public housing ("Homes Not Games").
Phone calls to the group were not immediately returned.
Rich Gorman, regional vice president for Hudson's Bay, estimated the damage at about $10,000. He said the glass display windows were expected to be replaced by the afternoon.
"It's just unfortunate but nobody was hurt and that's the key," he said. "We'll move on."
Daniel Mendoca of Vancouver, wearing an orange Olympic hat, saw the mayhem.
"It was pretty intense," he said.
Riley Arcand lives near the store and called the vandalism "disgusting."
"We live in the most nicest part of town and everybody's excited about the Olympics," he said. "And then you have people who want to ruin it."
On Friday, several thousand protesters staged an anti-Olympics "Take Back Our Streets" rally before marching to the stadium where the opening ceremony was held. A standoff with police near B.C. Place lasted about two hours and was for the most part peaceful. The protest also was staged by ORN.
AP Sports Writer Jaime Aron contributed to this report.
Related
Popular in the Community