The lush and verdant landscape of Prince Edward Island (PEI) is the backdrop for the Tyne Valley Oyster Festival, home of the Canadian Oyster Shucking Championship.

Say what? If you've never been to an oyster shucking competition you're missing out on one of the great sporting events of the world, something I hope will be elevated to Olympic status one day.

I'm joking, of course, but only partly. An oyster shucking competition involves not just speed but also skill. A contender must the open the oysters as quickly as possible without sacrificing presentation. Penalties are added by a panel of judges who evaluate each one for cut or damaged meat (three seconds), oysters out of the shell (30 seconds), grit or shell in the oyster (three seconds) and other variables including blood. (A five-second penalty in Canada but higher in other venues.)

Plus, what other sporting event involves eating the fruits of the athletes' labors? Once the trays are evaluated, the oysters are shared with the willing spectators.

On a hot and steamy Friday night last week, the Tyne Valley Oyster Festival was going strong. The fried oyster and scallop supper had wrapped up across the street, and hundreds of people filled what seemed to be a hockey arena -- sans ice -- to enjoy an all-you-can eat feast of fresh shucked PEI oysters and clams for a mere 15 Canadian dollars. (Bargain of the century, eh?)

Up on the stage, 10 young women competed in a kind of low key pageant to be the festival's "Oyster Pearl" ("Shelby's hobbies include playing hockey, riding ATVs and hanging out with family and friends...") while three young musicians, Ten Strings and a Goat Skin, roused the crowd with high energy traditional Acadian, Irish and French roots music. Meanwhile, three hardy individuals sorted enormous piles of oysters as quickly as possible into three different sized boxes -- small, medium and large -- to win the PEI oyster grading competition.

"It's a little piece of Canadiana," said Eamon Clark, a shucking competitor hoping to defend his title for the fourth year in a row. "It's not a big production, but it's the production."

Every venue and competition runs things a little differently, though certain things remain the same: Each shucker has a personal timekeeper, the shuckers must signal when they are done (and cannot touch their trays again) and penalties are assessed before the final scores are tabulated. In Tyne Valley, when it's time to compete, the shuckers parade through the crowds behind a bagpiper who leads them onto the stage.

The field of almost 20 shuckers was deep with talent. In addition to Clark, and his dad, Rodney Clark -- a multi-title holder and also the owner of Rodney's Oyster House in Toronto -- there was former World Champion Patrick McMurray, owner of Starfish in Toronto, "Oyster Bob" Skinner from Vancouver, riding high off a big first place win at Whistler's Bearfoot Bistro World Oyster Invitational in July, Daniel Notkin, the master-shucker of Montreal, Joshua Bishop, owner of the Whalesbone in Ottowa and others, including one sassy young woman in gold lame miniskirt and scallop shell bra competing simply as "Mermaid."

Contestants competed three or four at a time, each receiving a box of 20 oysters from which they chose 18 to open. Then, arms raised, knives in hand, they paused as the MC and audience counted down to start each heat, chanting, "Three, two, one... SHUCK!" Boisterous cheering filled the hall as the competitors worked magic with their knives, inserting, twisting and popping open the reluctant bivalves.

When the shells finished flying, it was time to wait for the results. The waiting was easy for non-competitors who stomped their feet to the traditional roots music of fiddler Gordie McKeeman and his Rhythm Boys who ripped through songs like "Alabama Jubilee" as the lanky McKeeman danced like a man with rubber bones.

It all came down -- as it often does in sporting events -- to a one second win by Eamon Clark who squeaked past Daniel Notkin to claim the title (again) as Canadian Champion, earning a trip to represent Canada at the World Oyster Opening Championship in Galway, Ireland in September 2012.

The festivities ended at midnight, with more events scheduled for Saturday and Sunday, including a community parade, hypnotist, an evening of music and dancing, a singing contest and the crowning of Miss Oyster Pearl. At that hour, I was more than happy to retreat to my nearby B & B, Hilltop Acres, owned and run by the cheerful and hospitable Janice and Wayne Trowsdale. I needed a shower, and a good night's sleep, as I knew breakfast and hot coffee were only hours away.

And after that? More PEI oysters, of course.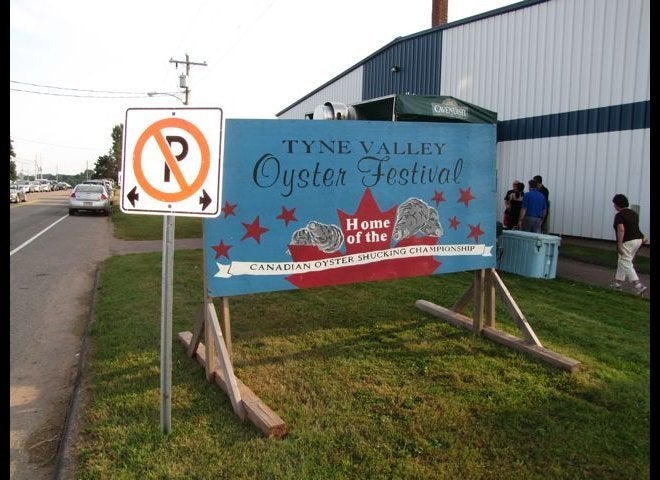 Oyster Shucking in PEI
Related