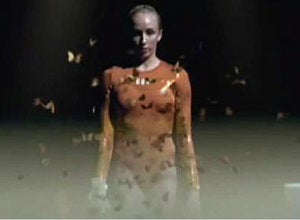 There are millions of [women] around the country, watching the Olympics on the networks and Web sites of the NBC Universal division of General Electric. They are also watching commercials from more than 100 advertisers, which are spending more than $1 billion to sponsor the coverage of the 2008 Games in Beijing.
That is why there are so many spots for the likes of Evista, a prescription drug approved for treating osteoporosis and reducing the risk of breast cancer; L'Oréal Bare Naturale mascara; the Venus Embrace razor ("Reveal the goddess in you"); the Match.com dating service; and the movie "Mamma Mia!"
There are also multiple commercials for Johnson & Johnson baby products; cleaners from companies like Arm & Hammer, Clorox and S. C. Johnson; and a new Chevrolet, the Traverse crossover, featuring a shirtless hunk who irons, scrubs a toilet and makes reservations for an anniversary dinner as an announcer says, "It's everything you ever wished for ... and then some."
It is also why myriad spots during the Games feature women athletes past and present, like Cheri Blauwet, Nadia Comaneci, Shawn Johnson, Nastia Liukin, Kerri Strug and Dara Torres.
The large female viewership for the Olympics and the spate of spots intended for women are anomalies in TV sports. Most coverage of athletics is watched by men, which means that most commercials during sports programs like football, baseball, basketball and hockey are aimed at male viewers.
"It's a truism that the Olympics is one of the last events that brings everyone to the television set in such magnitude," Seth Winter, senior vice president for NBC Sports and Olympics sales and marketing, said in a telephone interview on Monday from Beijing.
"It's not just a sporting event," he added. "It's a cultural event."
REAL LIFE. REAL NEWS. REAL VOICES.
Help us tell more of the stories that matter from voices that too often remain unheard.