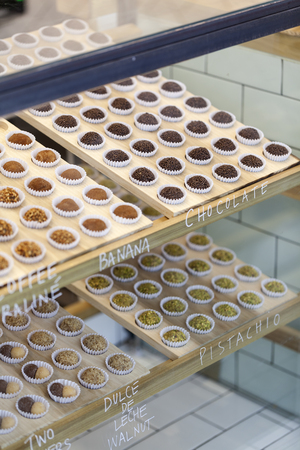 Chocolate fudge truffles, brigadeiros, are the perfect Brazilian snack or dessert for Olympics season, 2016. Mariana Vieira, owner of Brigadeiros Bakery in Soho, NY, says that she has seen an uptick in orders since the Rio Olympics opened. Her fanciful, artisan brigadeiros recall her childhood in a small town outside of Sao Paolo, where every party throughout Brazil, featured these simple, one-tool confections. Though it is tempting to eat them right out of the pot and sometimes people do, Mariana advises letting them sit overnight. Very much a home dessert since the 1940's, brigadeiros have now become a specialty store item. Recipes are now available on-line.
Here, culinary school trained Mariana has added chocolate to enhance the deepness of the flavor. In Brazil chocolate is the basic and most authentic flavor, the primary ingredient being the local Nescau cocoa powder. There might occasionally be some coconut or some caramel. Over the summer Brigadeiros Bakery developed new flavors, including strawberries and cream, rosewater and sesame carmelized coconut. For the fall Mariana is hoping to create an apple cinnamon infused brigadeiro.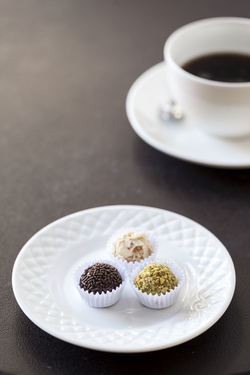 Named for the brigadier, a high ranking officer in the military, who ran for president in the 1946 election in Brazil. The handsome candidate's wife and his supporters made the brigadeiros to fundraise for this campaign. Despite post war food shortages, cocoa powder and condensed milk were available.
When Mariana first immigrated to the States about eight years ago,
she started catering dinner parties and always included brigadeiros. Whether cooking from a home kitchen, or working in a restaurant or launching her Soho shoppe in 2014, brigadeiros have been her signature. She says, "I feel lucky to educate customers about the Brazilian palate." So score some and celebrate Brazil's Olympic games.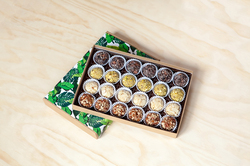 Prinz lectures about chocolate and religion around the world. Her book, On the Chocolate Trail, is used in adult study, classroom settings, book clubs and chocolate tastings. She is developing a new project around women and chocolate.