American women were big winners at the Olympics, racking up 61 medals, more than U.S. men did for the second Games in a row -- and more than most entire national delegations. We heard a lot about sexism within the Games and its coverage, and it surely comes into focus as we watch men and women compete side-by-side on the world stage. Now, as the school year begins, and in celebration of this Women's Equality Day on Aug. 26, we can work here at home to reduce the pervasive sexism and inequity that females face.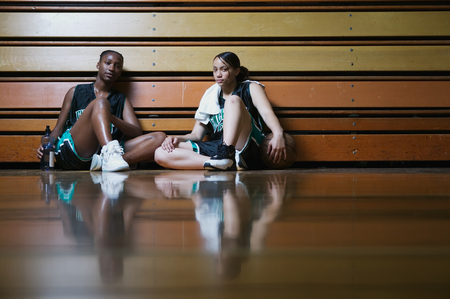 Most Olympic athletes get started in school athletics. Allyson Felix, the most decorated woman in U.S. track and field history, was high school athlete of the year in California. Yet hundreds of thousands of girls never approach the starting line, disadvantaged by their elementary, middle and high school athletic programs because boys' sports are the priority. Boys' football, baseball, and other teams often are supported more than girls' teams in terms of sheer number of team slots available to boys and regarding fundraising, publicity, coaching and other resources more available to boys.
It would be unacceptable to offer male students 58 percent of a high school's student parking spaces when they make up just 51 percent of the student body. And Title IX is clear: All schools that get any federal funding -- meaning elementary, middle and high schools, colleges and universities -- must provide equal sports programs and facilities for male and female students. Yet, despite this 44-year-old mandate, girls make up just 42 percent of high school sports participants (to boys' 58 percent representation on teams), leaving a 7 percent gap between girls' enrollment (49 percent) and their participation in sports, although we know girls want to play just as much.
That amounts to more than 500,000 high school girls nationwide sitting on the sidelines. Research shows non-athlete females pay a measurable price later, earning lower wages on average than women who played sports in high school. And, female athletes who are "equal" in the classroom but see male classmates getting better coaching, sports equipment and facilities, may begin to accept a sense of inferiority that can become corrosive.
1. School leaders -- principals, school board members, athletic directors, parent volunteers, and teachers -- should assess and equalize their support of girls' and boys' teams, under the law. That includes financial and programmatic resources; school-wide messages and rallies; and adults' attendance at games. In some schools, girls win state championship honors without anyone at school noticing, or the school or local papers offering any coverage!
2. We all must work to break down gender stereotypes. Many schools and communities and even local businesses reinforce stereotypes when they ignore girls' teams but promote and sponsor boys' teams. We all should talk up and rally for girls' teams in park and recreation and club programs and in elementary, middle and high schools. We should wear the jerseys of girls' and women's teams and encourage people we know to watch women's teams on TV, at our local watering holes broadcasting games, and in person at sports venues.
Your own daughter, neighbor, niece, granddaughter, cousin or friend may be the next medalist on the podium, if we give her a fighting chance.
REAL LIFE. REAL NEWS. REAL VOICES.
Help us tell more of the stories that matter from voices that too often remain unheard.