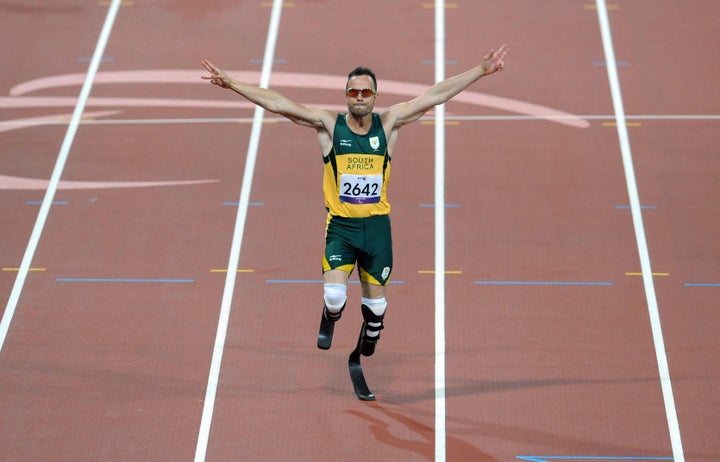 This has been an astonishing summer for sport. Not only has the Olympics dazzled the world with its four-yearly showcase of incredible talent; the Paralympics that followed, and which ended on September 9, have put a whole new and unique set of gifts on display.
These large-scale events demonstrate the inherent value of sports, and the potential for beauty that exists in the physical activity we all need to practice to stay healthy, but they also reveal the intense mental power required to succeed in competitive games -- that special ability of athletes to get up and try again when everything seems lost.
Indeed, the Olympics and Paralympics are rich in tales of individuals who have overcome challenges in their professional and private lives. The athletes who have endured personal struggles may not always win medals but they are the ones whose stories inspire their supporters long after the Games have ended.
While many athletes train for years before the Games begin, some come from parts of the world where such preparation is not an option. Gladys Tejeda is a marathon runner who grew up in the mountains of Peru. The youngest of nine children, she spent her teenage years herding animals, but even then it was clear that she could run. Whenever her mother needed something from the store, she would send Tejeda because she returned quickest. After running in a local race, her reputation spread, and her natural talent ultimately brought her to London in 2012. "She is an example for the rest of Peru," Sebastián Marambio of the Olympian Athletic Association of Peru told the Christian Science Monitor. "Through hard work and discipline, you can overcome any hardship."
Tegla Loroupe, a champion Kenyan long distance runner, began her career far from the lap of luxury. She spent her childhood caring for her 24 siblings, laboring on her family's farm, and making the 10 kilometer run to and from school each day. Although her talent for running was obvious from a young age, the Kenyan Athletics Federation deemed her too thin and small to offer any real athletic promise. These misconceptions were shattered when Tegla won a prestigious barefoot race in 1988. Athletics Kenya began supporting Tegla in international competitions and the world watched in awe as she raced to the top of the elite running community. She has won countless international marathons, holds world records in the 25 and 30 kilometers, and was the recipient of the prestigious IOC world trophy in 2011 for the founding and fervent dedication to her Tegla Loroupe Peace Foundation.
Many other Olympic athletes met with similar adversity -- there is the Somali runner who survived wartime bullets that whipped past as he trained; or the Japanese dressage-rider who achieved the astonishing feat of competing at age 71 (and still only the second-oldest athlete to compete). Their stories combine an impressive blend of physical and psychological strength.
Perhaps most inspiring of all, however, are the Paralympic athletes, nearly all of whom have overcome some kind of obstacle. Their statements about how they see their sport are revealing, showing how physical and mental strength work in complement. "Sport is a very important tool to manage difficult moments in life," says the Italian swimmer, Cecilia Camellini, who was born blind. She adds, "Reaching important goals motivates me a lot. I have become more self confident and this helps me in sports as well as in my everyday life."
Katrin Green is a German runner, who lost her leg in a mowing machine accident when she was still only a child. "You must set realistic goals and never give up until you reach them," she explains of her ethos. "If you're self-confident you can achieve everything."
That for these athletes the Games are not about winning is striking. Instead they describe the contest as a way to excel and achieve their own potential. Green put this explicitly: "I've learnt that for me it's not about the medals; it's about the sport itself and giving your best."
'Bladerunner' Oscar Pistorious was, for many, the symbol of real inclusion during London 2012. He made history when he became the first amputee to compete in the Olympic Games. Pistorious is determined to challenge the taboo that surrounds widespread perceptions about addressing disabilities. He goes out of his way to introduce himself to children and talk to them about his prosthetic legs, even going so far as to joke that his legs fell off because he "didn't eat his vegetables." Oscar is convinced that the Paralympics will serve to reverse this stigma. "It's nothing to be ashamed of," Oscar notes. "It's nothing to frown upon and we can talk about it. It's not a topic that needs to be kept quiet and I believe that this Paralympics will have to change people's perceptions"
These are the values that we espouse at Doha GOALS and we are proud to be part of such an inspirational tradition. Our aim for Doha GOALS is to help people overcome fears and obstacles, mental or physical. Sports can teach many lessons, but the most important may be this: that through hard work and perseverance, many dreams can be achieved.
Calling all HuffPost superfans!
Sign up for membership to become a founding member and help shape HuffPost's next chapter