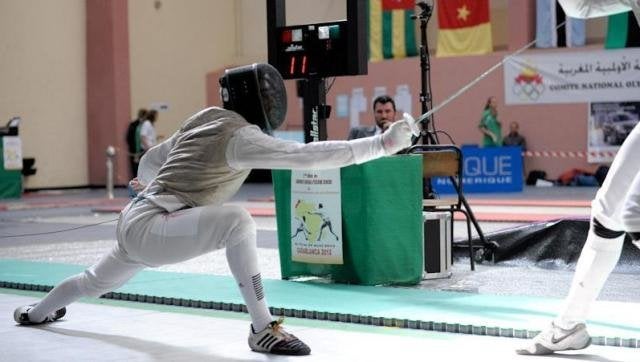 As the first fasting day of Ramadan began at dawn on Friday, Sherif Farrag expected, in some ways, to find the Islamic holy month a little easier to manage than he has for much of his life.
A Bayonne, N.J., resident who is spending the first days of Ramadan in Cairo to train with Egypt's Olympic fencing team, he is surrounded by Muslims observing the Islamic tradition. Restaurants close during daylight hours. City life pauses as Muslims make five prayers each day. Nobody will give him a second look or ask for a primer when he abstains from food and water. And when Farrag flies to London the next week, he'll be in a country where Islam is the second-largest religion and he'll be among more than 3,000 Muslims competing in the 2012 Summer Olympics.
But as competition day nears, he will face a tough choice: Should he break his fast?
"My goal has always been to compete internationally in the Olympics," said Farrag, 25, who comes from a family of fencers and first picked up a foil -- the long, thin blade with a blunted tip most commonly used in fencing -- when he was 10.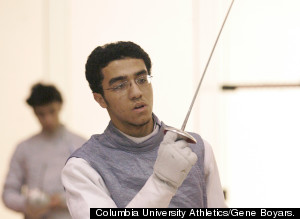 Sherif Farrag, 25, will compete on the Egyptian fencing team at the London Olympics.
This will be his first, and possibly only, Olympics. Farrag is a dual citizen -- he was born in Alexandria, Egypt, and moved to the United States when he was nine -- who switched from competing for the U.S. to competing for Egypt in order to rank high enough to make the Olympic team. And now he isn't sure how far he will make it without food.
The London Olympics, which run from July 27 to Aug. 12, fall entirely within Ramadan, the holiest Islamic month when Muslims stay away from food, water, smoking, sex and negative thoughts during the daytime while focusing on prayer and community. Many Muslim Olympians have said they will not fast at all in London, while some have said they will only take a break from the tradition on the days they compete.
Farrag said he's certain he will fast during training before the competition, when "practices aren't heavy at all." He's done it in previous years, when Ramadan, whose dates are based on a lunar calendar, has fallen later in the summer and he was nearing national competitions.
But having worked 15 years for as few as nine minutes in the international spotlight -- if he doesn't advance, he will at least compete in three bouts of three minutes each -- the decision on game day is harder.
Two years ago, not long after his 2009 graduation from Columbia University with a degree in political science and Middle Eastern studies, he pushed himself to prepare for a national tournament, in which he hoped success would help him move up in rank and eventually qualify for the Olympics. It was early August, and Ramadan was just beginning.
"I was really focused on, well, this is my dream and I have to eat and I have to work out if I'm going to win," said Farrag, who stands six feet tall and weighs 162 pounds. He skipped fasting for about one-third of the month and engaged in hours-long plyometric exercises.
The regimen worked. Farrag advanced in competitions, but he felt regret. "I began to realize that life is not about some kind of goal or medals, but more about the process of living," he said.
This year, the pressure will be stronger and the athletes will be quicker.
"It's very strenuous to compete. It's pretty much the entire body. A lot of footwork, and you have to be explosive. It's closer to sprinting. You have to be like a cat," explained Farrag. "But just like eating and drinking helps you with life, when you're in a fasting state of mind, it does help you mentally and spiritually."
As he approaches the London games, Farrag said he's turned to God to help him chart his course.
A regular at his New Jersey mosque and the Park51 mosque in downtown New York, he has started to pray five times daily in the last year and is attending several mosques in Egypt.
Islamic scholars agree that there are many exceptions allowing Muslims to skip fasts as long as the fasting days are made up later. One of those exceptions is when Muslims are traveling, such as for the Olympics. In Egypt, some clerics have made declarations that Olympic competitors may skip the fast.
But Farrag's decision isn't about what's permitted in Islam. It's about the route to victory: Sustenance or spirituality?
As he ponders his post-Olympic life, which could include applying to law school or earning a master's degree in political science, he's also getting closer to a decision about how to approach the games.
"It's Ramadan, it's big," Farrag said. "I don't know. Sometimes there are things more important than winning or losing."
Related
Popular in the Community