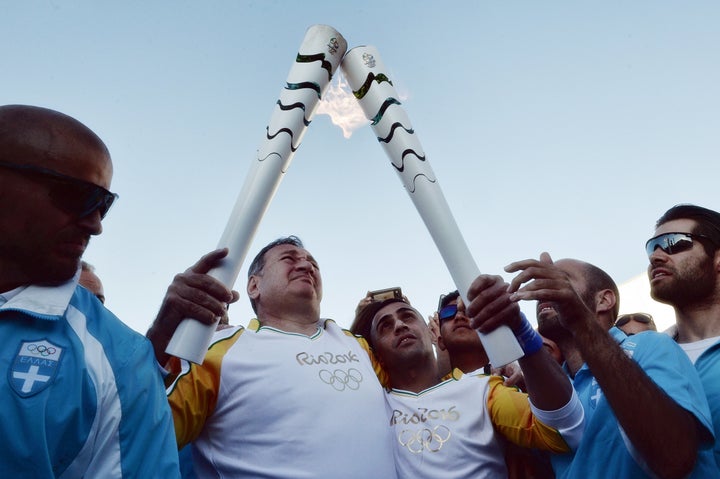 LAUSANNE, Switzerland, June 3 (Reuters) - The International Olympic Committee (IOC) on Friday unveiled its first ever team of refugees which will have 10 members and 12 officials and will compete at the 2016 Rio de Janeiro Games under the Olympic flag.
On what IOC President Thomas Bach called a "historic day," the team includes five athletes from South Sudan, two from Syria, two from Democratic Republic of Congo and one from Ethiopia.
"These refugee athletes have no home, no team, no flag, no national anthem," Bach said. "The invention of this refugee team is to give them a home in the Olympic village together with all the athletes around the world."
The athletes, six men and four women, will compete in the sports of swimming, judo and athletics.
They include swimmer Yusra Mardini from Syria who trains in Germany, South Sudanese middle distance runner Rose Nathike Lokonyen, living in a refugee camp in Kenya, and democratic Republic of Congo judoka Yolande Bukasa Mabika, training in Brazil.
"The Olympic anthem will be played in their honor, the Olympic flag will lead them into the stadium," Bach said.
"It can send a symbol of hope for all refugees in the world and can send a signal to the international community that refugees are our fellow human beings and are an enrichment to society."
The team will be housed in the athletes' village along with all other national teams and will enter the stadium as the penultimate team at the opening ceremony, ahead of the host nation.
"They will show to the world that despite the unimaginable tragedies they have faced, anyone can contribute to society through talent, skills and the strength of human spirit," said Bach.
The plight of those fleeing conflict, as well as economic migrants escaping poverty, has polarized opinion in Europe, with the amount of new arrivals stretching the European Union's asylum system.
The IOC had said it wanted to draw the world's attention to the plight of refugees.
Related
Popular in the Community