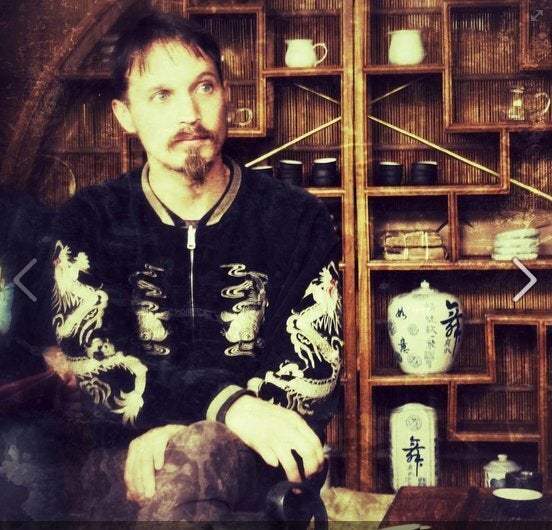 SAN FRANCISCO -- Oshan Cook's main goal in life is to introduce others to the healing powers of tea.
The tea connoisseur and community leader has built nothing short of a local empire, providing ceremonial tea services at festivals and conferences, educating children about tea culture and offering healthy alternatives to recovering alcoholics and addicts. Until recently, Cook was the proprietor of Om Shan Tea, a popular tea house in the Mission District that specialized in fine teas, organic foods, community gatherings and holistic wellness.
"I wish to live my life in service and bring as much joy and wisdom to the world as possible," Cook, 34, told The Huffington Post. "Tea is one of my favorite mediums for doing this. I love the way it brings people together and cultivates authentic connection and communion."
But earlier this month, mounting debts associated with an ongoing legal battle forced Cook to shutter his self-described "tea oasis" indefinitely. Cook is currently on trial for allegedly distributing psychedelics -- charges that carry a minimum of ten years in federal prison.
He has pled not guilty, and his first trial, which took place in July, was thrown out because more than one juror refused to convict him. His second trial will likely wrap up this week.
Devastated by the prospect of their loved one spending a decade or more behind bars, Oshan's friends, family and members of his community have spent the months in between the two trials rallying support. An online fundraising campaign has raised more than $12,000 to help cover legal fees -- Cook has already spent $65,000 on related costs -- and many have taken to Facebook and other social networks to voice their support.
"He's given his community so much, both through his business and just by being an example of someone who contributes passionately," said longtime friend Dulma Altan, a junior at Brown University. "I've rarely met someone more devoted to uplifting his community than Oshan. His tea house was really just a space where people could flourish."
Om Shan Tea hosted regular workshops, performances, community gatherings and even the occasional elementary school field trip. The venue also served as a meeting place for weekly Alcoholics Anonymous groups and other 12-step programs.
"I opened Om Shan Tea because I wanted to provide a sacred space for the community to gather, for people to heal themselves with healthy foods and teas," Cook explained. "Providing people with an alternative to drug and alcohol abuse is a goal of my teahouse and mobile tea lounges."
According to Cook's friends and supporters, Om Shan Tea more than executed on that goal. "Oshan and his teahouse are an antidote to unhealthy lifestyles and substance abuse in our community," said local designer Micah Daigle. "I don't think a single San Franciscan would, after meeting him, decide to put him in a cage for ten years. It's heartbreaking to think that he could be separated from his family for so long, and put in one of the most violent places on Earth, when he's clearly not harming anyone."
Federal and state governments spend a combined estimated $50 billion on the war on drugs each year. Should Cook be found guilty and incarcerated, his own minimum ten-year sentence would cost taxpayers nearly half a million dollars.
"Like so many others, I have donated to Oshan's defense campaign because I can't bear the thought of this peaceful, beautiful person locked up needlessly," said Cook's friend Cory Rae, a San Francisco-based graphic designer. "It is beyond frustrating to know that while we contribute to his defense, our taxes contribute to his prosecution."
Should the jury find him not guilty, Cook hopes to continue to grow his tea company and eventually reopen Om Shan Tea. "At the moment it's impossible to keep things going," he said. "This legal case has been a tremendous financial and psychological strain on my resources."
Om Shan Tea regulars hope to the shop will open its doors again soon. "My life has literally changed since I entered Om Shan Tea and the world of tea culture," said local artist Garry Bowden. "The positive energy that Oshan and the rest of the crew cultivate is palpable. It's a place to slow down and truly connect. It's imperative that we come together as a community to make sure Om Shan Tea stays around."
UPDATE (11/1/2012): On Thursday the jury found Cook guilty of all charges and he was taken into custody. His family plans to appeal and his sentencing will take place in a few months.
Watch Cook's crowdfunding video below and donate to his campaign here.
Related
Popular in the Community