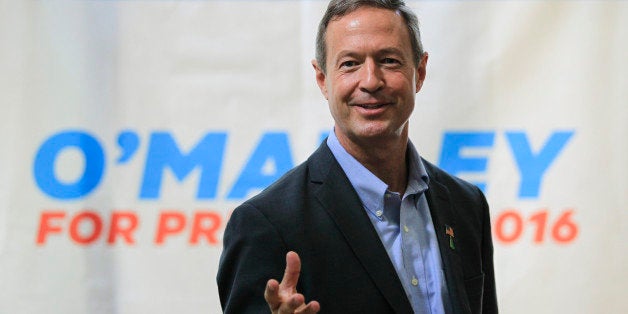 WASHINGTON -- Martin O'Malley, the former governor of Maryland and a contender to be the 2016 Democratic presidential nominee, called on Thursday for a phase-out of fossil fuels by 2050, citing the "moral obligation" to address climate change.
O'Malley's piece also publicly rebuked some of the Obama administration's energy policies and promised to put climate and energy at the center of his presidential campaign.
"We cannot meet the climate challenge with an all-of-the-above energy strategy, or by drilling off our coasts, or by building pipelines that bring oil from tar sands in Canada," O'Malley wrote. The Obama administration has often touted an "all-of-the-above" energy strategy, and earlier this year proposed opening new areas of the Atlantic Ocean to offshore drilling. The administration has not yet issued a decision on whether to approve a permit for the Keystone XL pipeline, which would carry oil from Canada to Texas.
While O'Malley said the Obama administration's policies have made the United States more energy independent, he said the climate challenge requires the country to make "a full, complete transition to renewable energy -- and an end to our reliance on fossil fuels."
"I believe, within 35 years, our country can and should be 100% powered by clean energy, supported by millions of new jobs," wrote O'Malley. "But we have to accelerate the transition right now."
He also says he would go further on emissions rules than the Obama administration has gone so far, expanding greenhouse gas regulations beyond power plants to other major industrial sources and cracking down on methane leaks from oil and gas operations.
Michael Brune, executive director of the Sierra Club, praised O'Malley in a statement for "driving the conversation toward the critically important goal of transitioning off of dirty fossil fuels to a healthy and just economy powered by 100% clean energy."
And Tom Steyer, who has spent millions to elect pro-climate candidates, issued a statement applauding O'Malley for "presenting real, concrete solutions to climate change that will secure our country's economic security -- and break with the dirty energy politics of the past."
Calling all HuffPost superfans!
Sign up for membership to become a founding member and help shape HuffPost's next chapter
BEFORE YOU GO
PHOTO GALLERY
Landmarks That Climate Change Could Ruin