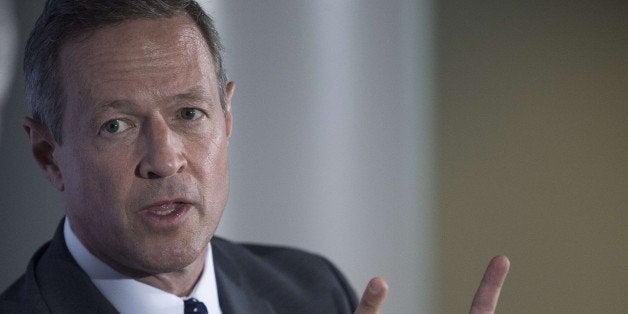 Democratic presidential candidate Martin O'Malley on Wednesday will lay out a plan providing debt-free access to a college degree for all students within five years. The former Maryland governor also will propose income-based repayment options for borrowers who have private student loans.
O'Malley will unveil his higher education plans during an event Wednesday morning in Manchester, New Hampshire. He will seek to cut tuition "to no more than 10 percent of state median income at four-year public universities," and encourage "competency-based education strategies" that allow students to graduate quicker, according to campaign briefing documents. To cut non-tuition costs, O'Malley will propose expanding Pell grants and tripling the work-study program so that at least 2 million students can participate.
Debt-free college has already become a major issue in the Democratic presidential race, with discussion of the idea from candidates Sen. Bernie Sanders (I-Vt.) and former Secretary of State Hillary Clinton. The issue has snowballed, thanks in part to a push by progressive activists, as student debt tops $1.2 trillion.
Debt-free college "should be one of the top issues talked about on the campaign trail, in debates, in TV ads, and at the doors with voters of all ages," said Adam Green, Progressive Change Campaign Committee co-founder, insisting that such a plan would be a boon for the economy.
O'Malley's plan builds on his previous statements and follows Sen. Elizabeth Warren's (D-Mass.) framework for debt-free college.
O'Malley's daughter, Grace O'Malley, sent an email to campaign supporters Tuesday mentioning that her family chose to take out student loans to finance college. O'Malley's family has $339,200 worth of Parent Plus loans for their two daughters' college educations, campaign aides said.
To address current debt, O'Malley will propose allowing borrowers with private student loans to enroll in income-based repayment plans. Details aren't yet being released, but aides said borrowers would enroll in a program that would essentially have them paying the government rather than banks.
The Obama administration has rolled out programs for federal student loans that tie payments to borrowers' income. But no similar benefit exists for private loans. As a result, private student loan borrowers' monthly paymentscan top $1,000, and there's no loan forgiveness programs. Private student loans make up about one-eighth of all national education debt.
O'Malley will call on states to freeze tuition at state colleges and universities and to restore funding to higher education, which has been slashed for decades. He wants to encourage higher education funding with federal grants in a process still being worked out.
"The cost would vary depending on states' levels of funding, but we have to take the burden off students and their families and go back to historical levels of investment in our public institutions of higher ed," campaign spokesman Sean Savett said Tuesday. "Governor O'Malley is considering a number of possible ways to cover the cost including closing the trust fund and carried interest loopholes, taxing capital gains at the same rate as earned income, and closing tax loopholes for corporations that ship jobs overseas."
Calling all HuffPost superfans!
Sign up for membership to become a founding member and help shape HuffPost's next chapter
BEFORE YOU GO
PHOTO GALLERY
Declared 2016 Presidential Candidates