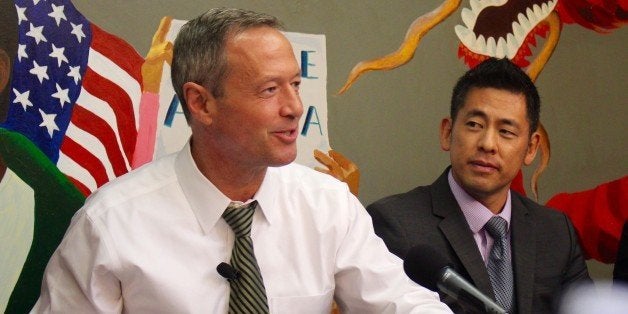 NEW YORK -- Former Maryland Gov. Martin O'Malley (D) said Tuesday that if elected president, he would use executive authority to drastically reshape the immigration system and pare down immigrant detention.
Seated between a group of undocumented immigrants and reform activists at the office of the New York Immigration Action Fund, O'Malley outlined a series of far-reaching changes to the immigration system that would go well beyond President Barack Obama's contested "deferred action" policies. Calling comprehensive immigration reform an "urgent economic issue," O'Malley said creating a more welcoming environment for immigrants would help boost wages and growth.
"The enduring symbol of our liberty is not a barbed wire fence," O'Malley said, explaining why he chose to deliver the remarks in New York. "It's the Statue of Liberty."
One of Obama's hallmarks on immigration policy is a 2012 program called Deferred Action on Childhood Arrivals, which shields undocumented immigrants who arrived as children from deportation and allows them to work in the country legally if they meet certain qualifications, like having a clean criminal record. Obama announced a second, more ambitious program in November to provide deportation relief to the undocumented, but it has yet to be implemented due to a lawsuit.
If elected, O'Malley said he'd widen the scope of deferred action policies that shield qualified undocumented immigrants from deportation, notably to include undocumented parents of DACA recipients -- a group the Obama administration stopped short of granting relief.
He also said he would drastically scale down the use of immigrant detention, calling it a "last resort" that should only be used to detain people who present a public security threat. He pledged to eliminate a congressionally mandated detention bed quota that requires the federal government to maintain the capacity to lock up at least 34,000 in immigrant detention.
His proposals also touched on less discussed elements of immigration policy that nevertheless have a major impact on immigrants' lives. Those who have lived in the country illegally, but want to adjust their status, currently have to return to their country of origin for years before qualifying for a visa. O'Malley said the requirement should be eliminated.
Carving out perhaps the most liberal position on immigration among the candidates vying for their parties' presidential nominations would put O'Malley directly at odds with many Republicans and some Democrats who say Congress should prioritize border security before normalizing the immigration status of undocumented immigrants.
O'Malley said border security is important, but that the overriding concern for both the economy and national security was bringing the roughly 11 million undocumented immigrants "out of the shadows" so they can contribute to the economy without fear of being separated from their families. Such policies, O'Malley said, are "not only important for newly arriving immigrants -- they're important for everyone."
"Anger and fear never built a great nation," O'Malley said. "We need to focus on the values that bring us together."
After O'Malley spoke, several undocumented activists shared their stories to highlight the injustices of the current immigration system.
Servando Rodríguez, who immigrated to the United States from Puebla, Mexico, was among the workers who helped clean up after the Sept. 11 terrorist attacks, and then again after Hurricane Sandy. He would qualify for deportation relief under Obama's expansion of deferred action in November, were it not for the court injunction barring the program's implementation while the lawsuit proceeds.
"We want equality for everyone," Rodríguez said. "We want more opportunities for everyone."
As an undocumented youth in Phoenix, Arizona, José Magana-Salgado said he used to receive multiple text messages per day telling him places to avoid in order to keep from getting swept up in an immigration raid. These days, Magana-Salgado benefits from DACA and works as an immigration attorney and immigrant rights activist.
"Growing up undocumented in Arizona, the principles in O'Malley's immigration plan speak to me," Magana-Salgado said.
O'Malley and his supporters highlighted the record he has built on immigration while serving as governor of Maryland, including the signing of the state's Dream Act, helping pass legislation to allow undocumented immigrants to receive driver's licenses and offering to use state resources to house undocumented Central Americans who crossed the border during the child migrant crisis last year.
O'Malley has criticized Obama's expansion of family detention as a response to the flood of unaccompanied children crossing into the United States from Central American countries and asking for asylum.
In comments to reporters after the talk, O'Malley called presidential hopeful Donald Trump's recent tirades against Mexican immigrants "hate speech," and said that Republicans should be more quick to "call him out."
Before You Go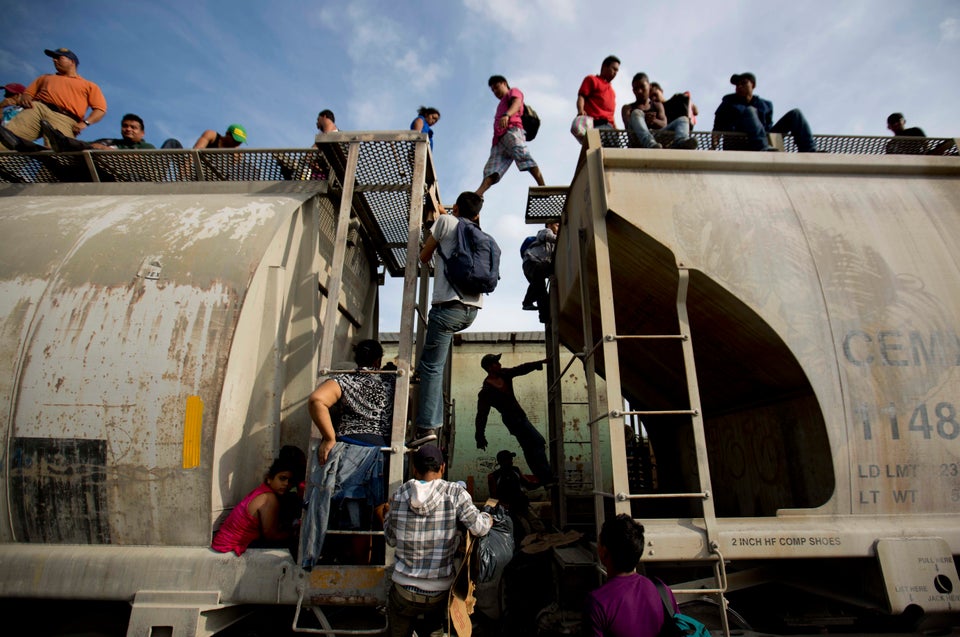 Why Latin Americans Really Come To The U.S.
Popular in the Community