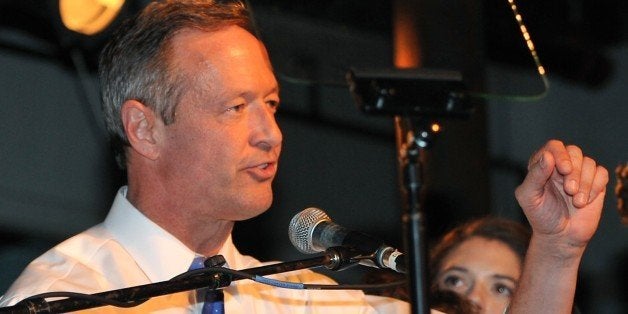 By the time we get to the next Democratic presidential debate in Flint, Michigan, on March 6, we'll have a lot better feel as to who will go forward as the party's nominee. But now, there are only two Democratic candidates, because Martin O'Malley has ended his campaign.

While no one, probably including him, thought he had a real chance to be the nominee, that doesn't mean his candidacy was in vain. On the contrary, his commitment to the greater public good led him to enter the race as a champion of the environment. And it's a shame we won't see him in Flint, because it's the kind of backdrop O'Malley deserved to help draw attention to the environmental issues he works so hard to champion.

Certainly he'd carry an authentic, all-in environmental message to this event, formed by his deep belief that the threat of climate change is real; that the clean energy economy is a job generator; that big data is a tool we've only just begun to apply to solving environmental and other problems at community scale.

In fact, it was his data-driven worldview that first got my attention when he talked at a USGBC event about CompStat, a system for urban crime fighting he developed while mayor of Baltimore. At our event he also demonstrated its environmental application to monitoring the health of the oyster population in the Chesapeake Bay.

He later expanded that to an initiative called CitiStat, a way to manage all city programs and services by gathering Information on a series of performance indicators and analyzing it with the assistance of computerized databases and geographic mapping to zero in on areas of underperformance. I can't help but believe those poor people in Flint could have avoided their current fate if this kind of management efficiency and creative problem-solving had been in place, instead of the circular finger-pointing that is currently going on at the expense of the community's children.

This kind of intentional data aggregation and analysis approach is especially effective when you are trying to create and manage climate policy. If emission reductions are your goal, you have to find a way to track and manage multiple activities across numerous categories because success is in being able to see the power of multiple incremental steps. O'Malley used this approach as governor of Maryland to keep tabs on everything from energy demand to transit use to water use to waste management.

A great example of how this worked is O'Malley's leadership in Maryland in 2011 when he took a critical step toward completing the backbone of a solid green building policy for his state, something that has a lot of lessons in it for the rest of the country. He put in place three critical policy levers meant to work in tandem: leadership by example commitments to building beyond code to greener building standards; incentives for beyond-code green, k56 building leadership; and improved code minimums for all.

This made Maryland the first state in the country to enable the adoption of the International Green Construction Code (IgCC) by all local governments across the state - the first state in the nation to really get it right - and only the second to enable a framework for statewide adoption of green building codes. And a national partnership of like-minded organizations continues to refine new editions of these policy tools based on all that we're learning in places like Maryland that are putting them into action.

O'Malley spoke at our annual Greenbuild conference in New Orleans in 2014, previewing the cornucopia of ideas he would ultimately lay out in his campaign. In an editorial in USAToday last August, O'Malley said, "Clean energy represents the biggest business and job creation opportunity we've seen in 100 years. Given the grave threat that climate change poses to human life on our planet, we have not only a business imperative but a moral obligation to future generations to act immediately and aggressively."

During his campaign, O'Malley called out some specific actions that the remaining candidates in both parties should heed:
•Create a Clean Energy Jobs Corps to partner with communities to retrofit buildings to be more energy efficient, improve local resiliency, create new green spaces, and restore and expand our forests so they can absorb more greenhouse gases.
•Retrofit federal buildings to the highest efficiency standards and require new federal buildings to be net-zero as well as require the federal fleet to be subject to low- or zero-emissions purchasing agreements, and require all federally funded infrastructure projects to meet climate resiliency standards.
•Require higher energy efficiency standards for all new buildings while requiring energy costs to be transparent to building tenants and purchasers.
•Create a Clean Energy Financing Authority to support projects to increase efficiency and resiliency upgrades in cities, towns, and rural communities nationwide.
•Invest in improving the quality and availability of information about environmental conditions so as to empower citizens and communities to make sound decisions.

While we'll miss O'Malley on the stage in Flint, I'm confident we'll see him on plenty of other stages in the very near future. With his strong grasp of our environmental challenges and the policy solutions that can help solve them, we need his leadership on these issues now more than ever.
Related
Popular in the Community