Swan Lake, Teatro Alla Scala Ballet, the London Philharmonic Orchestra and the University of Korea Ballet...I could be at La Scala or at the Met. Crystal chandeliers, inlaid marble, plush red seats with state-of-the art touch screens; this is a world class opera hall. The lavish Royal Opera House in Muscat, the capital of Oman, sprawling over 80,000 square metres has imported Burmese teak wood screens, sparkling floors, towering pillars, walls of Omani desert rose limestone, displays of antique musical instruments, paintings of Omani culture and traditions, even a 30-tonne pipe organ with 4,542 pipes. How does opera fit into the scheme of things in a Muslim country like Oman? Many Omanis feel that the money could have been better spent on creating jobs. A friendly local tells me that recently crowds had protested against a band member of a jazz band, who had recited verses from the Koran during a performance. The opera house had to issue a public apology and express regret over the incident. My guide Abdul Rasool tells me that these are just stray incidents and the locals are very proud of this showpiece, which was the brainchild of the Sultan.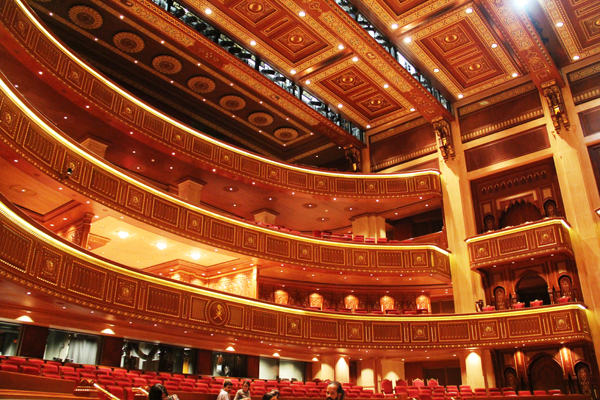 Oman was historically two countries- Muscat and the coastal belt on one side and the interiors with warring tribes, battling each other. Figures in myth and legends have passed through Oman- Sinbad the Sailor, the Queen of Sheba and Marco Polo. Sultan Qaboos Bin Said who came to power thirty years ago, put his country on the world map again with roads, infrastructure and hospitals. He is an unusual Middle Eastern ruler- he is unmarried, a graduate of Britain's Sandhurst Military Academy, loves music (even has his own symphony orchestra), and believes in women's rights and health care. Everywhere I go I see that locals revere the development that he has spearheaded and see his billboard portraits adorns every street.
Oman straddles effortlessly between the modern and the ancient. I love the way that the developers have embraced Arabic sensibilities in building a modern nation: the super fast highways co-exist with the intricately worked wooden doors, atmospheric souks and ornate mihrabs of mosques. Our guide Abdul Rasool wears the traditional long, flowing dishdasha and a turban or cap as well as the Omani version of the black tie- the khanjar, a ceremonial dagger with filigree on special occasions. He seems wedded to his mobile phone and his Rayban sunglasses as well as endless cups of thick Omani kahwa or coffee. I see local women wearing the hijab and the abhaya but also driving SUVs and going to work- I hear that almost one third of civil servants are women. There seems to be a uniform building code, where buildings are only beige or white and not above eleven floors. I also get a glimpse of the other side of the country in Muscat's lavish Shangri-La Barr Al Jissah Resort with three pods of luxury hotels- one for business, the other for families and the third one for specialised service and luxury catering to the discerning traveller. This private world has gourmet restaurants, spas, even a lazy river. If you are the kind whose holiday plans include just trips to the pool and cocktails on loungers, then this is the Oman that you would plump for. I hear about the Wave- an ambitious property development project spread over Muscat's coastline, with a Greg Norman golf course, private yachting and retail and dining options.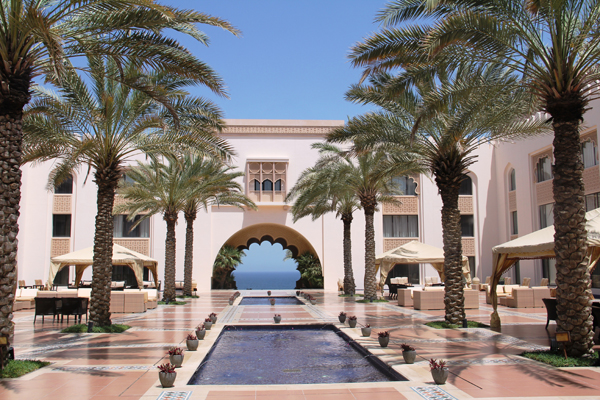 Abdul tells us that most Omanis are Ibadhis- a breakaway sect of Islam which is perceived to be tolerant and inclusive. "Maybe because of our maritime history, tolerance is in our DNA", he says. Muscat has a Krishna and Shiva temple, even a Peter and Paul Catholic Church. I visit the modern Sultan Qaboos Grand Mosque, hewn out of Indian sandstone. This building is a real feast for the senses with its archways, courtyards, and mosaics with Persian designs, ornate doors and white marble floors. With sprawling grounds, lined with neem trees and manicured lawns, it can accommodate up to 20,000 worshippers at a time. Abdul tells me proudly, "Shia, Sunni, or Ibadhi, all are welcome to come and pray at the mosque."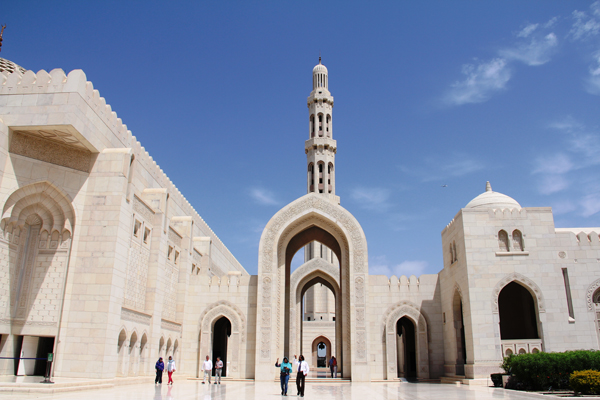 I walk through the massive prayer hall with ornate teak ceilings, a 10-tonne crystal chandelier that sparkles like champagne, lit by 1,122 bulbs. The floor is covered with a stunning carpet in 28 colors in varying shades which has 1700 million knots and took 600 women four years to weave. The Islamic Centre at the Mosque offers besides Omani kahwa and dates, the chance to speak about and understand the religion and pick up some literature.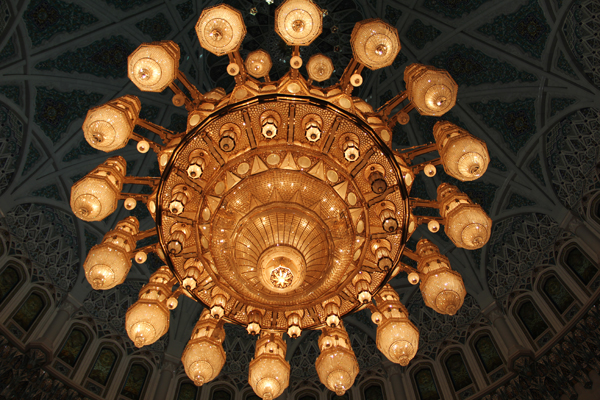 I get my insight into Omani religion and culture at the privately owned Bait Al Zubair Museum- an old mansion converted into an atmospheric museum. I look at traditional costumes influenced by cross- cultural fusion, protective charms and amulets to ward off the evil eye and elaborate costumes worn by Bedouin women with intricate embroidery. Many Omanis have links with the country's former colonies like Zanzibar and Baluchistan and over the next few days I hear differing accents and dialects ranging from Swahili to Baluchi. I learn that Oman has a burgeoning 'green movement' and looks for sustainable solutions-it has been acknowledged by the United Nations Environmental Programme as having one of the best records in environmental preservation. I visit Ras Al Jinz on the southern coast of the country, with its Scientific Centre for watching the nesting habits of green turtles. We take a midnight walk, under a sequined sky, with strict rules about no torchlights or photography to see gargantuan green turtles lay eggs and go out to sea and small baby turtles waddle their way, completing the magical circle of life.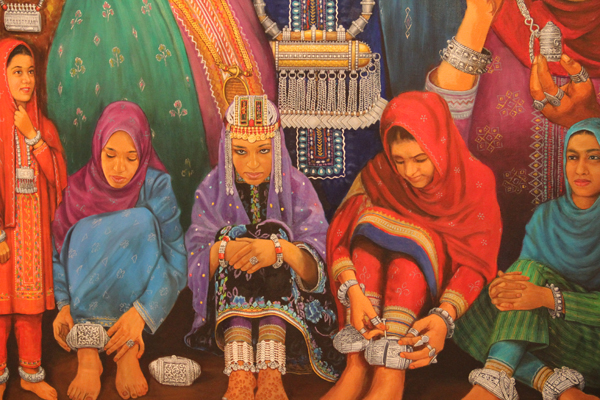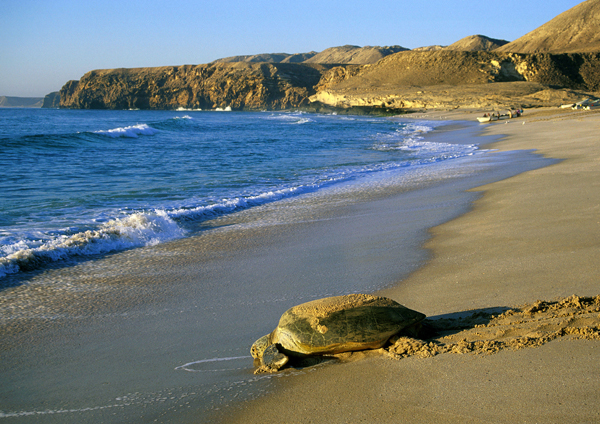 Over the next week I get a glimpse into some of Oman's attractions- the vast stretches of nothingness like the Wahiba sands, the lush wadis or river valleys where Omanis swim and picnic and the ancient Nizwa Fort and souk which looks straight out of the Arabian nights. There is not much glitz in Oman- no bigger, better, taller syndrome of its neighbours. But it offers a good dose of old Arabia with its culture, history and customs in a beguiling cocktail for those so inclined.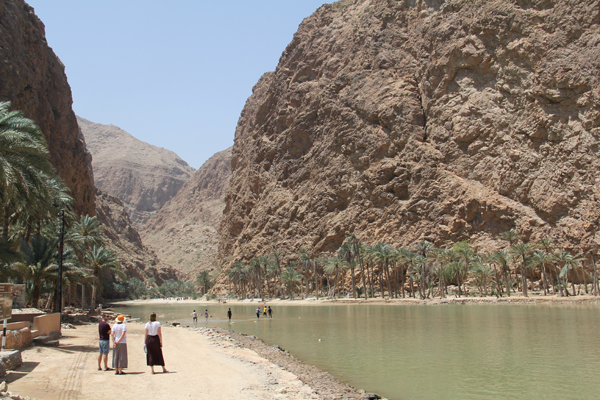 Related