My writing mantra includes the following:
"The embellishments always belong to the storyteller."
With that in mind, I offer you another act of kindness in a most unlikely place.
We had driven the old VW bus from Morocco into Algeria. Crossing the border at Oujda required submitting passports and visa applications at least twenty-four hours in advance and then waiting for the permissions. We arrived at the border crossing to secure our passports and drove along the coast to Oran and into Algiers. The VW was nearly ten years old and and was reincarnated from a Dutch delivery van to a simple tourist muti dented camper. From Algiers, we drove south through a sparse desert landscape where the hills and valleys merged into a mirage in the afternoon sun. The colors of the tan sand and rock outcroppings were a severe contrast from the setting of Algiers along the dark blue of the Mediterranean Sea. It wasn't a long drive before we entered the Northern Sahara.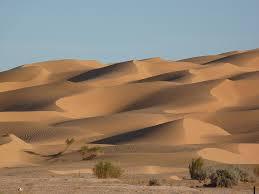 Windows were down during the day (no A/C) as we continued through the hot desert air and fine blowing dust always looking for a place to discover, enjoy and relax. Coming down a rock dry plateau we could see a small town off in the distance now well into the Sahara. Significant vegetation was absent and the southern horizon was simply more of the same. I remember seeing Ghardaia with its earth-colored, worn buildings and its minaret at the highest point on the hill.
I'm not actually sure where we ended up. Perhaps Touggout or Quardla or some other town strung along the barren highway. All I can remember is that it was dusty, hot, we were tired and in need of a real shower.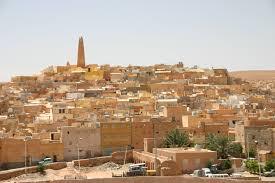 Driving down a dirt road, there was a hotel near the center of this village. It had a glass front door, well kept entrance and the name of the hostel was written in French. This was the place we were looking for. The French have baths, showers and western toilets. I was wearing Levis, hiking boots and a light blue work shirt with rolled up sleeves when I lowered myself from the van to the ground. We walked into the lobby which seemed luxuriously out of place in this Saharan town. It only took a moment while the receptionist eyed us from top to bottom (I also had a beard) to inform us that they had "no vacancies" for the foreseeable future. It didn't take us long to realize that that was his fantasy. I'm not sure if they would have rented a room to me if I had walked into a nice hotel in the French countryside. That's life in North Africa. I guess, the next move was to re-group and find a safe place to camp for the night and plan a new strategy in the morning. It was late afternoon with the sun still well above the western horizon when we exited the hotel.
Standing on the curb next to the road, we were talking about eating, sleeping and the next day, when a man in a white robe or Thawb approached us inquiring as to our dilemma. It must have been visually apparent that we had been thwarted in our attempt to find a temporary respite.
In excellent English, he introduced himself as Omar. I'm thinking: "Omar? Where did this guy come from?" This was like a Hollywood movie. He just... appeared. It didn't really matter as Omar was right there in front of us. He asked if we had a problem and we responded that the hotel had "no vacancies". He smiled broadly and said, we could stay at his house just out of town. The antennae went up and my cautious inner being said, "need more information." I asked him if this was his house? He responded that this was indeed his home, but he also had an apartment in the town where he would be staying. He said, only the caretaker was there. Okay, it was now much later in the afternoon with perhaps only an hour left of daylight. He said to follow him in his car. So we drove down the road for several miles and then onto a dirt road (Is this the scene where my family will never hear from me again?) and suddenly into a beautiful palm grove oasis. A real oasis! He turned hard into a gated walled compound where a two story house was framed against the setting sun. Omar, in those very dark sunglasses said we could sleep upstairs and he would see us in the morning. Was all of this to be believed? He told us that only the caretaker and several resident workers would be on site during the night. He soon drove away through the gates and was gone. When we walked up the stairs, there was a large room with dozens of colorful pillows thrown about. Candles were lit adding an almost mystical atmosphere to this unanticipated answer to our need for a place to stay. Soon deep sounding drums began to play from a small out building within the compound. A small fire could be scene with shadows of several figures moving in rhythm cast upon the now dim white washed walls. It was an absolutely magical moment, but I hoped we weren't going to be on the late night menu. Needless to say, it was decided that one of us would be awake at all times during the night.
In the morning Omar returned, inquired as to our sleep and invited us back that evening as honored guests for a wonderful traditional "sit on the floor and eat with your fingers" candlelight feast (with his other guests).
We did return that evening and were joined by a few of his friends that had flown in from France. I didn't even know that a plane could land anywhere near this place. Regardless, with several languages being spoken, servants scurrying about, bowls and platters of food and bread spread upon a large colorful Persian rug, we relaxed and enjoyed this nearly make believe adventure.
Late that evening, content and thankful, we left the compound for a camping spot a few miles down the road within a palm tree oasis. Omar from Algeria added richness, spontaneity and understanding to our lives.