But he was not white, either.
And for many African American women in the '60s -- with Denzel Washington a decade or more away -- that made him crush worthy. And a sign of hope that one day, perhaps in the not too distant future, our own ebony idol would come.
So I must admit I heaved a sad little sigh upon hearing that the elegant Egyptian so many of my women friends and I fell madly in love with in our 'tweens and teens had died. I remembered those glistening black onyx eyes and the first time I saw him in Lawrence of Arabia, riding proudly towards Lawrence after shooting his Arab guide for drinking from his precious well.
I had a mad crush on Peter O'Toole, too. The face, the voice -- the man was magic. Majestic. But Sharif was all that in colors closer to my own. He was not eclipsed by O'Toole. Upstaged him, some would say. Desert fire, against O'Toole's English ice.
There had never been anything like him. A moderately "dusky" Valentino had played "sheik" in the silent film era, winking at the camera, poking fun at his own matinee idol image.
But there was nothing "cute" or kitsch about Sharif. There was a touch of Cary Grant charm, perhaps, in roles like Nicky Arnstein in Funny Girl. But mostly smoldering sex appeal beneath the smooth brown skin.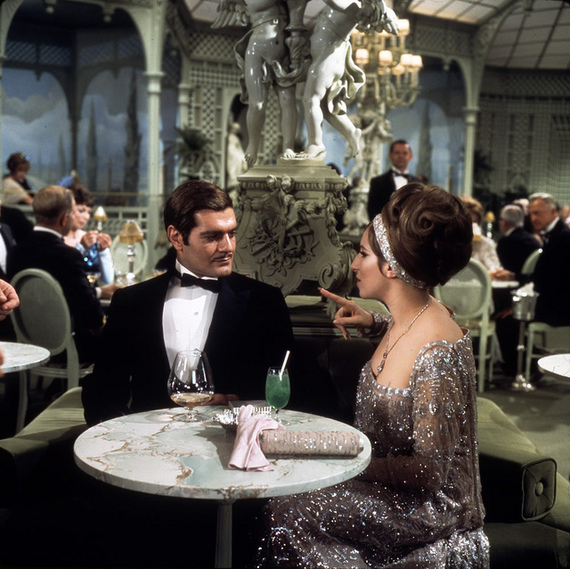 He was not "ours." But he was our next best thing. We could dream in the right color, when we fantasized about him. And oh, we did. We did.
Farewell, my brother. Like Ali in that iconic clip, you appeared on our horizon first as a distant glimmer of hope, gradually growing into the star you became and deserved to be. A good omen.
And a harbinger of good things to come.
Photo credit: Top, author screenshot; Funny Girl with Streisand, (1968), Flickr, https://flic.kr/p/8RkTD4

Calling all HuffPost superfans!
Sign up for membership to become a founding member and help shape HuffPost's next chapter