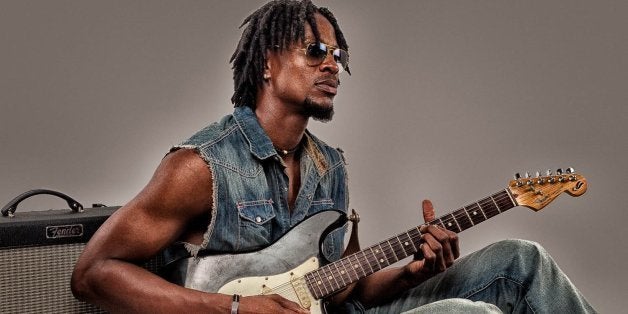 Founded in 1991 and curated by legendary reggae musician Bankie Banx, the three-day music extravaganza, which took place March 13 through 16 this year, featured live Caribbean music played by the industry's most intoxicating stars at CNN's #1 rated beach bar, The Dune Preserve, on the island of Anguilla. In addition to the event attracting island enthusiasts and international tourists from across the globe, celebrity guests including John Mayer and Jimmy Buffett have also managed to bless the Moonsplash stage in the past with surprise performances.
Among this year's lineup of performers were Banx himself and his son, former professional cricket player Omari Banks. The 31-year-old rising musician recently chatted with The Huffington Post about how he plans to contribute to his father's musical legacy, and how he feels about Moonsplash being the longest-running independent music festival in the Eastern Caribbean.
After years of watching Moonsplash develop into the festival that it is today, how did it feel to perform at this year's event?
Moonsplash was something that I really grew up around. I'd actually like to say that I'm a Moonsplash baby. I remember its inception and I've performed at Moonsplash since I've been 7, 8 years old. I was a child at the time, but I would get up and do one or two songs. But it's always special for me to perform at the Moonsplash festival. It's my dad's festival, so I've seen the hard work and sacrifices that he has made to ensure that Moonsplash is successful. Getting up onstage to do my thing is something that I always appreciate and [I] love to get positive feedback from the crowd. As an artist that's an amazing thing.
Are you involved with assisting your father in planning each year's festival?
Not as much. In terms of planning, you have to be involved, in the sense [that] if my dad has an idea he'll bounce the idea off of me, etc. But for the past, I would say, three to four years -- seeing that I'm an artist now -- I try to step back in terms of performing. Because even my dad sometimes, he's the one who's worked so hard for Moonsplash. But for me, I actually try to focus on the music, which is performing. And make sure that I'm in the right frame of mind to go up onstage to perform. But my dad always knows that he can ask me whatever it is to organize the event., and I'm open to that all the time.
How important would you describe the importance of Moonsplash remaining as the longest-running independent festival in the Eastern Caribbean?
I think it's very important. We as Anguillans, we like to have a stake in our own. If you ask anybody, not just myself, Anguillans are proud people. They're proud to say that they own the land of the country. And that's important when you have a business which is our main industry in tourism. I think that goes hand in hand to say that my dad understands that it's important what he does. From the acts that he brings in, my dad is somebody that's socially aware and he tries to bring in acts that can have an impact, not just draw crowds, but also fit into the theme of Moonsplash. Moonsplash and the Dune Preserve always [have] a positive spin. And my dad is always looking to bring in someone who has a good influence and make a great contribution to Anguilla in that way.
It's important to him, because Moonsplash is part of his legacy. And it's important that he keeps it independent, because it's part of his legacy and I'm sure he wants to play a role in shaping his destiny.
In recent years, John Mayer, Buju Banton and Jimmy Buffett are some of the special guests who have graced the Moonsplash stage. Where would you like to see the festival evolve in years to come?
Personally, I'm an artist who can appreciate all kinds of music. And my dad is the same. Some of his biggest icons or people that he [likes] as artists are people like Bob Dylan who inspire him. And those guys aren't necessarily reggae singers. So I think my dad is open to all genres. It's really about music and the art form. And that being said, it's generally a reggae festival, but it's more about the message and positive vibe that's affiliated with Moonsplash.
In terms of your music career, last year you released your debut album, "Move On." Looking ahead, would you be interested in recording a collaborative project? If so, with who?
That's definitely something that I would want to do. Possibly with Nas or Jay-Z. I don't do rap music in the sense that I'm not a rapper, but from the lyrical content or even within my reggae vibes we have a style called dub, which is similar to rap music. It's kind of a chant kind of feel ... I also like John Mayer and Lauryn Hill. I like Lauryn as an artist. I think lyrically, she's awesome. I love her "Miseducation" album. As an musician you hear so much and you're inspired by so many.

Check out the video to Omari Banks' latest single, "Jehovah Message," in the clip below.
REAL LIFE. REAL NEWS. REAL VOICES.
Help us tell more of the stories that matter from voices that too often remain unheard.
BEFORE YOU GO
PHOTO GALLERY
24th Annual Moonsplash Caribbean Music Festival