Omarosa Manigault Newman on Thursday unveiled a recording of Lara Trump discussing the details of a job on the Trump campaign and stipulating that the former White House aide would need to remain "positive."
In the recording, played Thursday afternoon on MSNBC, Lara Trump offers Manigault Newman 12 consecutive monthly payments of $15,000 for a total of $180,000. Manigault Newman's White House salary was $179,700. She wrote a book, titled Unhinged, after her departure and is currently in the middle of a promotional tour.
Lara Trump begins the recorded conversation with Manigault Newman by acknowledging the former aide may have "some things [...] in the back pocket to pull out."
"Clearly, if you come on board the campaign, we can't have — we've got to —" she says, trailing off before adding, "Everything, everybody positive, right?"
Trump then proposes the hefty compensation. Manigault Newman told MSNBC's Craig Melvin that she interpreted the offer as one of hush money.
"I saw this as an attempt to buy my silence, to censor me and to pay me off," Manigault Newman said, adding that she believed the president knew about it.
Trump, a senior adviser on the president's 2020 campaign and the wife of his son Eric Trump, went on to outline a loosely defined role on her staff.
"Sometimes, you know, come to New York for occasional meetings. But I would love if you could, you know, occasionally go do speaking engagements, and that sort of thing for us," Trump said. "I think you'd be awesome doing that."
Manigault Newman claimed on Sunday that "several former employees from the White House" accepted very similar offers in exchange for signing a nondisclosure agreement.
"They were not offering me a real job," she said at the time. "They didn't really care if I showed up."
Federal election filings support allegations that such payments were made, ABC News reports, but they do not indicate whether the money was related to any signed nondisclosure agreements.
Trump said in a statement released shortly after the recording was made public on Thursday that she felt "shocked and saddened" by Manigault Newman's "betrayal." She added that the Trump family had considered Manigault Newman "one of our own" since the start of the 2016 campaign.
"That's why I reached out to offer her a position with the 2020 Trump Campaign," Trump said, suggesting the offer was off the table as soon as she discovered unspecified "gross violations of ethics and integrity" that Manigault Newman supposedly committed.
"I hope it's all worth it for you, Omarosa, because some things you just can't put a price on," Trump wrote.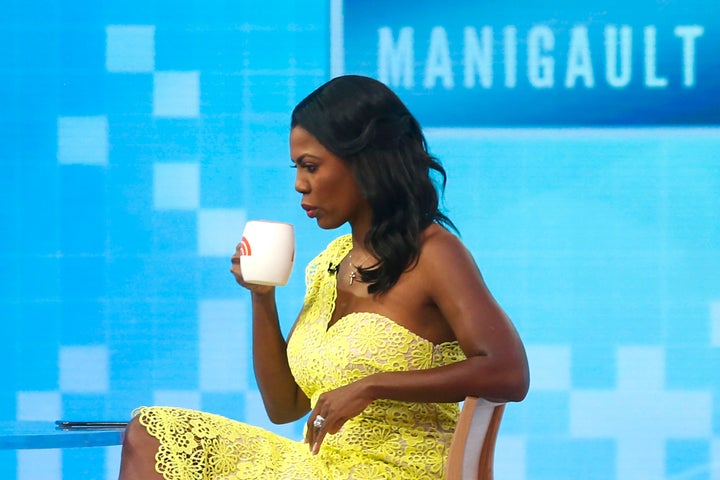 The campaign tape is the latest in a series of illicit recordings Manigault Newman says she made during her time in the Trump administration, where she served as communications director for the Office of Public Liaison.
As a guest on "Meet the Press" Sunday, Manigault Newman released a recording of White House chief of staff John Kelly firing her in the situation room. During a "Today" show appearance the next day, she released a taped phone call with the president alerting him to her dismissal. Trump seems surprised in the recording and claims he did not know about Kelly's decision.
White House press secretary Sarah Huckabee Sanders has dismissed the recordings and contents of Unhinged, saying Manigault Newman is merely a disgruntled former employee who wrote a book "riddled with lies and false accusations."
Manigault Newman exited the White House in December but the precise circumstances surrounding her departure remain unclear. She was unfailingly supportive in her portrayals of the administration while working in the White House, praising the president's stances on issues important to the black community. However, she now claims the president thinly disguises his racism and that a tape may exist on which he says the "N-word."
She became acquainted with Donald Trump during a 2004 season of his reality TV show, "The Apprentice."
Popular in the Community