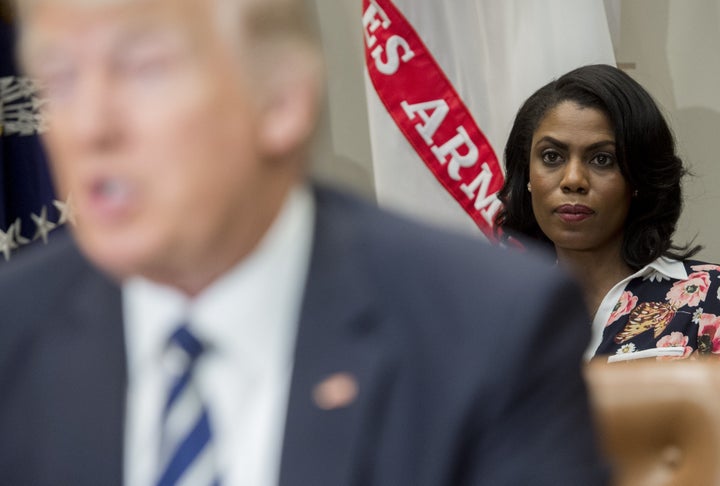 Newman, who left the White House last year, says that Trump used the racial slur while taping "The Apprentice" and that he was caught on camera. Trump starred on the reality TV show for years.
Rumors have swirled for years that such outtakes exist. In a passage of the book obtained by NPR, Newman describes a "source" telling her about the tape, but does not specify whether she herself heard the tape. When pressed by NPR, she told the outlet, "I heard the tape."
Frank Luntz, a Republican pollster and political consultant, tweeted Friday that Newman's book credits him with hearing Trump use the word, a claim he calls "flat-out false." The Guardian did not name Luntz in its report, and HuffPost has not independently obtained a copy of the book, which comes out Tuesday.
Newman says in the book that she heard Trump use other racial epithets to refer to White House counselor Kellyanne Conway's husband George, who is half-Filipino.
"It had finally sunk in that the person I'd thought I'd known so well for so long was actually a racist," she writes, according to The Guardian. "Using the N-word was not just the way he talks but, more disturbing, it was how he thought of me and African Americans as a whole."
Newman, once one of Trump's most vocal supporters, has been fiercely critical of the president in the months since she left the White House in a fit of controversy. The White House in December announced that Newman had resigned and would be leaving her position in January. But reports immediately surfaced that the former reality TV star was fired for abusing her position and had to be physically removed from the premises.
Since then, she has referred to the administration as a "plantation," claimed she was ostracized for being black, and vowed never to vote for Trump again. Elsewhere in her book, she claims that the president suffers from "mental decline."
White House press secretary Sarah Huckabee Sanders on Friday criticized Unhinged as "riddled with lies and false accusations."
"It's sad that a disgruntled former White House employee is trying to profit off these false attacks," she said.
This article has been updated to include Luntz's tweet and Newman's comment to NPR.
Paige Lavender contributed reporting.