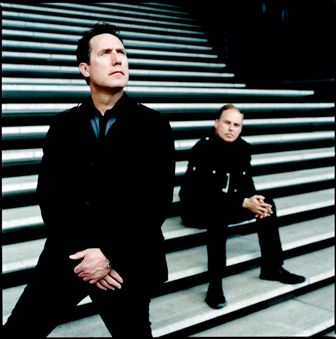 Photo/Joe Dilworth
The music. The movies. The hair. The...lack of fashion. Anyone who came of age in the 1980s likely regrets taking part in certain fads but deep down wishes they could go back - through John Hughes-tined glasses anyway. No need for a DeLorean - one of the bands that personified the 80s sound best are mounting a comeback and thankfully haven't changed a thing. Orchestral Manoeuvres in the Dark (OMD) are touring this fall for the first time in 23 years, and thankfully their signature new wave, '80s pop synth sound is intact.
The band, which consists of front man Andy McCluskey, Paul Humphrey, Malcolm Holmes, and Martin Cooper, are touring in support of their first new album in 15 years: History of Modern. Expect the Brits to play some new stuff (which sounds delightfully like the old stuff) as well as hits like "Dreaming" and the orca-smash "If You Leave." Who doesn't remember that song? Not fans of "Pretty in Pink" or anyone who owned a Walkman that's for sure.
Anyway, I caught up with McCluskey and asked him about the tour, the new album, and bringing OMD back to life after all these years.
Talk to me about the bumps in the road to get where you are today...
The original four of us had not been together since 1989. Once we had toured again to such acclaim there was only one dangerous but logical next step: to be crazy enough to dare to make new music. This process took about three years as we were conscious that a poor album would undermine all of the positive effects that we had achieved in the touring. Most importantly: you really have to make a record for the right reasons. You should have something to say, and in a way that is worth listening to.
How would you describe the sound of the new record? It sounds like a nice throwback...

We were aware that as OMD in our first four albums, we had created a musical language of our own and we were conscious of the fact that we ourselves had abandoned our own creation before the end of the 1980s. Therefore, this would be our opportunity to return to making music utilizing the sound palette that we had invented for ourselves. It was, however, important not to make a deliberately nostalgic pastiche of our own sound. The songs had to be strong and the production techniques had to be contemporary. We hoped to achieve a balance and, judging from the reviews, it would appear that we managed to do so.
That said, you all must be excited to tour again...
All four members of the band never thought that we would have this chance again. We are loving it! The North American tour in spring this year was our first in over 20 years and was such a buzz and a huge success. We are, therefore, really excited to tour again playing many places that we did not visit earlier in the year.
Indulge me in a few 1980s-related questions... Looking back, were you nervous to follow up "If You Leave?" It was such a huge hit - to say the least. Were you concerned you wouldn't be able to replicate that success?
We always knew that we could not realistically hope to achieve the sales and marketing that went with "If You Leave." That song had all the weight of the music business and the film industry behind it. The unfortunate thing was that all the great hits that we had released in Europe had mostly come before this time and all of the touring trying to "break" the US market actually "broke" us so we did not really put ourselves in a position to maximize the success that we had created.
That song was featured prominently in John Hughes' "Pretty in Pink." His passing still hurts... what do you think his legacy is?
John has obviously left a huge legacy within the film business. He created and promoted an ensemble group of actors and directors. His love of British music was also instrumental in helping bring that music to the attention of a wider US audience through it's inclusion in his films. However, I think his greatest legacy will ultimately be as the creator of a tightly-constructed body of work that charmingly but accurately reflects a snapshot of American history. It may not be as gritty as Steinbeck, or as epic as John Ford, but Hughes has an iconographic catalogue.
Well said. What's the best thing to come out of the 80s/the worst?
Obviously, the best thing was the music but only in the first half of the decade. The worst was shoulder pads, back-combed hair, Reagan and Thatcher!

Bingo. Lastly, I have to ask because it's been bothering me for over half of my life. Who came up with that crazy band name and what's it all mean?
Ha ha.. I have to confess that it was me. When Paul and I dared ourselves to play a one-off gig at our local Liverpool club in 1978 we knew that we needed a weird name to make it clear that this was not your "average" band. This was two teenagers with a tape recorder playing songs that even their best friends thought were shit. Thus, we consulted my bedroom wall that was full of mad lyric, poem and song title scribblings and we selected the most preposterous title that we could find. It was only supposed to be for one gig.. but that was 33 years ago!
Sister Marie Music Video:
Calling all HuffPost superfans!
Sign up for membership to become a founding member and help shape HuffPost's next chapter