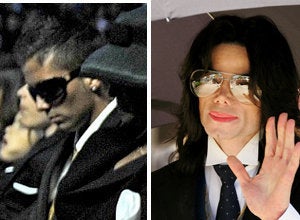 *Scroll down for photos*
UPDATE BELOW: Jermaine Jackson speaks out about welcoming Omer into the family.
There is a lot of speculation surrounding the young man in dark shades sitting with the Jackson family at Michael Jackson's memorial service. Omer Bhattiv sat between Rebbie Jackson, the eldest Jackson sibling, and Prince Michael II. He's 25, a Norwegian rapper and rumored to be Michael Jackson's secret son.
Michael reportedly told close friends several years ago that Omer was the result of a one-night stand he had with a Norwegian fan, Pia Bhatti, in 1984.
"He was the King of Pop," Pia told The Sun after the singer's death. "But for us he was so much more."
Omer met Michael in 1996 during the HIStory tour, when he impressed the King of Pop with his dance moves. He later spent some time at Neverland, performed with Michael and took his MJ tribute act around the world.
UPDATE: Jermaine Jackson tells the Daily Mail that if a DNA test proves Omer is Michael's son, the Jackson family will welcome him in.
'If Omer's his son, he's his son,' Jermaine declared yesterday.

'We won't deny it. We are going to give him the same love and care that we give Prince and Paris and Blanket. I can't clearly say if he is Michael's but I saw this kid around him.'

Jermaine said Omer, who as a child looked remarkably like Jackson's seven-year-old son Blanket, was moved to the family seats at the memorial service by Jackson's eldest sister Rebbie. She wanted him closer to their mother, Katherine.

'My sister went and got him during the service and got him to sit closer to my mother,' Jermaine said.
Check out the photos below. The resemblance is there.