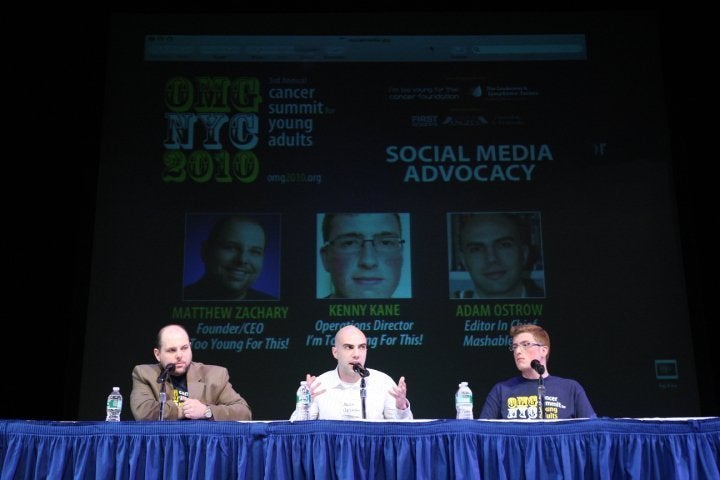 In May 2010, I experienced my first ever OMG! Summit. As a recent non-profit intern-turned-employee, I was eager to see the fruits of my organization's labor.
My internship had focused on the daily operations of the organization, but I had an understanding of the OMG! Summit in terms of what was being planned, and what had happened in prior years. I knew that it was a congregation of young adult cancer survivors, caregivers, family, friends, advocates, and health care providers. What I didn't know is that it was also a celebration, a cancer party.
In the weeks leading up to OMG 2010, Stupid Cancer Founder/CEO Matthew Zachary, informed me that a scheduled speaker on the "Social Media Advocacy" panel could no longer keep the commitment. Being the org's token early adopter of all things social media, he asked me to fill the role.
I had a very unique experience as a participant. I was a hybrid speaker-attendee, both educating (hopefully) and learning from some of the best in our little community about things I could have used years earlier, as my fathers caregiver. I learned a lot of things at 23 that would have benefited me at 17, when I helped him navigate his cancer diagnosis.
My favorite quote about the conference comes from Bill Kubicek, executive director of "The Next Step" in our 2011 highlight reel. He describes the conference as having "a lot of people that are very smart with a lot of information that have MD, PhD, MSW along with their name... but there are a lot of people that have a ton of information with the word survivor after their name." To me, that exemplifies what the OMG! Summit is all about.
For OMG 2012, we took the conference west from NYC to Las Vegas. The change was a big step for both the conference and the organization. We stepped outside our comfort zone and planned something really extraordinary.
Moving the conference out of our home city presented both a challenge and an opportunity. How would we get there? For most of the staff and volunteers, the choice was air travel. For John Sabia, our multimedia director, and I, along with a partnership with Volkswagen, the choice was the scenic route.
The Stupid Cancer Road Trip was a collaborative effort between Stupid Cancer and Volkswagen to promote the cause of young adult cancer, the conference, and the organization. It was also our first national campaign, touching survivors in their home cities during the 10-day, 10-city road trip. We traversed 4,500 miles of highways, receiving thumbs up and waves along the way.
We're looking forward to returning to Vegas this year, and plan on repeating the road trip in partnership with the Chevy Volt team. We will be taking their all-electric sedan on a revised cross-country route.
If OMG 2012 was the experiment turned great success, then OMG 2013 will be nothing short of life changing.