From da Vinci's flying machines, and the Wright brothers first flight, to Capt. Chuck Yeager flying faster than sound, and Neil Armstrong on Apollo 11's first human lunar landing, aviators have been celebrated as movie stars for their bravado and chutzpah.
Now comes a thrilling docu-series of Northern derring-do, following a group of homespun people and their fleet of vintage WW II prop aircraft, and going where they go -- battling ice storms and extraordinarily flying through minus 50 degree Celsius weather, or overcoming forest fires while transporting both cargo and passengers.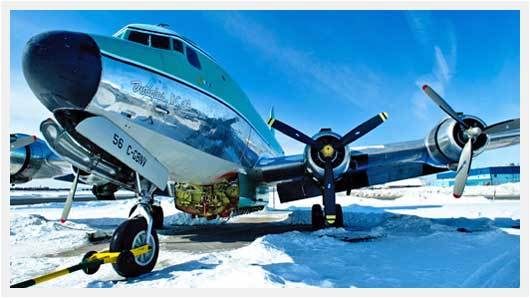 Welcome to Joe McBryan's family and his intrepid Buffalo Airways team from Ice Pilots, an award-winning reality series shot in Canada's Northwest Territories. The original series aired for six hair-raising seasons (2009-2015) on Canada's History channel but only saw sporadic airtime in the U.S.
Through the joint efforts of savvy producers Omnifilm Entertainment and One World Studios, fans will now get to re-visit or see for the first time some unlikely aviation stars. On November 20, the Ice Pilots store site will be offering the worldwide premiere of season six on DVD, with some jaw-dropping special features. The store will also offer the digital premiere of seasons one through six via digital download.
For people who've only seen seasons one through five, and missed season six on TV, now they can own and view season six anywhere in the world. Additionally, US audiences, who've only seen some of the earliest seasons of Ice Pilots, will now be able to enjoy the entire series, seasons one through six, start to finish.
When Buffalo Airways' Joe says "if you really want to experience flight in this life then you have to strap a DC-3 to your ass," you get the gist of what this awesome series has to offer.
Amanda Riches, Director of Branding and Digital Distribution for Omnifilm, which develops and produces award-winning unscripted and scripted content for a global audience, enthuses:

We're very excited to be working with One World Studios on the release of the Ice Pilots series to fans around the world. Omnifilm shares many values with One World, including a focus on utilizing independent distribution channels, growing an organic and engaged community, and consistently providing entertaining, high quality content. Aviation is a huge niche, and we've always been inspired by Ice Pilots' passionate fans. But we feel that the fans we've reached through broadcast television distribution is only part of the story - there are millions of aviation buffs out there that we know will love the content we have to offer. We're excited to work with One World to reach these future fans and grow the current Ice Pilots' community into a place to enjoy and share aviation-related content.
Omnifilm's partner in this enterprise, One World Studios Digital, is a new division of independent production company One World Studios Ltd., founded in 2002 by Zack Coffman and Scott Di Lalla. Coffman and Di Lalla's DIY release of their award-winning documentary Choppertown: The Sinners ten years ago was possibly the first film in history to be released directly to its audience through social media (Myspace).
The success of that first film allowed them to expand their "Choppertown" offerings for garage-built and custom motorcycle enthusiasts to over sixty films, including the Orlando Bloom executive produced The Greasy Hands Preachers, a Dirtbag and Dirtbag 2 bundle, and Jesse James Austin Speed Shop, a full-throttle mini-series featuring the famous customizer.
By now partnering with Omnifilm on Ice Pilots, One World has officially launched its new division, venturing into the niche of vintage aircraft and aviation; further expanding its mini-distribution channels that turn the traditional process on its head. Coffman, who heads the new division, explains this innovative paradigm:
We empower our producer-partners to activate and connect with their own audience-niche the way that we did for our own Choppertown. By bringing the technological expertise and marketing experience of independently delivered content for a specific niche, we're bridging the gap between audience and filmmaker, and creating a modern distribution paradigm. We're honored to work together with Omnifilm. They've been an indie stalwart in the docu-reality space for years and make incredible shows that have really engaged fans. Ice Pilots is a great series -- it's true to their lifestyle, one that is incredibly challenging and driven more by passion and guts than by money. As an independent studio, we love their story and the people who live it.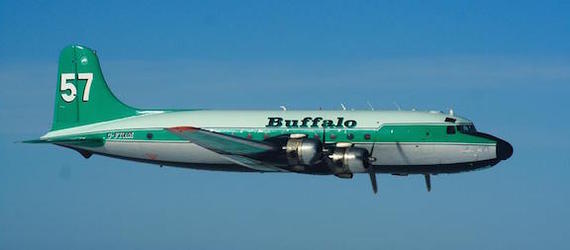 Here are some outstanding facts about this maverick arctic airline company: every weekday Buffalo Airways flies the only scheduled DC-3 passenger flight in the northern hemisphere from Hay River to Yellowknife and back; Buffalo Airways operates the largest private fleet of DC-4s and DC-3s on the planet, annually hauling over 6,000 passengers on scheduled flights and delivering 4,000,000 pounds of freight; the Northwest Territories is referred to as the "Land of the Midnight Sun" due to almost 24 hours of daylight in the summer months.
And, one of these great storytellers is Joe's son, Mikey, Buffalo Airways' GM, who says of Ice Pilots' success:
A lot of people recognize you on street, it's a lot of fun. We're just a bunch of guys from Hay River, Northwest Territories, and to be recognized worldwide, to go to England, and also to France, where they're not even speaking English yet they know who we are, is just amazing. Some of our planes are seventy years old and still going strong. My father is over 70 and he's still flying every day. We'll keep flying as long as we have customers. And, as a Northerner, I'm happy to now have people everywhere see our crazy way of life.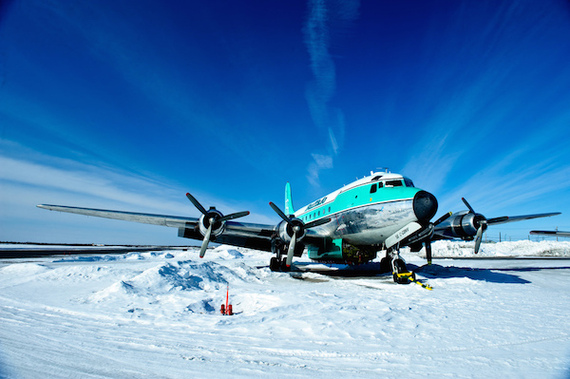 Flying into your living room on your television set or landing on your mobile device, from start to finish, the everyday heroes of Ice Pilots will leave you thrilled and wanting more.
Ashley Jude Collie is a fan of Ice Pilots.
Calling all HuffPost superfans!
Sign up for membership to become a founding member and help shape HuffPost's next chapter