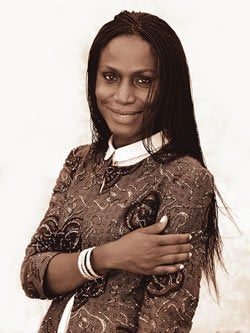 I'd never met her in person, though I'd written about her several times. The one photo I'd seen was little help -- after all, women could be mercurial groomers. Hair, make-up and even style of wardrobe could drastically change in the span of a week. The only option was to walk through the lobby, past the pool and around the conference hall as often as my heels would allow. My mission was to meet Omoyemi Akerele -- and I wasn't giving up. I'd traveled to Echo Hotel and Suites in Nigeria's former capital to chronicle, Lagos Fashion and Design Week, the buzzed-about fashion show created by Akerele. Halfway through my search, I realized that should she walk past me I'd never know. But then I remembered this is Lagos.
The average fashionista in the bustling city is runway-ready on any given day. Luxury companies including LVMH and Porsche AG have already set up shop in Lagos to cater to them, while fashion brands like Zara and Forever 21 are seriously flirting with building flagships there. Nigeria's loyalty to both high-end and high-street brands was recently noted by the Guardian, which revealed that visitors from the country account for the UK's biggest spenders, racking up an average of £500 per store they visit -- more than shoppers from Russia or the Middle East. These reports were confirmed this past October at the Africa Leadership Conference in Ghana where the firm McKinsey & Co presented a study revealing Nigeria as the leading consumers on the continent.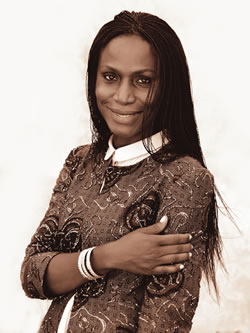 For me, such stats translated to a nine-in-10 chance that Akerele would look like every other woman I'd passed in the lobby, pool and conference hall: pretty, polished and preening in Louboutin heels, a Chanel 2.5 quilted bag and a custom creation from leading Nigerian designers like Lisa Folawiyo of Jewel by Lisa. So, it was all the more reason why when I finally found Akerele, I gasped. The beauty before me was the polar opposite of what I imagined: long braids took the place of the wavy European extensions I'd expected, sensible leather flats instead of six-inch platform pumps adorned her feet and her outfit of choice -- sleek denim and a silk blouse -- was plenty stylish but not glitzy.
It was also the first clue that the show, like the woman behind it, would eschew the over-the-top stylings native to most fashion shows on the continent. The four-day show, which presented the work of roughly 40 designers, was smaller in scope than the famed ARISE Magazine show, which featured nearly 100 designers last February, or the fashion show extravaganzas organized annually by Africa Fashion International in South Africa. Yet what LFDW lacked in sizzle it made up for in substance. LFDW boasted partnership with the British Fashion Council to award up-and-coming designers with cash prizes and London internships; title sponsorship by MTN, the leading telecom in West Africa; and the distinction of being the first African show to launch British designer Matthew Williamson on its catwalk. These high points were eagerly documented by a group of distinguished international journalists and buyers Akerele courted including Suzy Menkes of the International Herald Tribune in London, Cristina Manfredi of Italian Vanity Fair and buyers from Selfridges and Mytheresa.com.
The runaway success of LFDW was the latest coup for a woman who has been rightly described as a "pioneer" of Nigeria's fashion industry. But her trailblazing path in fashion started in an unlikely place: law. Akerele earned her bachelor's in law from the University of Lagos, which she followed up with a master's degree in international economic law from the University of Warwick in the UK. The rising professional then worked at the prestigious Lagos firm Olaniwun Ajayi & Co, rising to the rank of associate. But her love for fashion was not far behind, and it lead to a dramatic career change when the lawyer traded trying cases for trafficking samples as a stylist.
Akerele, who is certified as an image consultant at the London-based Aston-Hayes school, partnered with celebrity stylist Bola Balogun to create Exclusive Styling and Image Consultancy in 2005, making the pair one of the most sought-after stylist teams in Lagos. She parlayed that experience into an editorial gig at True Love West Africa magazine where she worked as senior style editor. It wasn't long before she launched her own outlet, Style House Files, which has been a leader in the space since 2010. Under Akerele, the site has given itself the mandate to elevate Nigeria's fashion industry. It's this passion that led to the launch of Lagos Fashion and Design Week.
LFDW is one of several initiatives championed by Omoyemi, who has spent recent months traveling tirelessly between Lagos and Milan, first to introduce a select group of Nigerian designers at the L'uomo Pitti trade show, then to speak at the International Herald Tribune's recent luxury conference on "The Promise of Africa." In light of this record, the success of her show should have surprised no one. This is clearly a woman who doesn't need the familiar accouterments of heels, hair and high-end bags to prove her place in fashion. By the end of the event, I looked for her again -- after all, congratulations were in order. As I took my place behind the growing queue of well-wishers, my eyes rested once again on her trademark flats, denim and blouse. It reminded me of my earlier search for this rising star -- except this time, I was not the only one looking for her.
Image Courtesy of Omoyemi Akerele/StylehouseFiles
Support HuffPost
A No-B.S. Guide To Life
Related
Popular in the Community