September 2, 2015 will mark the 70th Anniversary of the end of WWII, and seventeen outstanding U.S. Veterans, both male and female, have stepped up to help support those who have served and sacrificed by posing for a special calendar.
That service strikes close to home for Gina Elise, the granddaughter of a WWII Army veteran and the CEO of Pin-Ups For Vets. As founder of this big-hearted nonprofit organization, Elise is proud to introduce its 2016 Calendar, and 10th anniversary edition. The visually striking 2016 calendar, featuring those seventeen veterans in WWII-style pin-up photos, is produced in an ongoing effort to raise money to aid veterans of all stripes.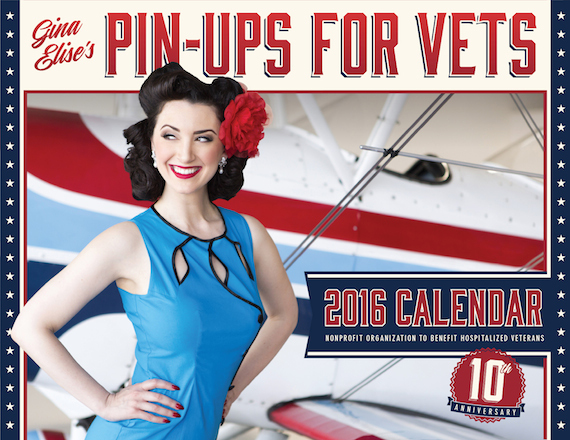 Elise, who says that Pin-Ups For Vets (PUFV) donates money to VA hospitals to purchase state-of-the-art rehabilitation equipment, and her ambassadors are in the middle of a 50-state VA and military hospital tour, where they deliver the calendars to ill and injured veterans in VA hospitals nationwide. To date, she says they've personally visited over 7,000 Veterans at 54 VA and military hospitals, and state Veterans Homes across the country. PUFV also ships care packages to deployed U.S. troops around the world and "does morale-booting makeovers for female veterans and military wives."
Enthusiastic Elise notes:
We see the direct impact we're making every time we visit a VA and military hospital or veterans home. We witness first hand the difference it makes in their lives, knowing that their service is appreciated. On a recent visit, one of our calendar models, Navy veteran Jennifer Marshall, knelt down to a fellow female Navy veteran in a wheelchair, and Jennifer said, 'Thank you for your service ma'am.' This elderly female veteran broke down crying but explained, 'I'm not sad, I'm really happy because I've never seen so many beautiful young people.' Those moments are just priceless, knowing that we're making things a little better in this world. It can't get better than that.
Jennifer Marshall herself talks about being a PUFV ambassador for the last 18 months, recalling:
PUFV gives me the cherished opportunity to connect with my fellow veterans and give back to those who are in need of a smile, a hug or a few minutes of conversation. I love the camaraderie that veterans naturally have, and the chance to connect with other vets fills my heart with joy and simultaneously brings back wonderful memories of the service. After leaving the Navy (1999-2004), I struggled with finding my way because such a large chunk of me was missing. I've now found that missing piece as a result of my volunteer service with Pin-Ups For Vets. Beautiful on the inside and out, my fellow ambassadors love what they do and find inspiration and happiness in spending time with veterans.

Another Navy veteran, Stephanie Sanchez similarly suggests:
Gina's organization makes people feel regarded -- like they matter and gives them a reason to smile. What greater gift can a person get than a reason to smile? It sounds really simple but it's so profound. We all need that. Our hearts need it.
A featured male veteran in the calendar is West Point graduate, 5-year Army veteran and Hollywood actor, Mark Valley, who's best known for his roles in Boston Legal, Human Target, Fringe, and Body of Proof. He offers, "I really believe in what Gina and her ambassadors are doing with Pin-Ups For Vets."
Another veteran featured in the 2016 calendar is runway model-turned Marine, Jovane Marie, who explains, "There is nothing that says that I can't be a hard-charging Marine and a lipstick wearing pin-up, so I choose to be both." Marine veteran Vana Bell offers, "I feel like the vets in the hospitals get a little extra joy from finding out that we are vets too." And yet another Navy veteran, Vera Wayne, adds, "It's the automatic camaraderie and I think that makes a big difference for them."
Pin-Ups For Vets has been serving the military community for a decade through its various veteran and troop initiatives, and Gina Elise suggests those interested, in the 2016 calendar or in donating one for a deployed service member, to check out PUFV's website.
On September 2, and to mark the 70th Anniversary of the end of World War II, the National Archives in Washington D.C. will host special programs and display the original Japanese Instrument of Surrender that officially ended the war. Supporting organizations like PUFV points the way toward the "better future" that September 2, 1945 promised.
Check out PUFV on Facebook.
Calling all HuffPost superfans!
Sign up for membership to become a founding member and help shape HuffPost's next chapter