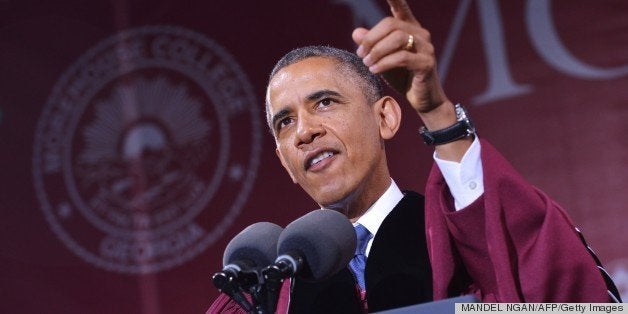 While critics have otherwise incisively called attention to what columnist Ta-Nehisi Coates described as "convenient race-talk" (easily recognizable as classic, and mostly tired, black middle-class respectability rhetorics) in President Obama's commencement address at Morehouse College, it is curious, but sadly not surprising, that they have missed the perhaps inconvenient, and truly historically important, part of the speech: The president continued his recent trend of LGBT-inclusive language, but this time he did so talking directly to black folks, and in our house. In the midst of a very personal address delivered in the cadences of the setting, with the soaked crowd hanging on his every word and black America watching closely, Barack Obama, now my "Morehouse brother," said, "Be the best husband to your wife, or boyfriend to your partner, or father to your children that you can be" (emphasis mine). It was a simple recognition of the humanity of queers, but it was nonetheless profoundly significant, especially at this time, and in that setting, where, until recently, we had remained unacknowledged from pulpits of power, and where queer students and their allies have been working for at least a generation to receive just that sort of acknowledgment of their belonging at Morehouse and in black communities. There were a few nervous guffaws after his statement, so the president raised his finger in admonition and simply continued. This is not more of the same, or "convenient talk." For me, having taught "Genealogies of Black LGBTQ/SGL Culture and Politics," the first LGTBQ studies course at Morehouse and only the second at a historically black college, this semester, President Obama's small utterance is groundbreaking. In any event, it is a great way to close this year of reenchantment with my alma mater.
In the same Morehouse College classroom in which, more than 20 years ago, I sat as a now-retired sociologist warned her students about the supposed "CONSEQUENCES OF HOMOSEXUALITY" -- "ALIENATION FROM FAMILY," "ALIENATION FROM COMMUNITY," "HIV/AIDS" -- in large block letters scrawled across the entire blackboard, my story came full circle. Each week my own class of 18 students sat in John H. Wheeler Hall to discuss normativity (or the social-cultural imposition of norms of behavior and identity), sexuality, gender, race, pleasure and ethics from the perspectives of black LGBTQ experiences, theory and artistry.
Though I traveled to that classroom only a few times this semester, holding most sessions via videoconference from my faculty office at Yale, I realize that my own identity as an engaged intellectual has been shaped by that early moment in the bad old days of imposed, nonprotective silence. I left Morehouse College in 1990 with the painful understanding that my identity as a gay man was an affront to the conservative institution's notions of respectability. To stay, I would have had to be complicit in a time-honored American tradition: Don't give us a reason to ask, and certainly don't tell. I left Morehouse without a degree. Still, I took with me important values that are stressed at the institution: black self-reference, an awareness of history, a drive for achievement and the expectation that much is required of him to whom much is given. As it turned out, what was required of me was to return to teach the course that would have compelled me to stay in school years earlier.
I never imagined that the institution would invite me to teach a course that would examine the sorts of exclusions and new community formations that I had experienced on its campus and in the Atlanta community two decades prior. This not only revindicates the work of black gay intellectual Joseph Beam, who beautifully expressed his anger and hurt that he could not go "home" to the black public or private spheres "as who I am," but serves as another example of Essex Hemphill's promise from black gays and lesbians to black communities that we are "coming home" with the "ass-splitting truth."
As news of my course spread, support came from a number of quarters, including classmates and other scholars, HBCU alumni and community members. I was struck by the fact that some expected that the course would bring out a litany of exceptional LGBTQ figures. Some students were frustrated that we did not spend enough time on current images of black queers in the media (one semester is hardly enough), but although such analyses abound in the literatures, our aim was not to explore black queer heroes and heroines and Internet and television "ratchetness," or to expose historical figures who were and are "in the life." What is more interesting to me, and more critically instructive, is to pose questions like this one: What interests are served by the erasure or sanitization of black LGBTQ/SGL people and their sexual and gender practices? What is at stake, and for whom?
Much of the controversy surrounding homosexuality, transgender identities and the burden of black respectability is actually about presenting "normal" images of "masculine" black men, "feminine" black women and "proper" families. But the trouble with "normal" is that it does not really exist, except to place individuals and groups in particular positions close to or far away from economic or social privilege. These concepts -- respectability, normativity and intersectionality -- form the center of my course and the larger project of black LGBT/queer studies. They are the themes, par excellence, of black SGL/LGBTQ artists and intellectuals, at least since the Fire!! generation of "New Negro" artists; to James Baldwin's exposition of the oneness of his homosexuality, his blackness and his Americanness; and through Audre Lorde and Barbara Smith, for example, and calls for recognition of how one can be, as M. Jacqui Alexander puts it, an "outlaw" in one's own country, "a national, but not a citizen," here or elsewhere. In the class we surveyed black LGBTQ/SGL experiences and intellectual production on stages and blogs and in books, policy making, communities and towers of ivory and ebony globally. Here is the range of final group projects that emerged from the course: a critical assessment of the general education requirements of Morehouse College, through a content analysis of syllabi and interviews with students; a report on media images of homosexuality in the Caribbean; an opinion survey of attitudes toward bisexuality on campus; and a brilliant genealogy of the political and intellectual presence of LGBTQ students on the Atlanta University Center campus, derived from archives and interviews. Thus we met our goal to not only rigorously engage in critical social and cultural theory and interdisciplinary intersectional scholarship and art but contribute to a transformational "evidence of being" on campus.
Though classes at Morehouse stoked my love for writers like Lorraine Hansberry, Claude McKay and Langston Hughes, whom and how they loved and how it shaped their art and outlooks was never discussed. Much as my classmates and teachers at Morehouse had suggested about our college and our common political struggles, there was no room for open homosexuality or gender nonconformity in black studies. (At that time, of course, black studies itself was fighting an uphill battle to be recognized as a field at Morehouse.) My introduction to openly lesbian, gay, bisexual and transgender black thinkers did not occur in the classroom but within black and LGBT-people-of-color organizations in Atlanta and New York City. But whether in a community-based nonacademic setting or in classrooms of the elite academy, for example, this scholarship and art contributes unique perspectives that enrich the lives of all students -- heterosexual ones, and those gay, bi, queer, trans, genderqueer, questioning or same-gender-loving students of Morehouse's Safe Space who are bravely claiming space and, by doing so, expanding their brothers' perspectives -- helping them become conversant with the world outside their own bedrooms or personal philosophies. My students have stretched beyond their perceived limits. They have asked hard questions and are now faced with a harder one: what to do with their knowledge and expanded humanity.
Of course, this is one of the central roles of a college education: to push beyond the boundaries of one's received notions toward wider understanding, deeper humanity and new discoveries. That this course was successful at a college formerly known for its reputation of not only producing "race men" but reproducing racialized heteropatriarchy (or the dominance of straight maleness) shows that HBCUs are ready for change, and that they remain relevant. Like my students from all backgrounds at Yale, many of my Morehouse and Spelman students have told me that our work together in this class has been a transformative experience. It certainly has been transformative for me, bringing me squarely back to this live debate. My own experience of being not only black and cisgender and gay but a middle-class professor had allowed me to shield myself from it, to some degree. My own privilege provided a false sense of security (as privilege always does) that the hard-fought battles of black feminists and black lesbian and gay authors of the 1980s and 1990s against silence, shaming and ignorance had already won the day among black intellectuals and activists. I was wrong. More of the same single-issue analysis from black intellectuals and pundits, leaving queerness unaddressed, shows this.
Weeks before my students and I met in that room in Wheeler Hall, celebrated writer Ishmael Reed criticized my course without knowing anything about the content. He proposed that there are various pressing issues and frameworks that the curricula of Morehouse and other HBCUs must prepare students to confront, like mass incarceration and the lack of employment and health care in black communities, for example. He is correct. However, his callous suggestion that black folks ought to be thinking about any number of themes or topics instead of heterosexism and transphobia simply cannot stand. This sort of reactionary stance (remarkably, nearly 40 years after major works showed the simultaneity of being black and a woman, being black and poor or being black and from England, for example) is deeply distressing. The fact is that a number of unemployed, imprisoned, abused or homeless black folks are made more vulnerable to racialized structural violence precisely because of traitorous exclusions from some families and black institutions, which leaves them multiply vulnerable. This is the ethical conundrum that my students faced in our course.
Another of the course's critics, Cleo Manago, who leveled among the harshest criticism, feared a whitewashing of black LGBT experience in the course. With no knowledge of my syllabus, he called it "white paradigmatically indoctrinated." Surely, despite the fact that the larger field of queer studies/theory (and queer organizing beforehand) has vigorously critiqued normativity more than any other scholarly project has done, it brackets out and privileges queer sexuality over gender, race and class. Still, black queer studies/theory and critique by queer people of color have insisted on underscoring compounded identity. Even a casual reading of black queer studies or critique by queer people of color reveals that our work has called out racism within queer communities and organizations and refutes the unfounded, racist assumption that people of color are somehow more homophobic than other groups.
I have scarcely had a chance to think about all that I have learned at Morehouse this semester; the ink is barely dry on final grades. "Pomp and Circumstance" and "Lift Every Voice and Sing" are still ringing in my ears, and my academic drag still hangs on the outside of my closet, yet to be stored away for next year's commencement. But I do know three things for sure. The first is that since joining the professorate, I had turned away from confrontation in the public arena of (too often bad, mean or shallow) discourse to intensively work with young people to shift discourses, break silences and create something new. But now I ask myself how to bring this work back to the communities in which it was created, where poets and bloggers, essayists and archivists are still making lifesaving work, beyond ivy-covered walls and towers of both ivory and ebony. The second is that this is a critical moment for Morehouse College. In an institution that, over a long number of years, confused leadership with image, this course is one step among many back to Morehouse's commitment to an unflinching search for truth and justice even when this process is uncomfortable and inconvenient. Finally, as it turns out, one can go home again (even a teacher to the place he was once a student) to "seek, beyond history" what Audre Lorde envisioned as "a new and more possible meeting."
Congratulations, class of 2013!
Popular in the Community