The sun shone through the palm trees and sweat began to trickle down my face. "¿Cuál es su número de zapato?" I asked as I set the little boy, Dominique, down in his chair. And in my broken American Spanglish, he understood me. "Veintitres," he said. Twenty-three, okay I got this.
Dominique wore an orange t-shirt and a set of jersey cotton black pants, and had one of those priceless smiles that makes anyone smile right back. "What do you want to be when you get older?" I asked. "An engineer," he said, "because I want to build things that make people's lives better."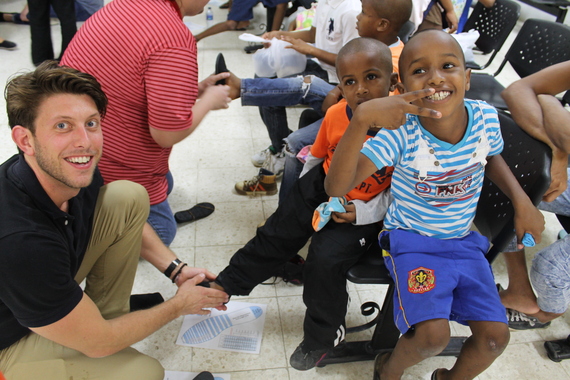 During our chat, I peeled off Dominique's old sandals (which were were three sizes too small) and slid on a new set of alpargatas, the TOMS staple shoe.
With a loud clap of a high-five, Dominique left with his new shoes to receive a pair of pants, a shirt, a couple pairs of underwear and some jabon (soap): just a few of the goods supplied by Children International, a long-standing giving partner of TOMS and the... er... sole behind the one-for-one business model that Blake Mycoskie started just under a decade ago.
I stood up, my shirt sticking to my chest from sweat, and thought of my students in New York who had their first snowfall that morning. As their teacher, I wished they were here with me and could experience this. Just one day in my shoes would teach them more than a textbook could in a year.
Later that day, I posed for a picture with two young boys who held up a notebook with a sticker that read in Spanish "We Have a Right to Education." Growing up in The United States, this is not something I was used to seeing. Usually, school bathroom stalls have something a bit different scratched into the walls.


We met the boys in their neighborhood just a few hours later. They stood in the same clean-pressed school uniform in a house a quarter the size of my classroom -- their bed a twin-sized mattress shared by three children. The walls -- made of tarp and sheet metal -- stood balancing on the same kind of cinder blocks college students use to prop up their dorm room beds.
The boys asked that we join them in a game of soccer, so a few of the TOMS crew and I joined in. We kicked the soccer ball around for a while and when I scored a goal the boys and I did cartwheels and celebrated like at The World Cup. Afterward we celebrated with a congo-line-esque dance.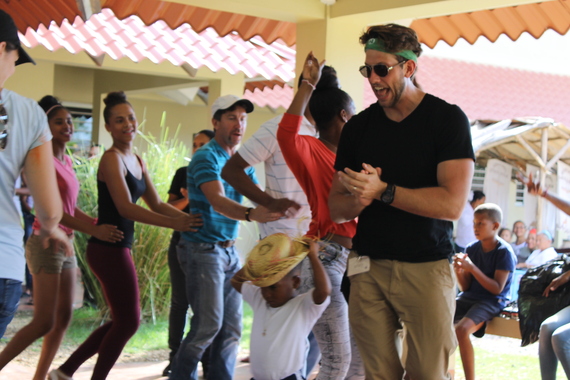 A natural skeptic of businesses thanks to my hard working blue collar father (who lost his pension at age 65 when the company he worked at for over 30 years went bankrupt), I was unsure of the business model that Blake started with TOMS. I thought it sounded great, but after hearing so much press about companies (including non-profits) that misuse for-purpose funds, I was a bit cynical. That all changed when I had the chance to join TOMS on a Giving Trip to the Dominican Republic.
Over the course of the week and with the help of a driver who could race Formula One, we zig-zagged throughout the Frogger-esque streets of Santo Domingo. On our first day, we pulled up to Children International: the vehicle for TOMS giving model.
On top of a new pair of shoes, Children International (CI) provides dental and medical care, educational assistance such as tutoring, and a safe facility for children to play. The shoes act as one perk to continue the positive reinforcement structure CI establishes.
If a giving model is just to give goods away to a child because he is in need, it reinforces the mentality that acting poor means receiving goods. Instead, if you give goods as a reward for going to school and receiving medical checkups, then this helps break the poverty cycle. It reinforces positive behavior.
On my flight home to JFK, I thought of Dominique and the soccer team that giggled at my attempt to join them on the field. As I drifted off into sleep, I stopped myself short when I began to complain about the cramped coach seat and thought of the bed they would sleep in at night. I thought of how I went on this trip thinking that I would be the teacher. And instead, I returned the student.
Interested in sponsoring a child at Children International? For less than a meal at a restaurant each month, you could provide medical and dental care along with educational assistance (and even opportunities for job-skills training as the child becomes an adult) that will help little children like Dominque grow into the remarkable lives they are destined to live.
This page contains materials from The Huffington Post and/or other third party writers. PricewaterhouseCoopers LLP ("PwC") has not selected or reviewed such third party content and it does not necessarily reflect the views of PwC. PwC does not endorse and is not affiliated with any such third party. The materials are provided for general information purposes only, should not be used as a substitute for consultation with professional advisors, and PwC shall have no liability or responsibility in connection therewith.